Women Participation in Local Governance and Politics
Exclusively available on PapersOwl
Introduction
Global politics have remained a pipe-dream for women as it is largely dominated by men. Although a notable increase of female participants can be seen in various platforms, challenges that influence outcomes among women in matters that do with politics and governance need to be examined. Opportunities that can help foster and increase the capacity for women to participate in governance can be employed to address the challenges in the community and grassroots development. The study seeks to understand the opportunities and challenges women face as they participate in politics, particularly in local governance. The study will focus on the case study of Zvishavane Urban. In this section, the proposal is the first part of the study. The proposal introduces what the study is about. It contains the background of the study, the problem statement of the study, objectives and research questions, the significance of the study, theoretical framework, conceptual framework, delimitation of the study, limitations of the study and the summary of the chapter.
Background To The Study
International organizations like the United Nations through UNDP, UN women have integrated frameworks that support local governance and local development in a bid to end all forms of discrimination against women. It is a general concern that women constitute more than half of the world's population (International Parliamentary Union, 2016). The various conventions like CEDAW, SADC Protocol, Maputo Declaration, and Agenda 2063 are fighting for women's involvement in decision making and involvement in politics. This is evidenced by the SADC Protocol of 2000 that calls for quota systems to make sure women are included in politics African countries have made a move towards decentralization of power to local levels. Kenya, South Africa, Tanzania, Botswana, Mozambique among other countries has legislation through constitutions which foster decentralization. Kenyan constitution of 2010 is an example of a move towards a devolved system of governance to the local level. In Zimbabwe according to the just ended electoral polls, women constituted more than half of the registered voters but the outcomes of electoral processes reflected the domination of men.
Need a custom essay on the same topic?
Give us your paper requirements, choose a writer and we'll deliver the highest-quality essay!
Order now
The Zimbabwean 2013 constitution has objectives that appeal for decentralization of responsibilities and power. Political participation has remained a space that is dominated by men in issues to do with political participation globally. Local governance is very important in development. The system has left out marginalized groups like women who are essential and important in decision making and governance. Women continue to face various challenges to their political realization. Some women fear to enter into political due to various factors like physical violence and non-physical violence, gender bias in media, lack of resources, lack of resources, lack of education and qualifications, patronage and patriarchal. It can also be noted that various social, economic aspects the level of education, ethnicity, religion play a role in politics and decision making at the national level, state level, local governance level, and traditional level.
Problem Statement
Zimbabwe is one of the countries that have less representation of women in politics and decision making as compared the male counterparts. Women face challenges in politics that hinder them from fully participating in electoral processes and issues to do with the government. The challenges include physical and non-physical violence, socioeconomic aspects. This study, therefore, seeks to examine the challenges that have been militating against the full participation of women in politics and in local governance.
Objectives Of The Study
General Objective
To examine the challenges and opportunities women have in Local Governance.
Sub-Objectives
To examine the challenges hindering women from participating in politics.
Examine what can be done to promote women's participation in local governance.
Examine the nexus between participation in local governance and development.
To examine the opportunities women have that can enhance their participation.
Research Questions
What are the major challenges hindering women from participating in local governance?
What can be done to promote women's participation in local governance?
How does the political participation of women in local governance promote development?
What do opportunities do women have that can enhance their participation?
Significance Of The Study
The significance of the study derives from the examination of various opportunities and challenges faced by women in relation to political participation at the local government level. Local government is one of the subjects that have sparked interests among various actors in the realization of good governance and development. Various groups can benefit from the study including
Women
Most women are willing to take up politics but they have been encountering various factors which have led to their exclusion from mainstream politics and governance. Therefore this study acts as a source of emancipation for women who might be willing to be active participants in politics. The study also hopes to help women with information essential in dealing and overcoming the fears and addressing the challenges associated with political participation in issues to do with local governance and opportunities that are crucial to the advancement of political participation.
Communities
The study hopes to raise awareness with information that reveals certain things that have been overlooked, neglected and stereotypes that communities perceive and instigate on women which affects their overall participation. It also hopes to educate the local people in communities with knowledge on the opportunities that can be used in order to foster behavioral change and eradicate gender biases and ancient stereotypes.
The research hopes to assist the government including central government, local government in policy making in addressing issues that affect women in relation to participation at different levels. The research also may assist lobbying expansion of existing laws prohibiting gender-based discrimination in the workplace or violence against women in general and also in legislation in order to codify violence against women in politics as a separate and specific offense.
NGOs
The study will help non-governmental organizations in implementing projects and interventions that will help to address the challenges of associated with women. The study will also assist various programming by the non-governmental organizations that focus on improving women capacity in politics in raising awareness on the opportunities that can be used for their political advancement and expand dialogue on how to make political spaces inclusive and safer for women.
The study also hopes to assist political parties in coming up with solutions that address challenges in the realization of participation of women in politics. The study is an awake call to all political parties that have been taking women for granted in politics. SADC Protocol, Beijing Platform for Action, Agenda 2063 all lobby for women's inclusion in politics through Government legislation and political parties. Political parties can also take action to prevent VAWP and promote and protect political rights.
University
The university will benefit from the research as interested people in the study can access information from the institutional repository and obtain information on issues related to the various challenges and opportunities. The data and information in this study will resourcefully help Scholars who will further research on this topic and contribute to the scarce literature on opportunities and challenges in local governance.
Theoretical Framework
The study made use of liberal feminist theory. With its roots in the earliest work of Wollstonecraft, the theory has various tenets. The theory states that roles assigned to women in the society make them oppressed by men; lack of equal opportunities between men and women reinforces subordination to men. Liberal feminism attests the equity of men and women through political and legal reform. It is an individualistic type of woman's rights, which focuses on women's capacity to show and keep up their equality through their own behavior and decisions. Liberal feminism utilizes the personal interactions between men and women as the place from which to transform society. According to liberal feminists, all women are fit for stating their capacity to accomplish equality; therefore it impossible for change to occur without modifying the structure of the society. Issues vital to liberal feminist, all women's activists incorporate reproductive rights, abortion rights, sexual harassment, voting, and education.
John Stuart Mill and Harriet Taylor believed that in order to achieve sexual equality, women must be given the same political rights, economic prospects, and educational opportunities as men. Mill and Taylor's stance on women's liberation depended on demonstrating that women can do anything men can do. In accordance with his liberal social and political philosophy, Mill (1984:302) stresses the similarities between women and men, rather than their differences, emphasizing that "any of the mental differences supposed to exist between women and men are but the natural effect of the differences in their education and circumstances, and indicate no radical difference, far less radical inferiority, of nature". Mill argues that any gap in intellectual achievement between men and women can be explained by the better education and privileged social position which men enjoy. They call for equal opportunities whether in education, politics, workplace, and other areas. If equal opportunities are availed then one's capabilities can determine his or her destiny.
Conceptual Framework
The concept underpinning this study is political participation. The concept of political participation relates to the questions about the inclusion of the disadvantaged population in the plan, design, and implementation of policies concerning their well-being. Endale (2012) is of the view that the reinforcement of women's participation in aspects of life has become a major issue in the development of discourses. (Kaase et al, 2006) defines political participation as "all voluntary activities by individual citizens intended to influence either directly or indirectly political choices at various levels of the political systems.
Politics
Politics is the action is by which varying interests inside a given guideline are conciliated by an offer in power in proportion to the importance of the welfare and the survival of the entire network. (Cramp, 2000)
Local governance
According to (Clarke, 2007), the local government is part of the government of a country which deals mainly with the problems or issues related to a given population within a given territory. (Hasluck, 2010) is of the view that local governance is the sphere of local government where local authorities are allowed by law to issue acts or decisions to adjust the way of government.
Gender
Gender refers to the roles and responsibilities of men and women that are created in our families, our societies and our cultures. The concept of gender also includes the expectations held about the characteristics, aptitudes and likely behaviors of both women and men (femininity and masculinity). Gender roles and expectations are learned. They can change over time and they vary within and between cultures. Systems of social differentiation such as political status, class, ethnicity, physical and mental disability, age and more, modify gender roles. The concept of gender is vital because applied to social analysis; it reveals how women's subordination (or men's domination) is socially constructed. As such, the subordination can be changed or ended. It is not biologically predetermined nor is it fixed forever.
Patriarchy
It implies a system in which the father or a male member who is considered as the head of the family, controls all economic and property resources, makes all the major decisions of the family and thereby maintains on-going control over all members of the family and those related to it. In simple terms, patriarchy is viewed as both an ideology of women's subordination and control, and, a concept of struggle against the same.
Delimitations Of The Study
The study focuses on women participation in local Governance and focuses on the case of Zvishavane. Zishavane is located along the Great Dike in Midlands Province popularly known for mining activities. It lies 97 km west of Masvingo town and a population of 45325 (Zimstat, 2012). The researcher observed that marginalization of women has been the underlying causes that have worked against women has a stronghold in the area which prompted the researcher to undertake the study to unearth the opportunities that can be employed to raise the capacity of women to participate in decision making of women in politics and the nature of challenges that stands as barrier to participation of women in local governance.
Limitations Of The Study
Limited financial resources to carry out the study including traveling expenses, however, the researcher made use of the ministry of local governance where some respondents could be accessed easily for interviews
Lack of adequate research instruments.
Time constraints because of commitments like school work. The researcher managed to improvise study time to carry out the research
Dissertation Structure
The study consists of five chapters that are Chapter 1 research proposal, chapter 2 literature reviews, chapter 3 research methodology, chapter 4 data analysis and findings, and chapter 5 conclusion and recommendations.
Chapter Summary
In chapter 1, the researcher introduced the study outlining the influence and impact sexual violence has on the political participation of women in Zimbabwe. The researcher also continued to give the background of the study, problem statement, and the significance of the study. The study made use liberal Feminism theory which explains the oppression of women by men and lack of equal opportunities of women reinforcing the subordination of women to men. The chapter also has a conceptual framework which explains the concept of local governance, politics, and gender. The chapter continues to give the limitations and the delimitations of the study and the dissertation structure. The next chapter is a literature review of various scholarly articles and journals.
References:
Endale, A (2012) Factors Affecting Women Participation in Leadership and Decision-making Position. Asian Journal of Humanity, Art and Literature.
Hasluck, E.L (2010). Local Governance in England"
Wilson, W and Game (2006) "Local government in the U.K. Published by Macmillan
Max Kaase and Alan Marsh, Political Action: A theoretical perspective in Barnes, Kaase et al .p42
Zimbabwe National Statistics Agency. "Census, 2012 Preliminary Report". p 97
Did you like this example?
7107
969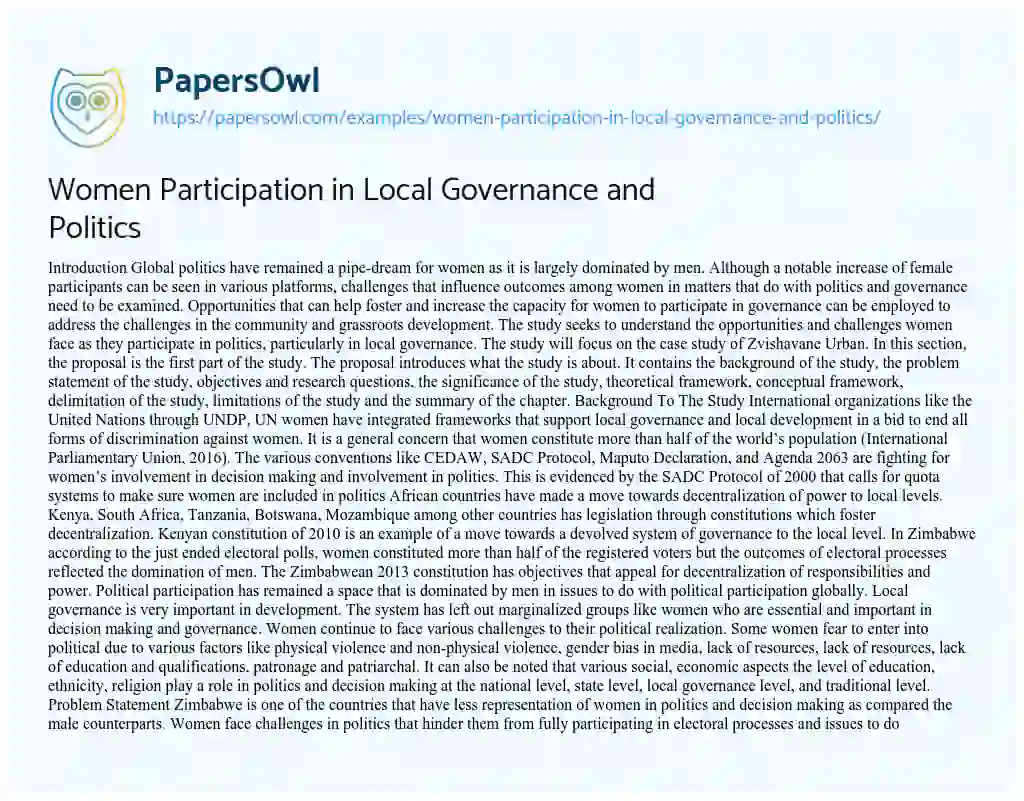 The deadline is too short to read someone else's essay
Hire a verified expert to write you a 100% Plagiarism-Free paper
Women Participation in Local Governance and Politics. (2020, May 03). Retrieved from https://papersowl.com/examples/women-participation-in-local-governance-and-politics/