Three Different Views of Marriage in "Pride and Prejudice"
Exclusively available on PapersOwl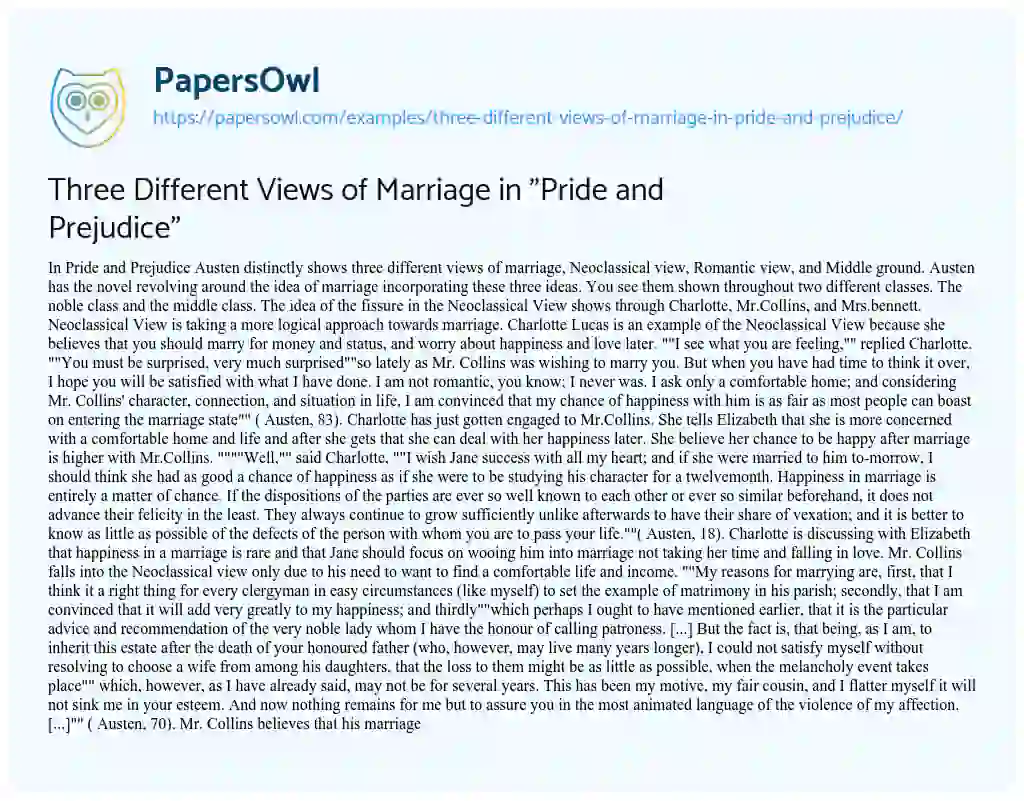 In Pride and Prejudice Austen distinctly shows three different views of marriage, Neoclassical view, Romantic view, and Middle ground. Austen has the novel revolving around the idea of marriage incorporating these three ideas. You see them shown throughout two different classes. The noble class and the middle class.
The idea of the fissure in the Neoclassical View shows through Charlotte, Mr.Collins, and Mrs.bennett. Neoclassical View is taking a more logical approach towards marriage. Charlotte Lucas is an example of the Neoclassical View because she believes that you should marry for money and status, and worry about happiness and love later. ""I see what you are feeling,"" replied Charlotte. ""You must be surprised, very much surprised""so lately as Mr. Collins was wishing to marry you. But when you have had time to think it over, I hope you will be satisfied with what I have done. I am not romantic, you know; I never was. I ask only a comfortable home; and considering Mr. Collins' character, connection, and situation in life, I am convinced that my chance of happiness with him is as fair as most people can boast on entering the marriage state"" ( Austen, 83). Charlotte has just gotten engaged to Mr.Collins.
She tells Elizabeth that she is more concerned with a comfortable home and life and after she gets that she can deal with her happiness later. She believe her chance to be happy after marriage is higher with Mr.Collins. """"Well,"" said Charlotte, ""I wish Jane success with all my heart; and if she were married to him to-morrow, I should think she had as good a chance of happiness as if she were to be studying his character for a twelvemonth. Happiness in marriage is entirely a matter of chance. If the dispositions of the parties are ever so well known to each other or ever so similar beforehand, it does not advance their felicity in the least. They always continue to grow sufficiently unlike afterwards to have their share of vexation; and it is better to know as little as possible of the defects of the person with whom you are to pass your life.""( Austen, 18).
Charlotte is discussing with Elizabeth that happiness in a marriage is rare and that Jane should focus on wooing him into marriage not taking her time and falling in love. Mr. Collins falls into the Neoclassical view only due to his need to want to find a comfortable life and income. ""My reasons for marrying are, first, that I think it a right thing for every clergyman in easy circumstances (like myself) to set the example of matrimony in his parish; secondly, that I am convinced that it will add very greatly to my happiness; and thirdly""which perhaps I ought to have mentioned earlier, that it is the particular advice and recommendation of the very noble lady whom I have the honour of calling patroness. […] But the fact is, that being, as I am, to inherit this estate after the death of your honoured father (who, however, may live many years longer), I could not satisfy myself without resolving to choose a wife from among his daughters, that the loss to them might be as little as possible, when the melancholy event takes place"" which, however, as I have already said, may not be for several years.
This has been my motive, my fair cousin, and I flatter myself it will not sink me in your esteem. And now nothing remains for me but to assure you in the most animated language of the violence of my affection. […]"" ( Austen, 70). Mr. Collins believes that his marriage must set an example for his parish. He proposes to Elizabeth because he is to inherit the estate of her father and believes he must marry one of his daughters. Lastly, Mrs. Bennett exemplifies the Neoclassical view because she is so focused on getting her daughters married so that they are not looked down upon in society. She is very legalistic in the sense that marriage is a business deal for her. ""Design! Nonsense, how can you talk so! But it is very likely that he may fall in love with one of them, and therefore you must visit him as soon as he comes."" ( Austen, 19).
The Romantic view is flawed because of the impulsive and immature way of thinking and marriage. Its portrayed in the novel as risky and impulsive. Lydia and Wickham portray this view of marriage. Lydia is apart of the Bennet family and is known for her impulsive and rather unintelligent way of handling things. She acts without thinking no matter what the decision is. Big or Small Lydia does what feels right in the moment. ""But Jane knows, as well as I do, what Wickham really is. We both know that he has been profligate in every sense of the word; that he has neither integrity nor honour; that he is as false and deceitful as he is insinuating ( Austen, chapter 47)"". This shows how blind Lydia was to who Wickham truly is and how impulsive her decision truly was. Wickham was impulsive and a liar. He only cared about wealth and status and would do anything to make sure he got it no matter the cost. He shows this view by his many love interest and how he marries Lydia for her wealth and property. ""She was now struck with the impropriety of such communications to a stranger […] She saw the indelicacy of putting himself forward as he had done, and the inconsistency of his professions with his conduct. She remembered that he had boasted of having no fear of seeing Mr. Darcy""that Mr. Darcy might leave the country, but that he should stand his ground; yet he had avoided the Netherfield ball the very next week. She remembered also that, till the Netherfield family had quitted the country, he had told his story to no one but herself; but that after their removal it had been everywhere discussed; that he had then no reserves, no scruples in sinking Mr. Darcy's character, though he had assured her that respect for the father would always prevent his exposing the son(Austen, chapter 36)"". This shows how Wickham is a coward and a conman.
The middle ground view which is favored by Austen is the idea of marrying for love and happiness not impulse or logic. Darcy, Elizabeth, and Jane represent the middle ground. Jane believes in true love, she falls in love with Mr. Bingley and waits several weeks before becoming engaged to him. She falls in love with his personality and character. She doesn't jump into marriage right after she meets him. "" I am certainly the most fortunate creature that ever existed! cried Jane. ""Oh! Lizzy, why am I thus singled from my family, and blessed above them all! If i could but see you as happy! If there were such another man for you( Austen, chapter 55)"". This shows her love and happiness she finds in Bingley. Not just based on impulsion and lust but true love. Darcy and Elizabeth both represent middle ground with how their whole love story unfolds. Darcy is very arrogant and believes that marriage should benefit each of them. While Elizabeth will only marry for love. Darcy believes in true love and will only marry for it as well. ""3. ""In vain have I struggled.
It will not do. My feelings will not be repressed. You must allow me to tell you how ardently I admire and love you."" Elizabeth's astonishment was beyond expression. She stared, coloured, doubted, and was silent. This he considered sufficient encouragement, and the avowal of all that he felt and had long felt for her, immediately followed. He spoke well, but there were feelings besides those of the heart to be detailed, and he was not more eloquent on the subject of tenderness than of pride. His sense of her inferiority""of its being a degradation""of the family obstacles which judgment had always opposed to inclination, were dwelt on with a warmth which seemed due to the consequence he was wounding, but was very unlikely to recommend his suit( Austen, chapter 36)"". This is the marriage proposal from Darcy. This shows not only his love for Elizabeth but his respect for her and his thoughtfulness. Throughout the novel Austen shows how true love should be the reason for marriage and not romantic or logical views.
Did you like this example?
8371
349