The Definition of Ageism
Exclusively available on PapersOwl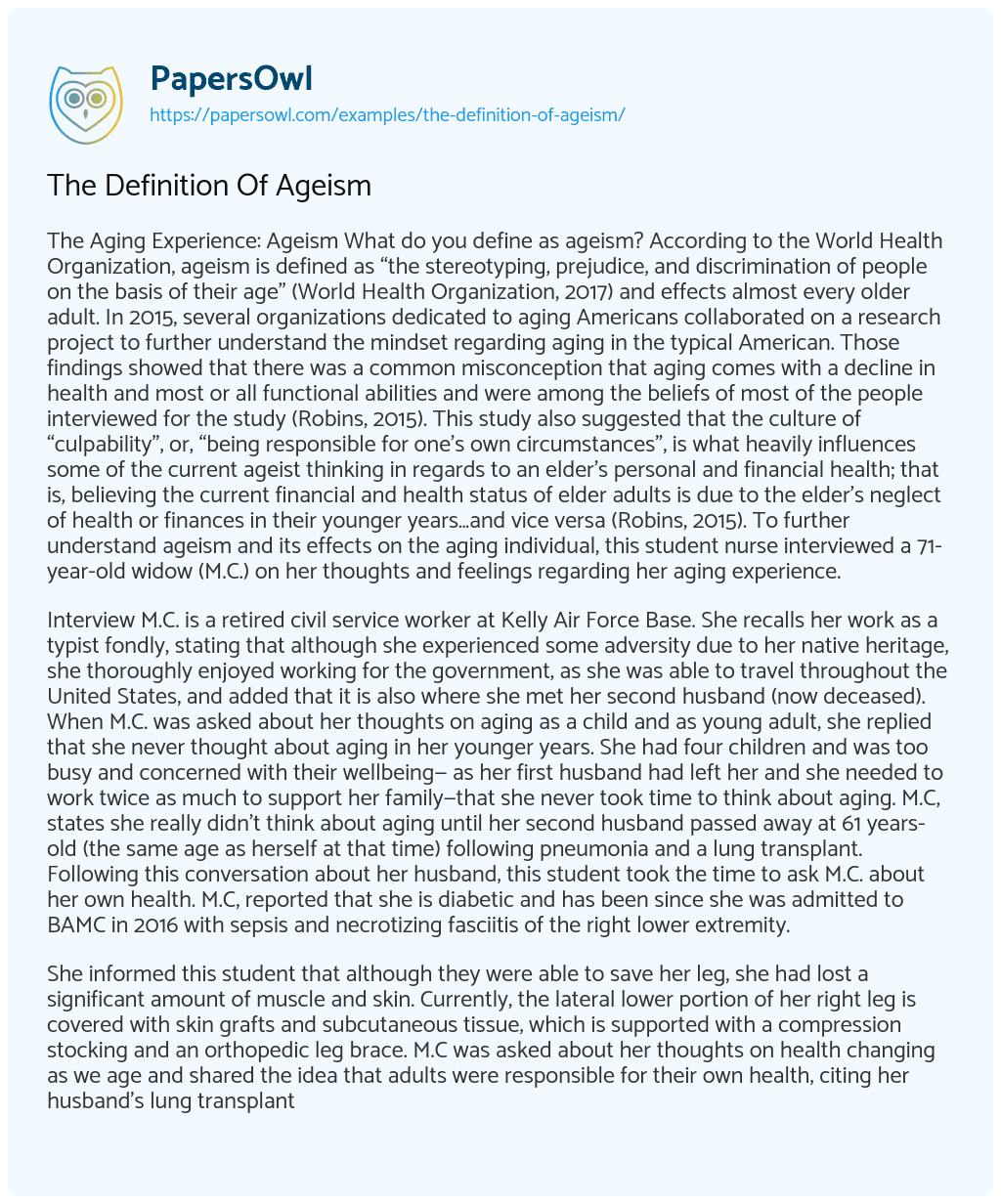 The Aging Experience: Ageism What do you define as ageism? According to the World Health Organization, ageism is defined as "the stereotyping, prejudice, and discrimination of people on the basis of their age" (World Health Organization, 2017) and effects almost every older adult. In 2015, several organizations dedicated to aging Americans collaborated on a research project to further understand the mindset regarding aging in the typical American. Those findings showed that there was a common misconception that aging comes with a decline in health and most or all functional abilities and were among the beliefs of most of the people interviewed for the study (Robins, 2015). This study also suggested that the culture of "culpability", or, "being responsible for one's own circumstances", is what heavily influences some of the current ageist thinking in regards to an elder's personal and financial health; that is, believing the current financial and health status of elder adults is due to the elder's neglect of health or finances in their younger years…and vice versa (Robins, 2015). To further understand ageism and its effects on the aging individual, this student nurse interviewed a 71-year-old widow (M.C.) on her thoughts and feelings regarding her aging experience. 
Interview M.C. is a retired civil service worker at Kelly Air Force Base. She recalls her work as a typist fondly, stating that although she experienced some adversity due to her native heritage, she thoroughly enjoyed working for the government, as she was able to travel throughout the United States, and added that it is also where she met her second husband (now deceased). When M.C. was asked about her thoughts on aging as a child and as young adult, she replied that she never thought about aging in her younger years. She had four children and was too busy and concerned with their wellbeing— as her first husband had left her and she needed to work twice as much to support her family—that she never took time to think about aging. M.C, states she really didn't think about aging until her second husband passed away at 61 years-old (the same age as herself at that time) following pneumonia and a lung transplant. Following this conversation about her husband, this student took the time to ask M.C. about her own health. M.C, reported that she is diabetic and has been since she was admitted to BAMC in 2016 with sepsis and necrotizing fasciitis of the right lower extremity. 
She informed this student that although they were able to save her leg, she had lost a significant amount of muscle and skin. Currently, the lateral lower portion of her right leg is covered with skin grafts and subcutaneous tissue, which is supported with a compression stocking and an orthopedic leg brace. M.C was asked about her thoughts on health changing as we age and shared the idea that adults were responsible for their own health, citing her husband's lung transplant due to his smoker status and her own noncompliance to her diabetes diet and medication. M.C. also mentioned that feelings of depression were common, she herself was depressed at several points—following her surgeries and husband's passing—and even stated that depression was normal and expected for her age. She also mentioned her lack of financial stability, reporting how her social security had been lowering each year since her retirement in 2008, also stating that this decline in income was one of the reasons she had become noncompliant with her diabetes medications and diet. 
M.C briefly noted the lack of concern the government and general population had regarding the lack of financial stability for the elderly, angrily stating that her husband and her worked hard for the government, "now they don't care about us". M.C was also asked if she thought aging meant decline, which she did not agree on stating that her parents were very independent up until their deaths. M.C. stated that she planned on being independent until she passes, and her biggest concern was becoming dependent on family, she even stated, "I don't want to become useless to my family. I'd rather be shot in my backyard than to have my family have to help me." She then reported that she kept herself healthy by drinking red wine daily (as her mother did) and using her recumbent biking machine at least three times a week. 
Post Interview and Thoughts Following the interview with M.C., this student nurse was surprised to find that M.C. seem to agree with some of the misconceptions regarding aging: the thought that once you become dependent on others for help you have no value, that depression was normal and expected, and that health depends on the person self-care (which this student personally believes to some extent, as some conditions cannot be prevented, such as Parkinson's disease). It was interesting to find that although she was not consistent with her diabetic medications, M.C. has been trying to maintain her health by exercising three time a week and drinking red wine daily. She did not provide the amount of red wine she consumed on daily basis but listening about the alternate ways she managed her health did show give this student some thought and insight onto some of the non-traditional ways elder adults manage their health. Two suggestions were made to M.C. in order to better her health, including increasing hydration with at least two bottled waters, as well as the consumption of low-cost frozen vegetables (as opposed to fresh, which can be costlier). 
Self Reflection Personally, ageist thinking to this student is any thinking that can undermine the thoughts, feelings, health, and overall wellbeing of the older person. This student nurse admittingly shared some misconceptions regarding the aging process, including the common idea that aging is related to a decline in health and abilities. Interviewing M.C. did provide some insight regarding the thoughts and feelings of elder people, making this student feel more empathic and understanding of the financial and emotional situations that the older population encounters; it has also changed this student's personal thought that aging equals decline, seeing how the older person can continue to function well despite multiple medical conditions was very enlightening. To further help the financially less secure, this student found that the Bob Ross Senior Center in San Antonio, Texas; the center is government funded and provides basic health screenings, daily meals, and provides social services to all adults 60 years of age and greater (The Alamo Area Council of Governments, 2016). This student nurse works under several medical providers in several geriatric clinics as a medical scribe, and it has come to this student's attention that some elderly patients concerns, and feelings, are put aside to accompany the provider schedule, often leading the patient to become confused on their plan of care and medication regimen. 
For example, a situation that was encountered included a diabetic patient receiving medications from both the clinic and his endocrinologist, a young provider who had seen the patient twice before did not listen to his concerns regarding his diabetes (because patient was seen both times for an acute complaint, the provider did not want to discuss any chronic care questions in order to stay on schedule)—the patient ended up receiving doubles of his diabetic medications, which he took, which resulted in severe acute pancreatitis and a lengthy hospital stay. Personally, this student believes that more time should be dedicated to the older patient, as confusion about the plan of care is common and complaints are brushed off as normal signs of aging—or even brushed off as anxiety. This student also feels that health care providers need to be completely clear with the patient's existing diagnoses, as this student has seen medical providers purposely keep some diagnoses and diagnostic information from the patient because "it takes too long" or "the patient won't understand what I'm telling them anyway." 
This student feels that in order to combat ageism in the health system, health care staff should approach the older patient with respect and as any other cognitively intact patient, increase their one-on-one time with the patient, educate the patient on their conditions, and even perhaps take some continuing education courses on gerontology. Conclusion The results of a study taken in 2015 shows that most Americans share common misconceptions regarding aging: that aging equals decline and that everyone is responsible for their own health and financial situation. To gain further insight on the impact of ageism on the older adult, this student nurse interviewed a 71-year-old diabetic female (M.C.) on her aging experience. M.C's interview enlightened this student on the emotional, financial, and personal health changes that an adult experience as they age. This includes the older adult's own personal ageism, decreasing social security, and her feeling that society is apathetic regarding the situation of most adults. This student has seen ageism firsthand—as a medical scribe working in geriatrics— and believes that ageism can be combated with more patient/provider one-on-one time, patient education, continuing education for providers, and generally treating the older adult as someone capable of making their own medical decisions.  
Did you like this example?
7667
489