TED Talks, Tony Porter Reveals a Powerful Stories
Exclusively available on PapersOwl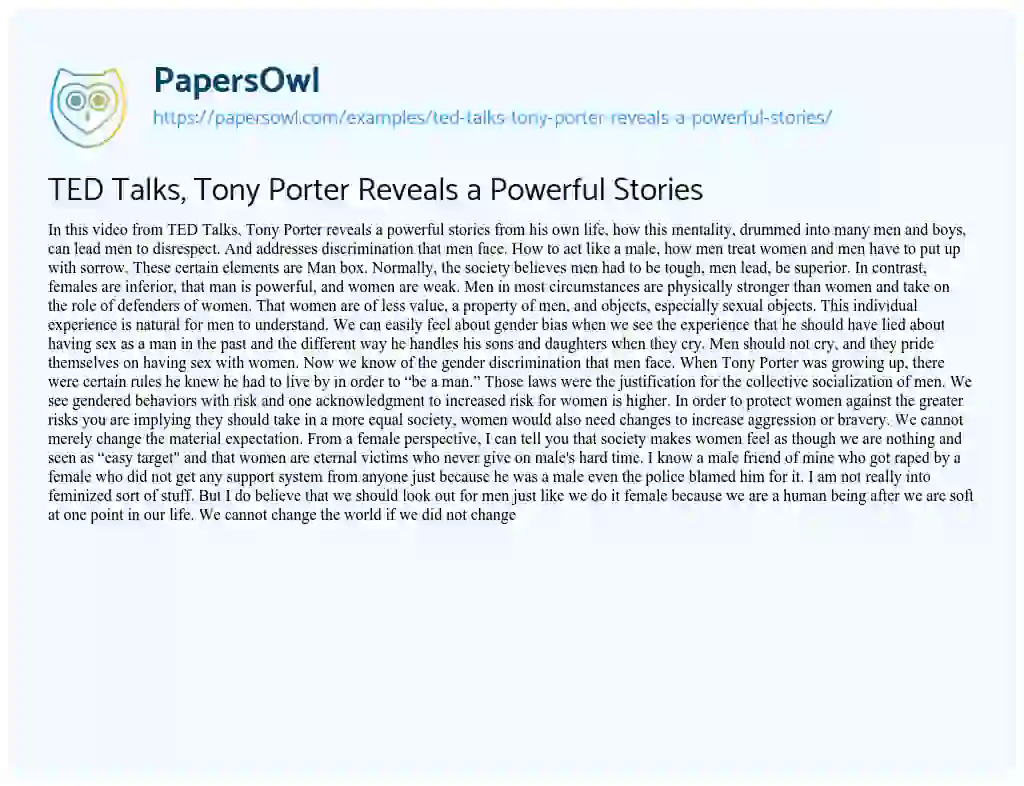 In this video from TED Talks, Tony Porter reveals a powerful stories from his own life, how this mentality, drummed into many men and boys, can lead men to disrespect. And addresses discrimination that men face. How to act like a male, how men treat women and men have to put up with sorrow. These certain elements are Man box. Normally, the society believes men had to be tough, men lead, be superior. In contrast, females are inferior, that man is powerful, and women are weak. Men in most circumstances are physically stronger than women and take on the role of defenders of women. That women are of less value, a property of men, and objects, especially sexual objects. This individual experience is natural for men to understand.
We can easily feel about gender bias when we see the experience that he should have lied about having sex as a man in the past and the different way he handles his sons and daughters when they cry. Men should not cry, and they pride themselves on having sex with women. Now we know of the gender discrimination that men face. When Tony Porter was growing up, there were certain rules he knew he had to live by in order to "be a man." Those laws were the justification for the collective socialization of men. We see gendered behaviors with risk and one acknowledgment to increased risk for women is higher. In order to protect women against the greater risks you are implying they should take in a more equal society, women would also need changes to increase aggression or bravery.
We cannot merely change the material expectation. From a female perspective, I can tell you that society makes women feel as though we are nothing and seen as "easy target" and that women are eternal victims who never give on male's hard time. I know a male friend of mine who got raped by a female who did not get any support system from anyone just because he was a male even the police blamed him for it. I am not really into feminized sort of stuff. But I do believe that we should look out for men just like we do it female because we are a human being after we are soft at one point in our life. We cannot change the world if we did not change yourself.
Did you like this example?
9573
195