Research Paper on Fences by August Wilson
Exclusively available on PapersOwl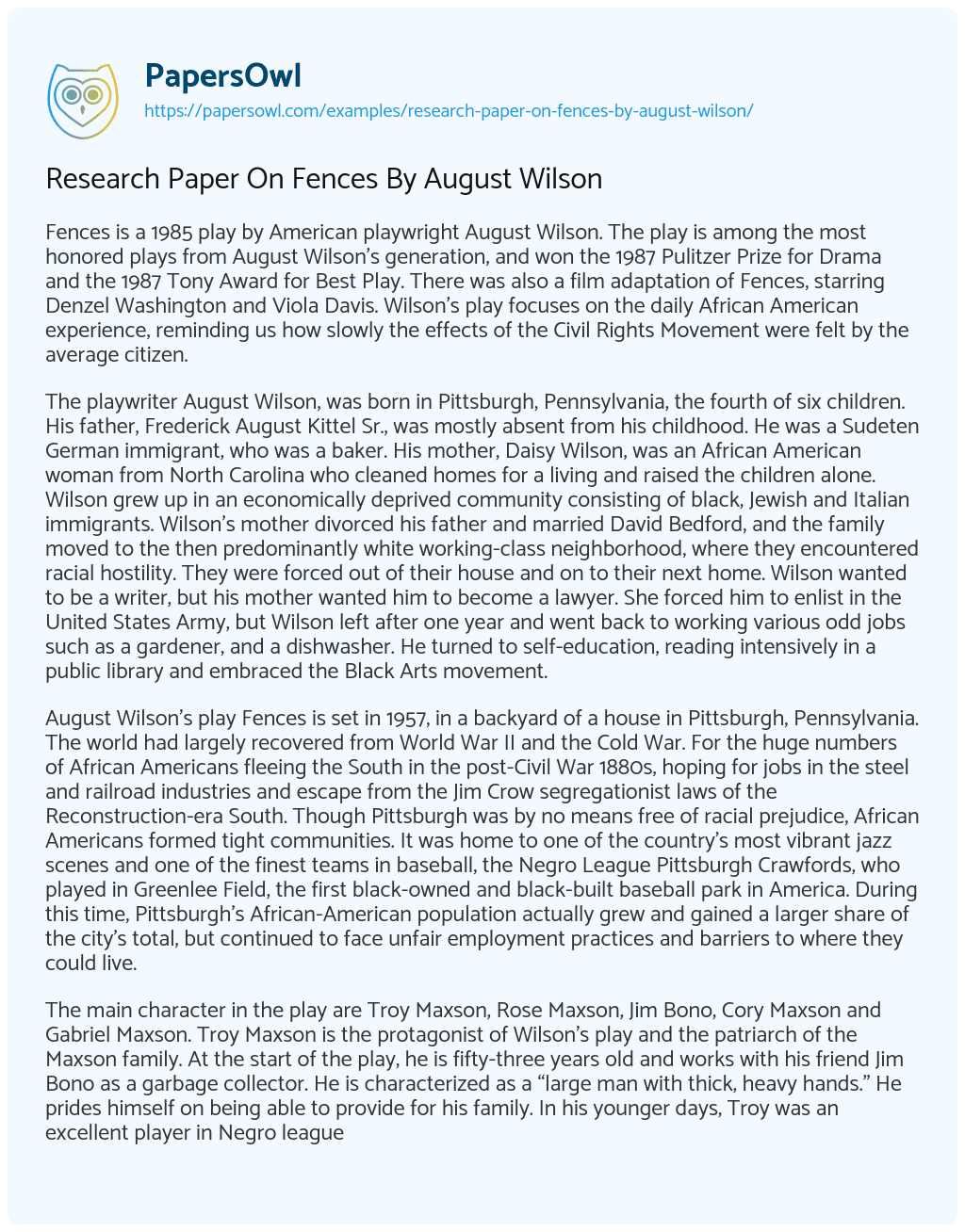 Fences is a 1985 play by American playwright August Wilson. The play is among the most honored plays from August Wilson's generation, and won the 1987 Pulitzer Prize for Drama and the 1987 Tony Award for Best Play. There was also a film adaptation of Fences, starring Denzel Washington and Viola Davis. Wilson's play focuses on the daily African American experience, reminding us how slowly the effects of the Civil Rights Movement were felt by the average citizen.
The playwriter August Wilson, was born in Pittsburgh, Pennsylvania, the fourth of six children. His father, Frederick August Kittel Sr., was mostly absent from his childhood. He was a Sudeten German immigrant, who was a baker. His mother, Daisy Wilson, was an African American woman from North Carolina who cleaned homes for a living and raised the children alone. Wilson grew up in an economically deprived community consisting of black, Jewish and Italian immigrants. Wilson's mother divorced his father and married David Bedford, and the family moved to the then predominantly white working-class neighborhood, where they encountered racial hostility. They were forced out of their house and on to their next home. Wilson wanted to be a writer, but his mother wanted him to become a lawyer. She forced him to enlist in the United States Army, but Wilson left after one year and went back to working various odd jobs such as a gardener, and a dishwasher. He turned to self-education, reading intensively in a public library and embraced the Black Arts movement.
Need a custom essay on the same topic?
Give us your paper requirements, choose a writer and we'll deliver the highest-quality essay!
Order now
August Wilson's play Fences is set in 1957, in a backyard of a house in Pittsburgh, Pennsylvania. The world had largely recovered from World War II and the Cold War. For the huge numbers of African Americans fleeing the South in the post-Civil War 1880s, hoping for jobs in the steel and railroad industries and escape from the Jim Crow segregationist laws of the Reconstruction-era South. Though Pittsburgh was by no means free of racial prejudice, African Americans formed tight communities. It was home to one of the country's most vibrant jazz scenes and one of the finest teams in baseball, the Negro League Pittsburgh Crawfords, who played in Greenlee Field, the first black-owned and black-built baseball park in America. During this time, Pittsburgh's African-American population actually grew and gained a larger share of the city's total, but continued to face unfair employment practices and barriers to where they could live.
The main character in the play are Troy Maxson, Rose Maxson, Jim Bono, Cory Maxson and Gabriel Maxson. Troy Maxson is the protagonist of Wilson's play and the patriarch of the Maxson family. At the start of the play, he is fifty-three years old and works with his friend Jim Bono as a garbage collector. He is characterized as a "large man with thick, heavy hands." He prides himself on being able to provide for his family. In his younger days, Troy was an excellent player in Negro league baseball and continued practicing baseball while serving time in prison for an accidental murder he had committed during a robbery. Because the color barrier had not yet been broken in Major League Baseball, Troy was unable to get into MLB to make good money or to save for the future. He now lives a menial, though respectable, blue-collar life of trash collecting; later in the play, he remarkably crosses the race barrier and becomes the first black truck driver in Pittsburgh instead of just a barrel lifter.
Troy lives with his wife, Rose, his teenage son, Cory, and his younger brother Gaberial. Although ten years younger than Troy, Rose is strong, resilient, and loving. She is extremely loyal and has been married to Troy for eighteen years. Despite Troy's faults, Rose supports him in everything he does. Jim Bono is Troy's friend and fellow garbage collector. They met one another while serving time in prison thirty years earlier and have been friends ever since. Bono admires Troy's attitude and he attempts to mimic his behavior. Cory Maxson is Troy and Rose Maxson's teenage son and a promising young football player at the start of the play. At the start of the play, Cory is an aspiring athlete and is being actively recruited for a college football scholarship, which he hopes to earn in order to eventually play football professionally. He secretly quits his job at the A&P to focus on his football career. Cory loves his father and is eager to please him, but their relationship starts to deteriorate after Troy discovers that Cory has quit his job. For Troy, Cory represents all the possibilities that he was denied as well as his unrealized dreams. Therefore, Troy believes he is looking out for his son's best interests and hopes to prevent Cory's dreams from being destroyed by racism, just as Troy's were. Gabriel Maxson is Troy's younger brother. He received a severe head injury while fighting during World War II, and Troy has helped take care of him since his injury. As a result of his injury, Gabriel has a metal plate in his head, diminished mental capacities, and is prone to delusions in which he imagines that he is the archangel Gabriel. He wears a trumpet around his waist and carries a basket full of fruits and vegetables, which he tries to sell. Gabe had received $3000 from the government, and Troy took control of this money to purchase a home for his family, including a room for Gabe. A short time before the play's opening, Gabriel has rented a room elsewhere, but still in the neighborhood. In the play, Cory tells Troy and Rose about an opportunity for a college football scholarship. Troy tells Cory he will not let his son play football for fear of racial discrimination, just as Troy believes he experienced when he wanted a career in the National leagues. However, it is suggested later on that Troy told Cory's coach that his son is no longer to play football. When Cory discovers this, he and Troy get into a fight resulting in Troy's kicking Cory out of his house. Later, it is revealed that Troy's age after serving a prison sentence, not his race, may have been the primary factor. Father and son argue about Troy's actions, but Troy stubbornly does not back down from his argument and sends Cory to his room. Later it is revealed that Cory enlisted in the military after this event. Troy admits to Rose that he has been having an affair and that his mistress, Alberta, is pregnant. Later, Alberta dies in childbirth. Troy brings his baby daughter Raynell home, and Rose agrees to raise the girl as her own, saying: 'From right now . . . this child got a mother. But you a womanless man.' She remains in the family home but the couple are estranged; she refuses to accept Troy back into her life. Seven years later, Troy has died. Cory comes home for a visit from the military where he is a corporal in the Marines. He initially refuses to go to his father's funeral due to long-standing resentment, but he is convinced by his mother to pay his respects to his father — the man who, though hard-headed and often poor at demonstrating affection, nevertheless loved his son. The family say their farewells to Troy and offer forgiveness that may not be fully deserved.
As with the play's title – Fences, Wilson relies on the metaphor to give his plays direction. Metaphors of the blues, baseball, and the past are interwoven into the development of plot, the refusal to cave under the adverse circumstances of life, life as a game in which one may land safely on base as well as strike out, and the relationship of ancestors, especially black fathers, to current generations. Wilson uses the fence metaphor to interweave the themes of protection and barriers. Fences, simply because the dramatic action depends strongly on the building of a fence in the Maxson's backyard. Rather, the characters lives change around the fence-building project which serves as both a literal and a figurative device, representing the relationships that bond and break in the arena of the backyard. The fact that Rose wants the fence built adds meaning to her character because she sees the fence as something positive and necessary. Bono observes that Rose wants the fence built to hold in her loved ones. To Rose, a fence is a symbol of her love and her desire for a fence indicates that Rose represents love and nurturing. Troy and Cory on the other hand think the fence is a drag and reluctantly work on finishing Rose's project. Bono also observes that to some people, fences keep people out and push people away. Bono indicates that Troy pushes Rose away from him by cheating on her. Troy's lack of commitment to finishing the fence parallels his lack of commitment in his marriage. The fence appears finished only in the final scene of the play, when Troy dies and the family reunites. The wholeness of the fence comes to mean the strength of the Maxson family and ironically the strength of the man who tore them apart, who also brings them together one more time, in death.
August Wilson uses the language and attitude of blues songs to inspire his plays and play characters. The characters literally and figuratively employ the motif of seeds, flowers, plants, and related actions like growing, taking root, planting, and gestation—in both their language and actions. Like August Wilson's mother whose name is Daisy, Rose has the name of a flower. Rose is a typical African American 1950's housewife and, as the caretaker of the family and home, she represents loving care and nurturing, attributes also frequently used to grow plants. Like the characteristics of the flower after which she is named, Rose is a beautiful soul who protects her family and protects herself when Troy hurts her.
The fence is also symbolic of the emotional barrier that Troy erected between himself and his sons, one from each of his adult relationships. Rose also wanted Troy to build the fence as a symbolic means of securing what was her own, keeping what belonged inside in (her family), and making what should stay outside, stay out.
In Act Two, Scene Three, Rose takes in Troy's illegitimate child as her own with these words: 'You can't visit the sins of the father upon the child'. Rose's decision is based on a similar line in the Bible. Rose, a religious woman, believes that children are born innocent and with these words, she says to Troy that she refrains from blaming the baby for any of the faults of the father, her adulterous husband. Rose agrees to raise the child without bias, with unconditional love that she no longer feels towards Troy.
Cycles of black fathers acting as the source of pain in their children's lives is a repeated theme in Fences and here it appears again. This thought exemplifies Rose's disbelief in the cycle. She displays this philosophy at other times in the play, for example, with her son Cory, who she sees as having chances in life that Troy never had. This theory of Rose's about fathers' sins gets proven and disproved several times in the play. Rose believes the pain of one generation stops there and each new generation can get more out of life than the one before, whereas Troy sees life as always staying the same way he experienced it. That shortsightedness is the reason why the opportunity to have a relationship with Alberta, means so much to Troy. Troy's view of life is that men like him, burdened by the sins of his forefathers and the American forefathers who put blacks into slavery, sets up his generation and subsequent generations like Cory's to a life of inequality—the reason why Troy cannot accept Cory's choice to pursue sports over work. Cory, like Troy, leaves home before he is man, and in doing so, becomes one.
The many experiences of race while growing up was expressed in the play Fences. Malcolm X's voice influenced Wilson's life and work. It spoke to him regarding self-sufficiency, self-defense, and self-determination. These experiences led Wilson to write as a self-proclaimed Black Nationalist, but his mature plays were received by multiracial audiences. He was fascinated by the power of theater as a medium where a community at large could come together to bear witness to events and currents unfolding. The Virginia Theatre in New York City's Broadway Theater District was renamed the August Wilson Theatre. It is the first Broadway theatre to bear the name of an African American.
Did you like this example?
6117
680
The deadline is too short to read someone else's essay
Hire a verified expert to write you a 100% Plagiarism-Free paper
Research Paper On Fences By August Wilson. (2021, May 09). Retrieved from https://papersowl.com/examples/research-paper-on-fences-by-august-wilson/