Personal Experience, Intuition, Spontaneous Emotions that Romantic Music Helped to Develop
Exclusively available on PapersOwl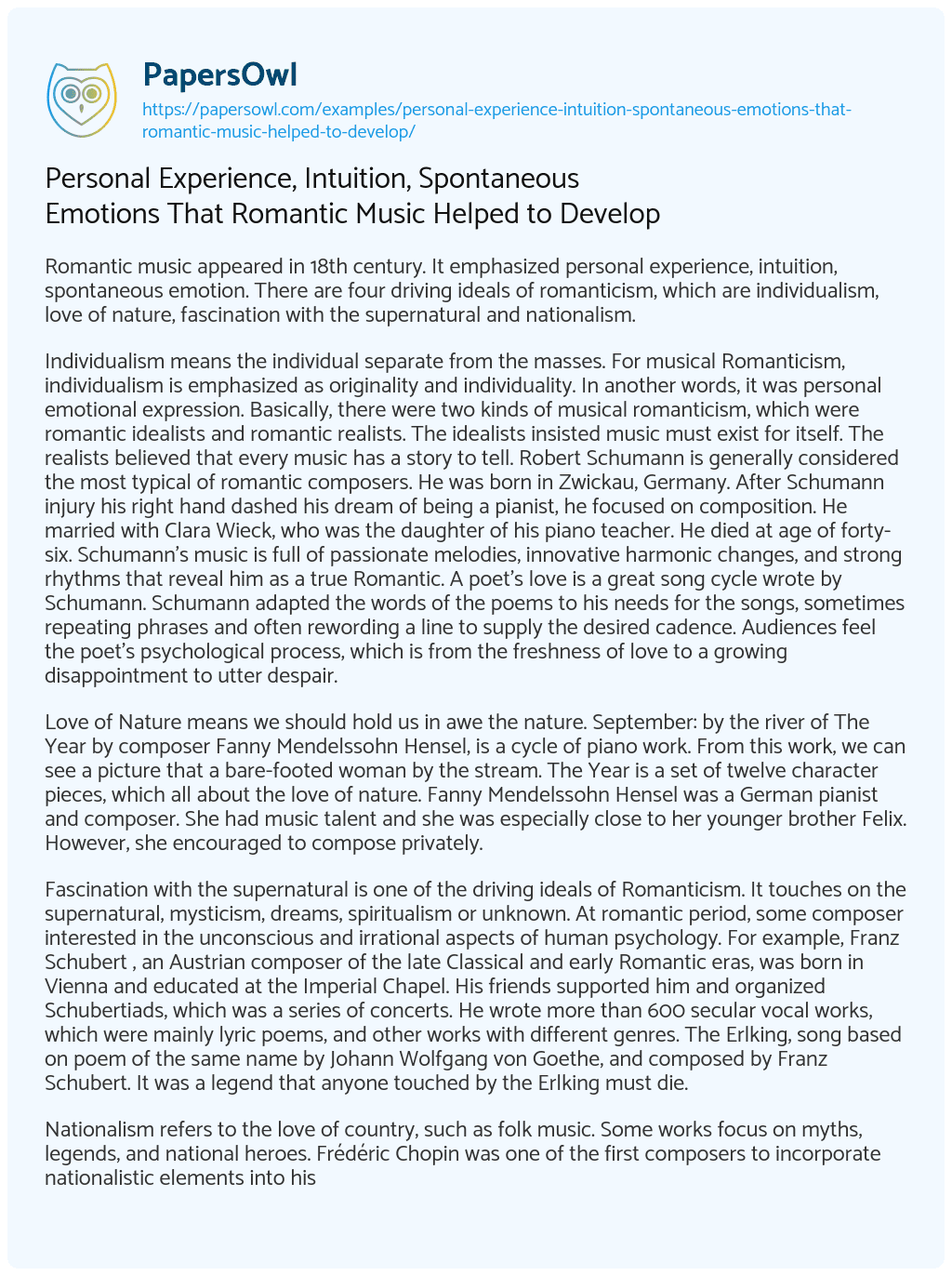 Romantic music appeared in 18th century. It emphasized personal experience, intuition, spontaneous emotion. There are four driving ideals of romanticism, which are individualism, love of nature, fascination with the supernatural and nationalism.
Individualism means the individual separate from the masses. For musical Romanticism, individualism is emphasized as originality and individuality. In another words, it was personal emotional expression. Basically, there were two kinds of musical romanticism, which were romantic idealists and romantic realists. The idealists insisted music must exist for itself. The realists believed that every music has a story to tell. Robert Schumann is generally considered the most typical of romantic composers. He was born in Zwickau, Germany. After Schumann injury his right hand dashed his dream of being a pianist, he focused on composition. He married with Clara Wieck, who was the daughter of his piano teacher. He died at age of forty-six. Schumann's music is full of passionate melodies, innovative harmonic changes, and strong rhythms that reveal him as a true Romantic. A poet's love is a great song cycle wrote by Schumann. Schumann adapted the words of the poems to his needs for the songs, sometimes repeating phrases and often rewording a line to supply the desired cadence. Audiences feel the poet's psychological process, which is from the freshness of love to a growing disappointment to utter despair.
Love of Nature means we should hold us in awe the nature. September: by the river of The Year by composer Fanny Mendelssohn Hensel, is a cycle of piano work. From this work, we can see a picture that a bare-footed woman by the stream. The Year is a set of twelve character pieces, which all about the love of nature. Fanny Mendelssohn Hensel was a German pianist and composer. She had music talent and she was especially close to her younger brother Felix. However, she encouraged to compose privately.
Fascination with the supernatural is one of the driving ideals of Romanticism. It touches on the supernatural, mysticism, dreams, spiritualism or unknown. At romantic period, some composer interested in the unconscious and irrational aspects of human psychology. For example, Franz Schubert , an Austrian composer of the late Classical and early Romantic eras, was born in Vienna and educated at the Imperial Chapel. His friends supported him and organized Schubertiads, which was a series of concerts. He wrote more than 600 secular vocal works, which were mainly lyric poems, and other works with different genres. The Erlking, song based on poem of the same name by Johann Wolfgang von Goethe, and composed by Franz Schubert. It was a legend that anyone touched by the Erlking must die.
Nationalism refers to the love of country, such as folk music. Some works focus on myths, legends, and national heroes. Frédéric Chopin was one of the first composers to incorporate nationalistic elements into his compositions. He was born outside Warsaw to a French father and a Polish mother. In 1831, he went to Pairs. He wrote almost exclusively for piano. Much of his piano music looks back to his Polish roots. From Chopin's compositions the Mazurkas and Polonaises, we can see the nationalistic elements, because they both came from a Polish peasant dance.
Did you like this example?
6792
139