Linda Loman Wife of Willy Loman
Exclusively available on PapersOwl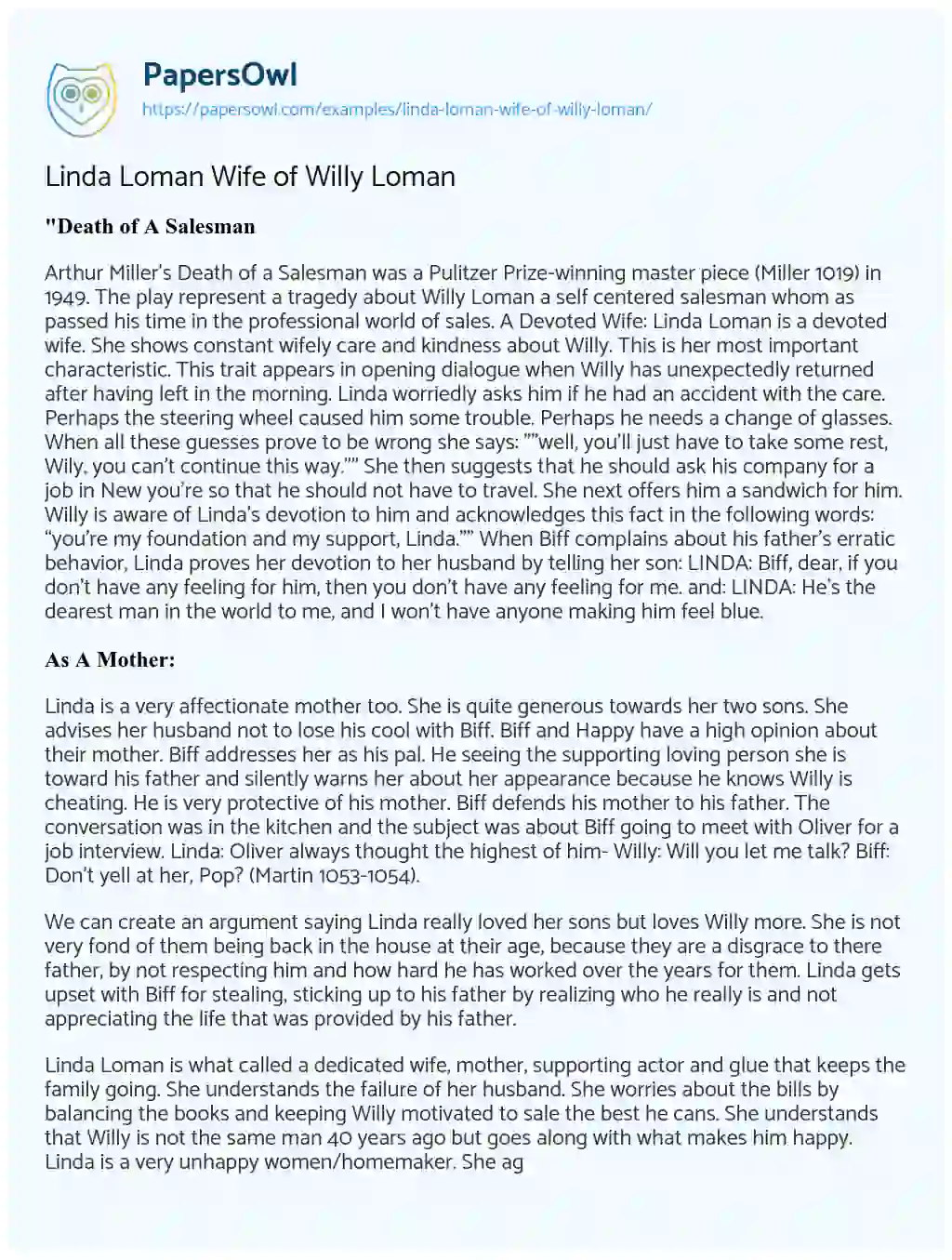 "Death of A Salesman
Arthur Miller's Death of a Salesman was a Pulitzer Prize-winning master piece (Miller 1019) in 1949. The play represent a tragedy about Willy Loman a self centered salesman whom as passed his time in the professional world of sales. A Devoted Wife: Linda Loman is a devoted wife. She shows constant wifely care and kindness about Willy. This is her most important characteristic. This trait appears in opening dialogue when Willy has unexpectedly returned after having left in the morning. Linda worriedly asks him if he had an accident with the care. Perhaps the steering wheel caused him some trouble. Perhaps he needs a change of glasses. When all these guesses prove to be wrong she says: ""well, you'll just have to take some rest, Wily, you can't continue this way."" She then suggests that he should ask his company for a job in New you're so that he should not have to travel. She next offers him a sandwich for him. Willy is aware of Linda's devotion to him and acknowledges this fact in the following words: "you're my foundation and my support, Linda."" When Biff complains about his father's erratic behavior, Linda proves her devotion to her husband by telling her son: LINDA: Biff, dear, if you don't have any feeling for him, then you don't have any feeling for me. and: LINDA: He's the dearest man in the world to me, and I won't have anyone making him feel blue.
As A Mother:
Linda is a very affectionate mother too. She is quite generous towards her two sons. She advises her husband not to lose his cool with Biff. Biff and Happy have a high opinion about their mother. Biff addresses her as his pal. He seeing the supporting loving person she is toward his father and silently warns her about her appearance because he knows Willy is cheating. He is very protective of his mother. Biff defends his mother to his father. The conversation was in the kitchen and the subject was about Biff going to meet with Oliver for a job interview. Linda: Oliver always thought the highest of him- Willy: Will you let me talk? Biff: Don't yell at her, Pop? (Martin 1053-1054).
We can create an argument saying Linda really loved her sons but loves Willy more. She is not very fond of them being back in the house at their age, because they are a disgrace to there father, by not respecting him and how hard he has worked over the years for them. Linda gets upset with Biff for stealing, sticking up to his father by realizing who he really is and not appreciating the life that was provided by his father.
Linda Loman is what called a dedicated wife, mother, supporting actor and glue that keeps the family going. She understands the failure of her husband. She worries about the bills by balancing the books and keeping Willy motivated to sale the best he cans. She understands that Willy is not the same man 40 years ago but goes along with what makes him happy. Linda is a very unhappy women/homemaker. She agrees with Willy to make him happy and the verbal abuse is a part of being the supportive wife. When she informed her sons that Willy was sick and acknowledged the suicide attempts, her heart was very heavy, even though she could not find the strength to confront him"
Did you like this example?
3356
140