Jane Austen the Author and Feminist
Exclusively available on PapersOwl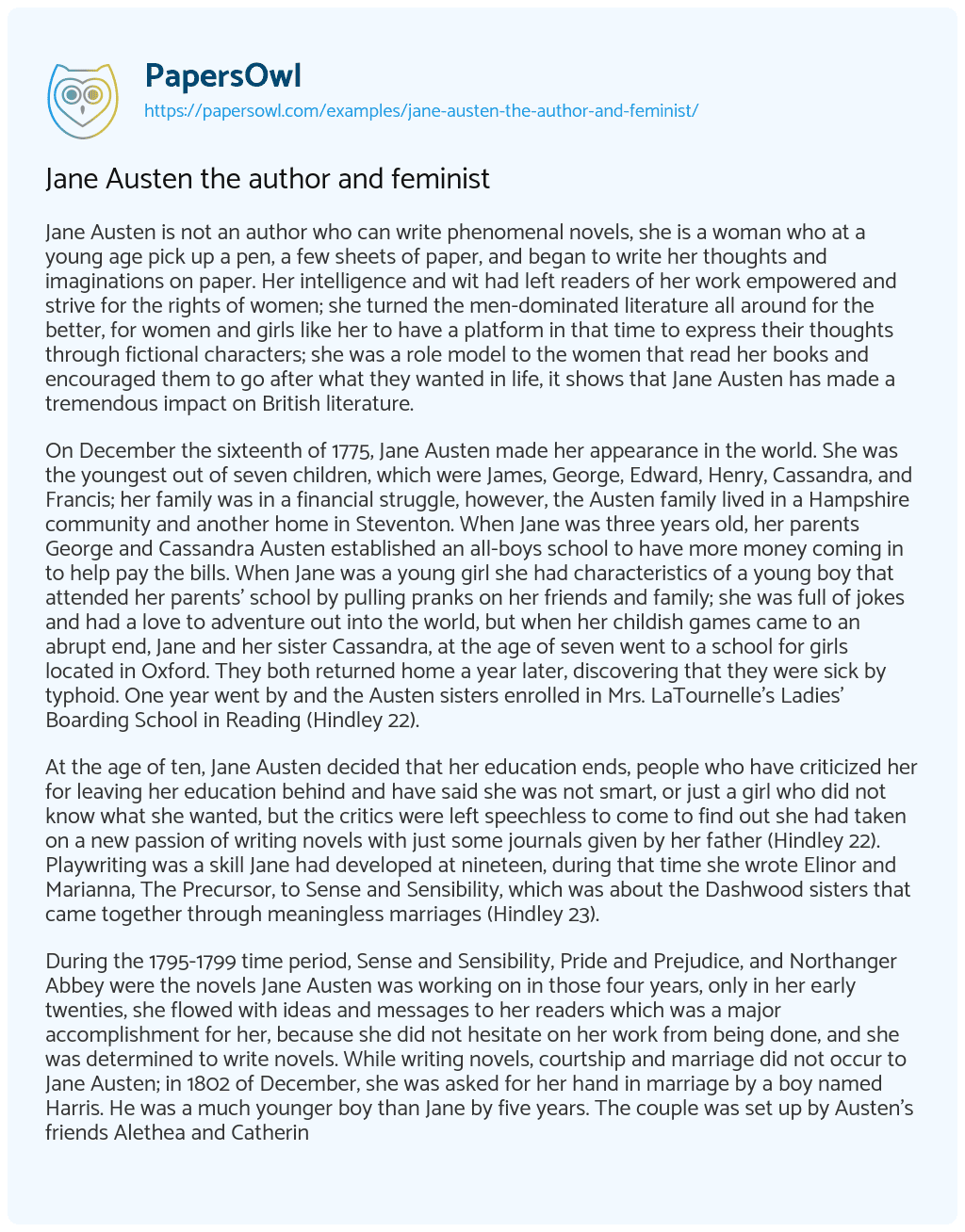 Jane Austen is not an author who can write phenomenal novels, she is a woman who at a young age pick up a pen, a few sheets of paper, and began to write her thoughts and imaginations on paper. Her intelligence and wit had left readers of her work empowered and strive for the rights of women; she turned the men-dominated literature all around for the better, for women and girls like her to have a platform in that time to express their thoughts through fictional characters; she was a role model to the women that read her books and encouraged them to go after what they wanted in life, it shows that Jane Austen has made a tremendous impact on British literature.
On December the sixteenth of 1775, Jane Austen made her appearance in the world. She was the youngest out of seven children, which were James, George, Edward, Henry, Cassandra, and Francis; her family was in a financial struggle, however, the Austen family lived in a Hampshire community and another home in Steventon. When Jane was three years old, her parents George and Cassandra Austen established an all-boys school to have more money coming in to help pay the bills. When Jane was a young girl she had characteristics of a young boy that attended her parents' school by pulling pranks on her friends and family; she was full of jokes and had a love to adventure out into the world, but when her childish games came to an abrupt end, Jane and her sister Cassandra, at the age of seven went to a school for girls located in Oxford. They both returned home a year later, discovering that they were sick by typhoid. One year went by and the Austen sisters enrolled in Mrs. LaTournelle's Ladies' Boarding School in Reading (Hindley 22).
At the age of ten, Jane Austen decided that her education ends, people who have criticized her for leaving her education behind and have said she was not smart, or just a girl who did not know what she wanted, but the critics were left speechless to come to find out she had taken on a new passion of writing novels with just some journals given by her father (Hindley 22). Playwriting was a skill Jane had developed at nineteen, during that time she wrote Elinor and Marianna, The Precursor, to Sense and Sensibility, which was about the Dashwood sisters that came together through meaningless marriages (Hindley 23).
During the 1795-1799 time period, Sense and Sensibility, Pride and Prejudice, and Northanger Abbey were the novels Jane Austen was working on in those four years, only in her early twenties, she flowed with ideas and messages to her readers which was a major accomplishment for her, because she did not hesitate on her work from being done, and she was determined to write novels. While writing novels, courtship and marriage did not occur to Jane Austen; in 1802 of December, she was asked for her hand in marriage by a boy named Harris. He was a much younger boy than Jane by five years. The couple was set up by Austen's friends Alethea and Catherine Bigg; Harris was their youngest brother, and he was a smart young man, he went Oxford to finish his education, he had his flaws like everyone else, Jane liked him regardless, and accepted his proposal (Hindley 23).
Jane returned to writing novels after her engagement, she proofread Northanger Abbey. Hoping to get some news about her novels her nephew Henry went a publisher house in London to have her book out in the public eye, but sadly her book was not published. Jane swiped off the discouragement she felt in her heart that her beloved book was not published and began to write, "The Watsons," the story was about sister who was never married, but eager to find husbands before the passing of their father; this novel was a hint of foreshadowing in Jane Austen's life, because her father George passed away in 1805 of January, the cause of his death was a very horrible fever (Hindley 49).
The death of her father was turmoil for her and family, dealing with the debts to pay without the funds. Jane's mother and sister Cassandra had some money put back to help with the financial burden they were left with when George Austen passed away; Jane's brothers had to take the responsibility to care for their mother and sisters. Jane, her mother, and Cassandra traveled around to live with other family members and some friends, they finally found a place to stay permanently at Southampton (Hindley 49).
July of 1809, Jane, Cassandra, and their mother decided to leave Southampton, and live in Chawton, which is a village that was miles away from London (Hindley 49). Jane had a job while she living in Chawton, she had to make breakfast only at nine in the morning, and that helps Jane to work on her novels; during her time off, she looked over Sense and Sensibility for corrections or add more characters to the story. She had to hide that she was an author from other workers in the estate, and even her own family; she took a few sheets of paper to write her stories on because it was easier to put into her pocket if someone happens to come around while she was writing (Hindley 50).
In January 1813, Pride and Prejudice was published, but Jane Austen did not want to have her name on her own book, during that time no one thought a woman could ever write stories and make a name for themselves (Hindley50) ; Jane Austen proved all the critics wrong when she wrote in the first page of Sense and Sensibility that the author was, "A lady." (Brownstein 58). Jane writing style awoke some concerns about her beliefs with feminism and the potential of splitting the political officials in that time era who stand with Austen; Jane, later on, becomes very admired by fans of her work in all of England (Brownstein 59).
In 1811, Jane was becoming to be a novelist, in the eighteenth century no one has ever seen or heard of a woman taking on a role that a man has had; today, that is feminism, which means men and women to have equal rights and opportunity (Kirkham 3). The novels that Jane Austen have written are smart and empowering for her devoted readers to invest their time and kept them engaged with the plot of the novel (Brownstein 60). Jane gave no clues of how the story might end and her characters were talked about being symbolized for the portraying rich, powerful men and the women in arranged marriages to those men (Brownstein 61).
Jane started looking over some pieces from a story to publish, and she realized that she was becoming sick and had a problem with fatigue (Hindley 51). When Jane Austen was forty-one years old, she passed away; sources have said that she could have died from Addison's disease. Even though she had died, her work lived on and millions of people read her novels, honored her greatly. She started to finally get recognition for who she really was when her brother Henry told the whole world that she the author of Pride of Prejudice and Sense and Sensibility (www.biography.com).
Although Jane Austen has been dead, for almost two hundred years ago, she is still alive in literature British and American; with her, feminism began to make its' name known into the world (Brownstein 57). Women during the eighteenth century and further on into the nineteenth century did not have a role in society; Jane Austen proved that they could be anything they wanted to be, by showing symbolic messages in her novels about feminism Kirkham 3).
The effects of Jane Austen are astounding to women and girls. Feminists from all over Britain to have a better education from themselves and their daughters, people against the idea saw it as an issue to the government to allow women and girls to have an education like the men have. Other women who wanted to have a better education saw through the fact that the authority officials just looked over their protest and hard determination, because they believed that it was not necessary from the women to have an opportunity to learn and explore the world around them, like Jane Austen (Kirkham 4).
Novels that Jane has written, she often judges the fact that women use men to find a solution to their dilemma. The heroines of Jane Austen's books, are independent and find their own solution to the dilemma; she also writes about women who see the fault of a marriage and make the right decision to leave the marriage immediately as it was arranged (Kirkham 32). Her novels are not as modern, but the reader can know what exactly what she is trying to say, even though it had been written in the eighteenth century, and that is why Jane Austen is relevant today (Kirkham 82).
In a story about Jane Austen written by, Barbara Hardy, she states, "Good artists work their chosen genre, great artists transform it." (Hardy 11). Jane Austen did just that when she took romance to historical fiction novels and turned inside out in the literature world; her work nothing like any other author's work, male or female. She is a category of her own, and that is something not seen every day at that time (Hardy 11). Later on, in the ninetieth century, Jane began to be congratulated for her brilliant works in literature; there were always those who would try to tear her down, by harsh reviews on her books; saying she has no spark in her stories. Jane Austen had class and variety in her books that still lives for lifetimes (Hardy 12).
Jane's support for women rights was always mentioned in her novels at one point in time, she not only a big-time female author, but she was also done sewing as well. She was a multi-tasker in today's time, she never mentioned once that, she was too exhausted to finish a novel or even considering giving up her passion, become a housewife, like all of her friends have done. She did not do that, she had a determination and had a passion for her work to be out there and read by others (Hardy 12).
Her life may have been not an exciting one, but Jane Austen is one of the most important novelists on her time and now (Hardy 13). Her works are still being assigned by many college English professors; one professor in particular at Stanford University named Alex Woloch was asked by students why he admired Ms. Austen so long. He researched her novels for almost his whole life of being a professor; he examined the main characters to the small characters, who only had a few lines. He was curious about Jane Austen wondered what thrilled her so much about writing novels (www.stanford.edu).
Did you like this example?
6778
589