Integrated Studies Social Work& Psychology
Exclusively available on PapersOwl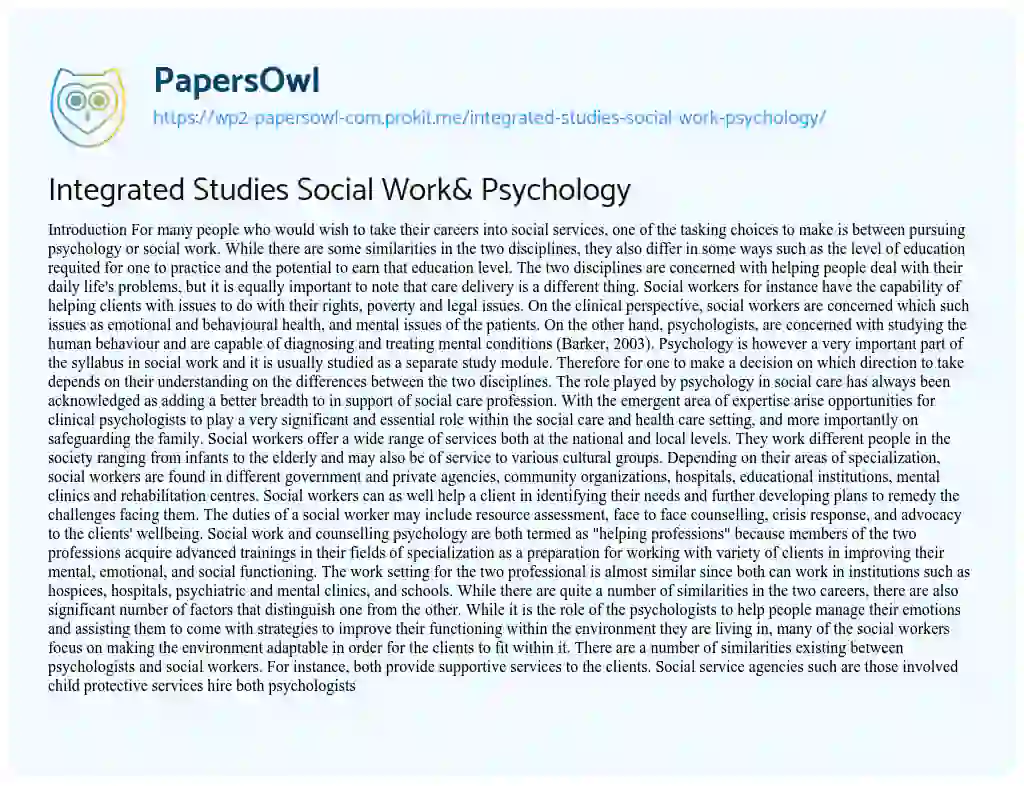 Introduction
For many people who would wish to take their careers into social services, one of the tasking choices to make is between pursuing psychology or social work. While there are some similarities in the two disciplines, they also differ in some ways such as the level of education requited for one to practice and the potential to earn that education level. The two disciplines are concerned with helping people deal with their daily life's problems, but it is equally important to note that care delivery is a different thing. Social workers for instance have the capability of helping clients with issues to do with their rights, poverty and legal issues. On the clinical perspective, social workers are concerned which such issues as emotional and behavioural health, and mental issues of the patients. On the other hand, psychologists, are concerned with studying the human behaviour and are capable of diagnosing and treating mental conditions (Barker, 2003). Psychology is however a very important part of the syllabus in social work and it is usually studied as a separate study module.
Need a custom essay on the same topic?
Give us your paper requirements, choose a writer and we'll deliver the highest-quality essay!
Order now
Therefore for one to make a decision on which direction to take depends on their understanding on the differences between the two disciplines. The role played by psychology in social care has always been acknowledged as adding a better breadth to in support of social care profession. With the emergent area of expertise arise opportunities for clinical psychologists to play a very significant and essential role within the social care and health care setting, and more importantly on safeguarding the family. Social workers offer a wide range of services both at the national and local levels. They work different people in the society ranging from infants to the elderly and may also be of service to various cultural groups. Depending on their areas of specialization, social workers are found in different government and private agencies, community organizations, hospitals, educational institutions, mental clinics and rehabilitation centres. Social workers can as well help a client in identifying their needs and further developing plans to remedy the challenges facing them. The duties of a social worker may include resource assessment, face to face counselling, crisis response, and advocacy to the clients' wellbeing.
Social work and counselling psychology are both termed as "helping professions" because members of the two professions acquire advanced trainings in their fields of specialization as a preparation for working with variety of clients in improving their mental, emotional, and social functioning. The work setting for the two professional is almost similar since both can work in institutions such as hospices, hospitals, psychiatric and mental clinics, and schools. While there are quite a number of similarities in the two careers, there are also significant number of factors that distinguish one from the other. While it is the role of the psychologists to help people manage their emotions and assisting them to come with strategies to improve their functioning within the environment they are living in, many of the social workers focus on making the environment adaptable in order for the clients to fit within it. There are a number of similarities existing between psychologists and social workers. For instance, both provide supportive services to the clients. Social service agencies such are those involved child protective services hire both psychologists and social work professionals to perform similar tasks.
Additionally, most of the degree programs offer trainings to psychology and social work students in a similar manner. This is to mean that many of the clinical social workers provide similar services as clinical psychologists. In aid to social services, social workers and psychologists apply variety of psychological knowledge to make assessments, counselling and diagnosing individuals, children and families. Basing on the U.S. Bureau of Labour Statistics of 2013, a clinical social worker is mandated to developing treatment plans and offer counselling services to individuals, children, couples, families, and groups. They work in collaboration with other professionals in the health care field especially psychologists and psychiatrists to provide support to the client in terms of mental, emotional, and physical health. On the other hand, it is the work of psychologists to identify, examine, and record the response of people and their relations to other people and everything that influence their lives (American Psychological Association, 2013). The psychologist is in the capacity of assessing the client, order for diagnostic examinations, order personality, intelligence and performance tests or opt for counselling in terms of behavioural change programs or therapies focused on cognitive behavioural change.
It is only two American states that certify their clinical psychologists to make medical prescriptions to the clients. The report from the American Psychological Association (2013) show that most of the psychologists split their time through provision of counselling services, carrying out research, or teaching in graduate schools. According to the same report, it is the role of psychologists to make use of wide range of psychological knowledge and techniques gained through learning and experience to make assessments and treat the emotions and psychological issues facing the clients. After analysing the client, the psychologist should be able to come up with a treatment plan specifically meant to meet the client's needs. The psychologist collaborates with the clinical social worker to see that the treatment plan is effective. In most cases when the psychologist feel that he/she is in a position to provide the required therapy to the client, he/she refers the client a specialized social worker or any other professional fit to offer the best therapy (American Psychological Association, 2013).
The role played by social workers and psychologists in the lives of people they serve may also differ in various ways. While social work is concerned with adapting the client's environment in order to commence the process of change in client's life, psychologists put their focus on helping people identify the problems affecting them and coming up with ways to overcome those problems. In a context of mental health, a psychologist will hold one on one sessions with the client, go through the factors that cultivate their plight and prepare them for a better functioning in the society (Dewey, 2010). Psychologists in this case might put their focus on developing skills of forming healthy relationships, effective expression of emotions and development of skills to handle stress. In contrary to psychology, a social worker would direct his/her effort on preparing the community for the individual to fit in. instead of cultivating personal skills and traits which will help the individual successful, a social worker would put more attention on coming up with support programs and identifying the available avenues in the community upon which the individual can rely upon.
Taking an example of a client who visits a counselling psychology because of issues to do with unemployment or job loss, it is probable that the psychologist will have a session with him/her purposely to identify the emotions felt about lacking a job, eventually the client will be taken through ways of developing healthy coping strategies for managing the stress and emotions. If the same client seeks the services of a social worker, although the focus would be on identifying the source of stress and coping with it in a healthy manner, the social workers will have their primary focus on helping the client modify their environment to ameliorate that stress (Dewey, 2010). Precisely, the social worker might link the client to a job coach or an employment agency which in one way would address the client's problems.
Additionally, another difference between social workers and psychologists is that psychologists receive training on how to administer psychological examinations such as assessing client's personality and intelligence, while social workers are not equipped with such knowledge. Additionally, psychologists approach towards certain therapeutic approaches differ from that of social workers. They tend to put more focus on behaviours and cognitive processes than the social workers. Social workers do provide social services to the clients in form of resources such as welfare benefits and food while psychologists provide services aimed at improving person's mental wellbeing. As always mentioned, the boundaries between the two disciplines are not clear therefore there is a possibility that both psychologists and social workers can perform similar or same duties. Moreover, both the psychologists and social workers tend to work in similar contexts but psychologists have a better hand since they can work with other areas other than general or clinical psychology.
On the other hand, classification of social workers is specific, for example one can be classified as a general social worker, or a clinical social worker and lastly, psychologists are more opportune as they can get side jobs such as teaching graduate students and serving as research assistants. Another difference arising between psychology and social work is from their operational perspective. Majorly, psychologists will look into the past events of the client and make examination on how those events were of influence to the current behaviour, and in this case, psychology is more specific on issues and therefore can be termed as operating on a micro level. Social workers on the other hand are less concerned on how the client got themselves in their current situation but rather focuses on how to resolve the issues affecting the client at the moment in order to ensure that they achieve success in the future. It is therefore a macro and systemic approach to offering solutions to the client's plights (American Psychological Association, 2013). Using the stated example, a psychologist might want to engage the client in identifying the specific reasons why he/she is unemployed and iron out any other issues that prevent them from maintaining their job.
A social worker on the other hand look into the future of the client through a future based strategy, and putting much of the focus on offering specific support that make the client more likely to be employed and be able to retain their job. Having understood their distinguishing features, it is possible to realize that if the efforts of the two professions are combined then the outcome would be more preferable than when each works independently. Clinical psychology is increasingly being seen as one of the most important element of social work, child growth, adolescents, and family. Working in a healthcare centre setting requires that psychologists work alongside other professionals among them social workers, healthcare staff, psychotherapists, and occupational therapists. Through the introduction of clinical psychology, psychologists get to work in line with social workers to provide solutions on problems affecting people across different societal settings. It's the work of psychologists to help people overcome trauma, phobia, and stress, speeding up the healing process after brain surgeries, helping children to cope with the effects of divorce and helping to curb or prevent cases of bullying at the workplaces or in schools.
Additionally, a growing field of speciality, and expertise lies within the social care and health care setting and more importantly within the context of a family for safeguarding and protecting the rights of children and the vulnerable in the society which is accomplished through a multi-disciplinary approach comprising of social work and psychology. Relevance of psychological theories to social work According to psychologists, behaviour is defined in terms of processes that take place in the body while social psychology defines it in terms of how people interact. Modifications in human behaviour depends on the conditions under which one operates in and the way to assist someone to change their behaviours to suit what is generally acceptable in the society is either through rewards or punishment (Skinner, 1953). For example when a child use crying as a means of getting what he/she wants, this becomes a habit and might turn out to be an undesirable behaviour.
According to Skinner, the child's behaviour is an operant conditioning. The child behaves this way since he/she knows she will receive attention he/she wanted, this is what Skinner terms as a behaviourist perspective. Bandura (1985) on the study of behaviour in a social perspective, on the other hand would not agree to what skinner argues about. Skinner would describe the child's behaviour as observational on the basis that it is founded on learning imitation. Bandura states that learning moral values by a child or an adult is through observing the behaviours of others and not exposure to rewards or punishments. This relates to the child's behaviour and depicts how the outcome may not be as weighty as per the belief of the behaviourist perspective. Being in a social work profession, where one gets to work and interact with people from different backgrounds, it is very important to have a wide array of knowledge on psychological theories since this is an essential tool which aids in understanding and making interpretations on behaviours in a social work setting.
Additionally, a professional social worker should understand different cultures and be in a position to know when to and not to apply certain psychological perspectives taking into account that people have their own differences ranging from what is considered cultural, ethical or religious. Multidisciplinary approach towards child protection work Within the field of child protection, principle areas where psychology is practiced include getting an understanding of individual child development and needs identification. This involves a professional skills assessment through methodological understanding which include culture assessment, understanding the family systems, the nature of environment where the child is brought up, and the family therapy and intervention strategies. What is obvious for example is the influence a parental mental stability and/or illness has on the child. Alongside professional social workers and those with expertise in matters of domestic violence and abuse, drug and substance issues, the practitioners can draw upon the experience and knowledge of a psychologist to provide an extra stretch to safeguarding and protecting the affected child. The value of psychologists in social services was recognized by the British Psychological Society in the context of a child??™s case back in 2006 when it endorsed the working together to safeguarding children document (Dewey, 2010).
The document noted the essentiality of the basic principles to the role of psychologists in the respect for being centred on the lives of children, having an all-inclusive approach, focused on developmental outcomes of children and the involvement of children and their families. The power of integration and interagency approach was clearly featured in the endorsement.
Interventions based on evidence
A psychologist in a clinical setting can play a supporting role in enlightening the social work staff about the factors that impact on the lifestyles of people, what arouses certain behaviours such as smoking, exercise, and dietary change which are related to health or mental illnesses (Dewey, 2010). Through an interagency approach, there is an opportunity to apply a wide array of informed evidence to foster people's health and wellbeing. Research and psychological theory have a number of ways that can contribute to health and social care improvement through awareness on the variability of people's needs and understandings, therefore making sure than care is to the required standard.
Psychologists can help in gaining a better understanding of the processes of communication in identifying approaches of cultivating the therapeutic relationship, and ascertain the factors that influence the coping skills of people possessing such situations as pain and loss, chronic and acute illnesses, and every day's demands and therefore assisting them to adjust better. Academic preparation into the profession For both professions, one is required to have earned a bachelor's degree or a higher level in order to practice, but differences arise on the type of degrees required for one to practice the profession. Studies in social work prepares individuals into becoming professionals in the field. Social workers commence their journey with an education which introduces them to the profession's policies, code of conduct and the opportunities available for them. Graduates often earn a practice license which allows them to legally practice their profession. Some of the courses in which a prospective social work graduate will need to take include family social work, community social work, and social welfare policies.
In addition, undergraduate courses in social work require field attachments whereby the students get practical training in their field of study, basically through placements at agencies concerned with human services. In specific, a social worker need to have a master's degree in social work for him/her to practice as a social worker, even though it is not a requirement to have a bachelor's degree in social work, it is equally important for one to take courses in psychology, sociology, and maybe economics before earning an undergraduate degree. Before an individual is permitted to offer their services to the clients, they should have to be licensed. In addition to this, a social worker need to have successfully completed a minimum of 3000 hours of supervision (depending on their state) in a clinical setting in order to pass the licensure tests which upon successful completion, one shall be classified as a licensed social work professional.
On the other hand, a psychologist will need to have a doctoral degree in order to practice as a psychologist. It is not a requirement for one to have earned an undergraduate degree in psychology in order to practice. Once a prospective psychologist has earned a master in a field related to psychology, he/she needs to go for a doctoral degree in psychology (American Psychological Association, 2013). Just like social work, one becomes licensed as a psychologist after completing a fully supervised placement in psychology thereafter sitting for a certification test which shall earn him a license upon successful completion.Factors to consider towards earning a career in social work and psychology While the most important factor is education, career outlook and salary are all essential to consider  there are still other factors to put into consideration. A big part of one enjoying their career is finding a place with a role that offer them satisfaction, that is why it is important to have an clear understanding of where one is getting to. Both social work and psychology will require one to be excellent inn making connections with people, having a sense of empathy is also equally important (American Psychological Association, 2013).
Some of the issues brought forth by clients might seem simple to handle on the service but getting a deeper understanding on the issues facing them will help in assisting them to in a manner which does not in any way show that you are being judgemental. Another factor to consider is the kind of environment and the kind of people one expects to be working with and the effect it will have on one??™s life as a professional. It is undeniable that working as a psychologist or a social worker might be so stressful for it is not easy to keep off the struggles of your clients from bothering you. Depending on the type of work one is obliged to, the stress levels might vary, but the good thing to remember is that no matter how one loves their job, being proactive to personal wellbeing is so paramount. This does not have any intension to scare prospective psychologists and social workers because nearly every profession has its own flaws aside from the compensation one receives for offering themselves to be distressed. Being prepared is always the best way to cope with workplace related stress.
Conclusion
Having a career in either social work or psychology comes with a package of love and empathy in it. In this modern world where many people put their focus on the bottom line, earning income through uplifting the lives of those people in need is exceptionally rewarding. Now that enough light has been shed on the realities and distinguishing factors between social and psychology, it can be concluded that the two disciplines are inseparable and that one needs the other. Despite the few differences, social work and psychology borrow a lot from each other, so much that without deep examination, one can easily confuse one for the other. [bookmark: _GoBack]
References`
Did you like this example?
4362
485
The deadline is too short to read someone else's essay
Hire a verified expert to write you a 100% Plagiarism-Free paper
Integrated Studies Social Work& Psychology. (2019, Jul 14). Retrieved from https://papersowl.com/examples/integrated-studies-social-work-psychology/