Housing Issues in NYC
Exclusively available on PapersOwl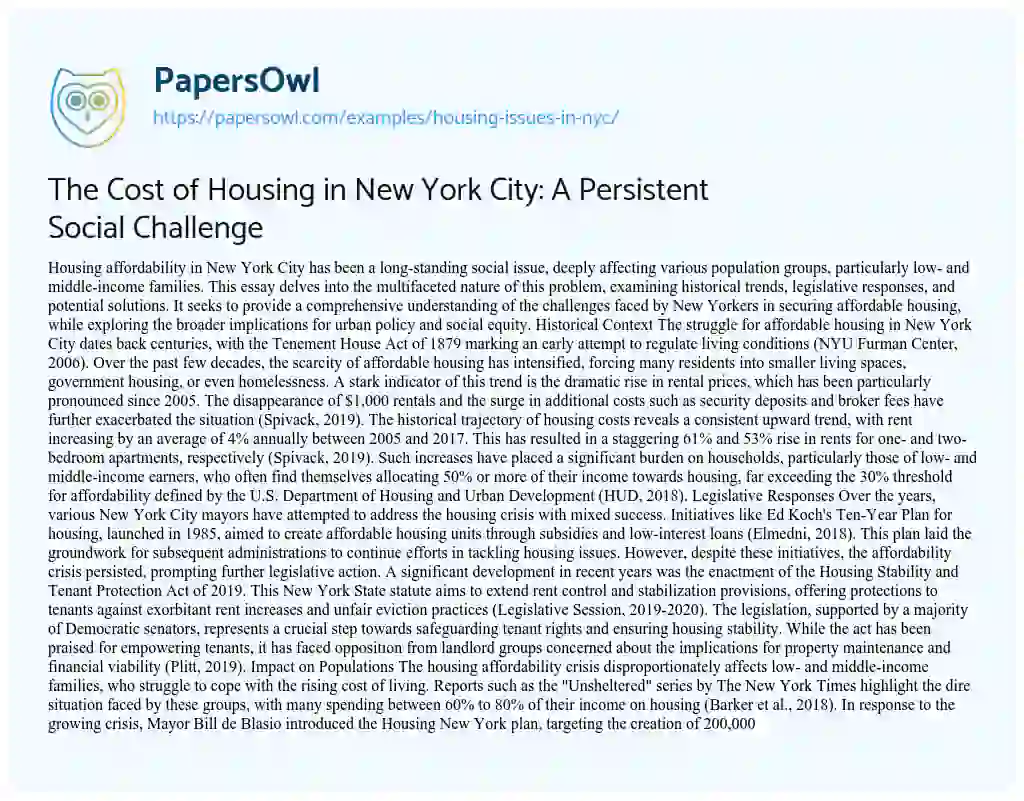 The cost of housing in New York has been a social problem for centuries due to how expensive it is to rent or own a home and how certain populations may be affected more than others, i.e. – low-income or middle-income families. This paper will discuss how this social problem has been measured, affect different populations, the history of this issue/how it has changed over time, discuss the current law and what programs may have been designed as a result of this law, in addition to other alternatives that have been suggested. New York City housing policy history can be traced to the Tenement House Act of 1879, which predates any meaningful federal interventions (NYU Furman Center, 2006). In the past 5-10 years, affordable housing possibilities have become scarcer and many individuals/families find themselves living in smaller spaces, in government housing or in homeless shelters due to their inability to keep up with rental increases.
When searching for the history of housing or rental housing costs in NYC, it is clear to see that it has risen precipitously in the past 15 years. For example, since 2005 rent prices have increased annually so that $1,000 rentals have disappeared (Spivack, 2019). In addition to the expense of renting, a possible hindrance to moving can be due to sudden expenses that tenants may not be able to afford, which may include three to four times the monthly rent initially. What these tenants may have to pay for is a security deposit, the first month's rent and broker fees, which they may not have readily available. Based on research conducted on apartment rental websites like Trulia and Zillow, in an area like Queens, a one-bedroom rental starts at $1,600 and a two bedroom starts at $2,200, and if you have a pet, some landlords may not rent to you and if they do, there may be a pet fee added to the rent. Regardless of your income, the main problem in New York is how much is being spent monthly on just housing. "Affordable housing is defined as one that a household can obtain for 30% or less of its income" (U.S. Department of Housing and Urban Development [HUD], 2018). Nowadays, most households may be paying 50% or more on just rent and more if the cost of utilities are added. Overall, rent in New York City increased by 4 percent per year, which resulted in $600 higher for one- and two-bedroom apartments—61 percent and 53 percent rent rise between 2005 and 2017 (Spivack, 2019).
A few New York Mayors like Ed Koch, David Dinkins and Rudy Giuliani attempted to address the concern for affordable housing and the homelessness crisis in NYC from 1978-2001 (Elmedni, 2018). Mayor Ed Koch, attempted to resolve this issue by implementing an affordable housing plan that was known as the Ten-Year Plan for housing in 1985 (Elmedni, 2018). This plan actually lasted for 15 years and continued through Dinkins and Giuliani's administration and created 100 programs that used low-interest loans to owners, provided subsidies for home ownership-based new projects and Community Development Corporations (CPCs) and nonprofit organizations (NYU Furman Center, 2016). When Bloomberg was mayor in the early 2000s, he reduced long term support for homeless families and started "Advantage," a time limited subsidy for low income families that ended in 2011 (Routhier, 2012).
The most affected population in New York City by the rent increase seemed to be the low-income and middle-income families. In May 2018, there were a series of articles about the housing crisis in New York City titled "Unsheltered" by The New York Times, which noted that the poor pay 60% to 80% of earned income on housing (Barker, Silver-Greenberg, Ashford, & Cohen, 2018; Barker, 2018; Kleinfield, 2018). Due to the affordability crisis, after Mayor Bill de Blasio was elected, he introduced Housing New York: A Five, Ten-year Plan to provide affordable housing within NYCs five boroughs (WNYC, 2014). His plan was focused on creating more units and attempting to create 200,000 affordable units for all income groups with a specific emphasis on the low-income groups (Housing New York 2.0, 2017).
Due to the cost and unavailability of affordable housing, the Housing Stability and Tenant Protection Act of 2019 was enacted as a New York State statute, "to extend and make certain provisions of law permanent relating to rent control and rent stabilization" (Legislative Session, 2019-2020). This bill protects tenants by setting limits on rent increases in stabilized apartments, it also manages fees like broker fees, application fees and sets caps on how much tenants can be charged. This bill was sponsored by 23 New York Democratic Senators, there were Democratic and Republican Senators voting with 36 voting in support of this bill and 26 voting against it. Most of the votes in favor of this bill were Democratic and most votes not in favor were Republican. The National Low Income Housing Coalition's (NLIHC) state partner New York State Tenants and Neighbors and the Housing Justice for All campaign activists strongly advocated for rent regulation. State Senator Zellnor Myrie stated in an interview, "Rent stabilization is a lifeline to millions of tenants in New York City, but this lifeline has been under attack for decades, resulting in the loss of hundreds of thousands of affordable housing units" and "With this bill, we finally put power back in the hands of tenants not only in New York City but across the whole state and take a step toward housing justice for all New Yorkers (Plitt, 2019). Marches were conducted in the streets and they urged the state city council to pass new rent regulation solutions. Housing Justice for All also presented a pro-renter petition with three thousand signatures to Governor Cuomo (NLIHC, 2019). Landlords and their lawyers were opposed to these new regulations due to the loss of being able to evict tenants and fear that they're being forced to allow a deterioration of their buildings into public housing-like conditions (Giller, Berger, 2019).
There was also some opposition from landlord groups, who vowed to fight the legislation and called it "punishing landlords 101" (Plitt, 2019). The Real Estate Board of New York has also warned that the legislation might lead in losses of even more affordable housing in NYC. Rafael Cestero, the president and CEO of the Community Preservation Corporation stated, "When we don't strike a balance that protects rents and also allows regulated buildings to generate enough revenue to pay for their maintenance, it's the tenants and our communities who will ultimately suffer because of it" (Plitt, 2019).
This policy is significant because it addresses housing issues within New York State that have been an ongoing issue for tenants. The policy would make rent regulation permanent in New York State, which means that renters may not have to worry that their landlord will raise their rent. This policy will not allow landlords to reject tenants because they had a prior housing court case with another landlord, eviction court data cannot be acquired, and eviction records are sealed if they were due to foreclosure on the home, which means it cannot be held against the tenant. This policy mandates that landlords' give tenants a walk-through before they move in, before moving out and return security deposits with an itemized list of deductions within fourteen days. The policy also states that a tenant cannot be penalized/evicted if they complain about conditions, landlords cannot charge late fees until the rent is 5 days late and the fee cannot exceed $50/5% of the rent; whichever is less. The courts can give a tenant up to a year to relocate as long as they pay their rent on-time, for all NY tenants according to this policy (NY Senate, 2019).
The reason I have chosen to focus on the "Housing Stability and Tenant Protection Act of 2019" is because I live in NY and can be affected by housing issues as well. This state level policy is appropriate for addressing New York State's housing affordability crisis and tenant's rights. This policy was enacted on June 14, 2019 and the proponents were the Senate Majority; i.e.- Democrats, Chair of the Committee on Housing, Construction and Community Development Committee, Senator Brian Kavanagh, Senator Zellnor Myrie and the Senate Democratic working group members which assisted in drafting and advancing the affordable housing legislation (NY Senate, 2019).
This bill was signed by Governor Cuomo and passed on June 14, 2019, (NY Senate, 2019). The goal of this policy is to protect low income renters from evictions, stabilize affordable housing in NY for low-income New Yorkers and attempt to reduce the amount of homeless people/families. The objectives of this policy are to prevent rent increases within rent regulated properties and ensuring that tenants have any property issues addressed (NY Senate, 2019). This policy also gives tenants new rights in eviction court, if rent has not been paid. Court documents must be served 10 days prior to the court date, landlords cannot receive any non-rent charges in a non-payment case; which can be stopped if the tenant pays before the court date. It also gives tenants the right to a fourteen-day adjournment before trial if they raise defenses and warrants for evictions must also be served within fourteen days prior to eviction. If a tenant in a non-payment trial pays all the rent before their eviction, then the trial can be ended. A most inconvenient circumstance for a landlord is if a court grants a tenant up to a year to relocate as long as the tenant pays their rent on time. Lastly, landlords must provide receipts on request for personal checks within specified intervals and a notice must be sent when rent is not collected (NY Senate, 2019).
In my personal opinion, the hidden goals and objectives of this policy is to try and protect tenants without worrying about housing improvement/renovation costs for landlords. This policy seems to benefit renters more than homeowners in NY State. The population of renters was almost 70% within NY State, according to a press release in 2018 (Zillow, 2018). A hidden objective that I thought could be possible is when Governor Cuomo seeks a fourth term in office in 2022 and how he just might be accommodating to the renting population now, in order to secure their votes then (Spector, 2019). Some of the unintended consequences of this policy may make landlords stop investing money on their properties; instead they will be patching up their property's issues due to higher costs of long-term repairs. I also think that another consequence could be the cost of rent which may not be reduced in certain areas for low-income families (NYSBA, 2020).
As aforementioned, the regulations that have been implemented as a result of this policy made rent control and rent stabilization permanent, sets caps on rental fees and prevent landlords from evicting tenants (NY Senate, 2019). This policy does not address the issue of how expensive rental prices are in NY and how gentrification has forced low-income families out of certain communities that were affordable before. Also, if the recommended 30% of earned income is supposed to be used for housing, who will ensure that this type of process is possible in NY State. How can this policy benefit anyone if these certain fees are still being charged? This is a weakness worth mentioning because I have noticed that the brokers can ask if it's ok to charge a broker fee and if you disagree, they can refuse to work with you. It is clearly stated within the NY Department of State website that no fee greater than $20 can be collected and yet they still try to charge one month's rent for the broker fee (DoS, 2019).
The regulations that have been implemented as a result of this policy are the types that protect the tenants and hold landlords accountable unlike before. Under the new 2019 policy, landlords now have to provide notice requirements in order to inform tenants if the lease will not be renewed or the rent is being increased. Landlords are also being required by the new policy to keep records of cash receipts and must be provided upon the tenant's request. Another issue is that landlords are being obligated to use any resources possible to rent an apartment. This policy provides more time for tenants to pay rent before any proceedings can be initiated by a landlord and if the landlord does start a proceeding, but the tenant pays then the proceeding has to be dismissed. The prior policy gave landlords the power to demand rent after three days before initiating a proceeding and tenants had 5 days to answer. Due to this policy, now there is also a process for holdover proceedings- (Holdover: when a tenant stays after the lease expires) and gives tenants more time for responding to any petitions made by the landlord. There is also a part of this policy that prevents landlords from collecting fees like late/legal fees and only rent may be sought in a proceeding (Jacobowitz, 2020).
These regulations have been considered to be an effective way to address the housing instability issue by Democratic legislators like State Senator Zellnor Myrie, but does not when rent prices are still high and have not been lowered (Marketwired). There are still areas that have such high rent in NY State, but what policy can change that? Affordable housing in NYC alone has been an ongoing issue as aforementioned and until the prices can begin dropping; this problem will continue to exist. The weakness of this bill is that it doesn't address rent costs in NY and therefore, New Yorkers will continue to struggle with the inability to afford to live in certain areas. What makes rent higher in NYC specifically? The simple answer is, supply vs demand and the ongoing battle that owners face with the inability to convert rent-stabilized units into free-market units (Marcus & Millichap, 2020). Another reason for rent to be higher in NYC is due to the limited units being constructed in certain places due to unavailable space and a lack of interest from the real estate industry and it may be due to how this policy hinders their progress (Marcus & Millichap, 2020).
An alternative to abolish the new law was suggested by the Rent Stabilization Association (RSA), the Community Housing Improvement Program (CHIP) and seven landlords, because it violates two U.S. Constitution Amendments. Their complaints argued that the new law violates the Fifth Amendment, which has a clause that stops taking of private property without fair compensation. The other amendment is the fourteenth, which has a due process that is now being delayed and hinders owners' rights from excluding others from their properties (Rebong, 2019). This policy does create rent regulation programs in NY State which are intended to protect tenants in buildings that are privately-owned from rent increase. These programs are managed by HCR's Office of Rent Administration and funded by the State of New York (HCR NY, 2020).
Due to the lack of clarity within the , a few areas that would benefit from alterations may make New Yorkers less confused about what this policy covers. First, starting with this so-called "Rent Stabilization" that this policy now offers and maybe use an approach of identifying areas where major reconstruction is needed. If thinking about areas within this policy that needs attention, I think property owners would be my first target. Landlords/property owners are in need of a reality check with how much they charge for rent in NY; specifically, in NYC. This battle between tenants and landlords has gone on long enough and both need to be held accountable. I would impose a no lease-no deal amendment to the policy to ensure both parties are in accordance with NY law and both are abiding by it. Tenants live in peace with landlords that are mandated to maintain their properties and tenants would be liable for any damage incurred during their lease time. I would also impose that if a landlord/property owner wishes to conduct a background check on the prospective tenant, this should not be hindered due to the possibility of recurrence in eviction/financial damages. The fees that tenants pay like security deposits would be mandatory, but the first month's rent would not be necessary due to the payment of the security deposit.
In many instances, tenants can fall under unexpected circumstances, but to be evicted suddenly should not be the first option if all matters have not been considered. Due to the possibility of a tenant not being able to pay their rent, I would also impose an arrears program to recover rent by a slight rent increase until payments are back on track. I would also work on lowering the rent in many areas of NY because then more people can have an opportunity of living comfortably. I am no politician but knowing that more space is needed, and more structures are required is an investment that needs to be made. I would also work with other nearby states to create a system of networking, where if population instability is occurring; it can be altered through relocation programs that would be funded under the new policy as well.
Did you like this example?
5213
453