History of Civil Rights Movement in Four Songs
Exclusively available on PapersOwl
The civil rights movement can be defined as a mass popular movement to secure for African Americans equal access to and opportunities for the basic privileges and rights of U.S. citizenship. Although the roots of the civil rights movement go back to the 19th century, the movement peaked in the 1950s and 1960s. African American men and women, along with whites, organized and led the movement at national and local levels. They pursued their goals through legal means, negotiations, petitions, and nonviolent protest demonstrations.?The movement, a turbulent time in United States history., particularly in the south, was marked with nonviolent protests and campaigns of civil resistance aimed at achieving change through nonviolent forms of resistance.
Blues music traces its roots to the spirituals, work songs, and chants of African-American culture, and many of its best-known and earliest artists were African-American. As such, both Blues and Jazz music played an important role in the Civil Rights movement, which hit its peak  in the 1960s . Most musicians involved with the movement came from a mixture of 1 backgrounds, and the music served as a source of empowerment for those who shared similar sentiments with those performing it. Musicians sang these songs for multiple purposes: to  motivate them through long marches, for psychological strength against harassment and brutality, and sometimes to simply pass the time when waiting for something to happen. During these times, radio and television were a way to bring high-profile events to families that couldn't be part of them . It gave them hope and courage during the toughest times. "Strange Fruit," the haunting song about lynching in America, it was first recorded by the famed jazz singer Billie Holiday in 1939."Strange Fruit" has been called the original protest song. At a time when political protest was not often expressed in musical form, the song depicted lynching in all of its brutality. The three short verses are all the more powerful for their understated and ironic language. The contrast of a beautiful landscape with the scene of  lynching, the smell of magnolias with that of burning flesh, the blossoms more typically associated with the Southern climate with the "strange fruit" produced by racial oppression,this imagery conjures up the essence of racist reaction. Racism in America stands indicted and exposed by these lines, with no need at all for a more didactic or agitational message. The song was crucial in galvanizing support for the Civil Rights Movement, as it was one of the earliest protest songs in a movement that spawned many. Billie Holiday's "Strange Fruit" was crucial in the beginnings of the Civil Rights Movement, and demonstrated that an emotional, standard jazz song could be more influential and personal than any protest or chant could be.
Need a custom essay on the same topic?
Give us your paper requirements, choose a writer and we'll deliver the highest-quality essay!
Order now
During World War II, some progress was made as President Roosevelt outlawed discrimination in the defense industry. Moreover, as the country fought for freedom around the world, many African-Americans began to wonder why they did not enjoy those freedoms at home. In 1954, a series of landmark cases testing segregation that were pressed by the National Association for the Advancement of Colored People (NAACP) culminated in the Supreme Court's ruling in the Brown v. Board of Education case, which unanimously outlawed segregation of public schools .
"Here's to the State of Mississippi" is a civil rights protest song by Phil Ochs, an American topical singer and songwriter in the 1960s. Ochs is best known for his anti-war and freedom songs. "Here's to the State of Mississippi" was released in 1965 as the last track on his album ?I Ain't Marching Anymore?. The song criticizes the state of Mississippi for its mistreatment of African Americans. He points out various problems with the social constructs that allowed for oppression of the race. Jim Crow laws and white supremacy in the South fueled an imbalance in the civil structure of the state. "Here's to the State of Mississippi" touches on various issues like segregation, corrupt and biased school systems, and the negligence and crookedness of society and of government officials. The Voting Rights Act of 1965 was passed. This legislation protected minority voting rights, barring states from passing laws that would discriminate against minority voters and requiring certain state and local governments with a history of voting discrimination to get approval from the federal government before making any changes to their voting laws or procedures.
Bob Dylan's "The Times They Are A Changin" is a classic, timeless work of art that plays as an anthem for change. The first stanza perfectly sums up what the song is all about. As Dylan asks the people of the world to "admit that the waters around them have grown," he means that change has arrived. He says that if people don't accept and embrace change, they'll drown in the past. At the time, the Civil Rights Movement was at its peak and anti-war sentiments in the midst of Cold War tensions were going strong?.The Civil Rights Act of 1964 prohibited discrimination in public places, provided for the integration of schools and other public facilities and made employment discrimination illegal based on race, color, religion, sex or national origin. The document was the most sweeping civil rights legislation since Reconstruction.
The John Legend and Common collaboration "Glory" is shaping up to be one of the most inspirational movie songs in quite some time. "Glory" appears in the film ?Selma?, which chronicles the civil rights marches led by Martin Luther King and others in 1965.The song is having an impact not only because of the important history it documents, but also because of the recent spate of police shootings of unarmed black men that led to protests across the country. We're at a crossroads now for opportunity. There are some areas where we've made great progress. For example, African American women have made the most progress of any group in college attendance , a remarkable success story. But in many other areas America is in real trouble. Great inequality and discrimination still exist in our school systems, our criminal justice system, and other aspects of our lives. Today, social media,particularly Twitter,can reach individuals throughout the nation and across the world in milliseconds, drastically slashing the time it takes to organize protests.
As a recent ?New York Times Magazine? spread noted, through Twitter, core Black Lives Matter activists like Johnetta Elzie and DeRay Mckesson, who are based in St. Louis, now have the ability to frame events and direct the actions of hundreds of thousands of people across the nation at their fingertips . Not only is social media a tool for mobilization, but the intense reporting on police brutality via social media also influences print and television coverage, which means that attention to such incidents has multiplied. Twitter and Facebook have, in this way, become documentary tools for Black Lives Matter activists, a way for them to become citizen journalists capturing the protests and police responses in almost real time. Indeed, for this reason, the spontaneity and the intensity of Black Lives Matter is more akin to other recent movements . Unlike the civil rights movement, the focus of Black Lives Matter,on policing in black and brown communities, on dismantling mass incarceration,is also being articulated less as a demand for specific civil or political rights, and more as a broader claim for "black humanity" .
The civil rights movement was and still is a crucial piece of American culture because it helped shaped our society to what it is today. The civil rights movement occurred at a time where Americans began to protest, in mass groups, against racial segregation and discrimination that was increasingly prominent in America.
Bibliography
Bob dylan, ?The Times they are a changin,?(1964).
Billie Holiday, ?Strange Fruits?,(1939).
Common and John Legend,? glory,? (2015)
Chokshi, Niraj. "How #BlackLivesMatter Came to Define a Movement." The New York Times. January 20, 2018. Accessed April 22, 2019. https://www.nytimes.com/2016/08/23/us/how-blacklivesmatter-came-to-define-a-movement.html.
Phil Ochs, ?Here To the State of Mississippi?, (1965)
Rhuday-Perkovich, Olugbemisola. ?The Civil Rights Movement?. New York, NY: Scholastic, 2018.
Seeger, Peter, Bob Reiser, Guy Carawan, and Candie Carawan. ?Everybody Says Freedom?. New York: Norton & Company, 2009.
Did you like this example?
8334
1137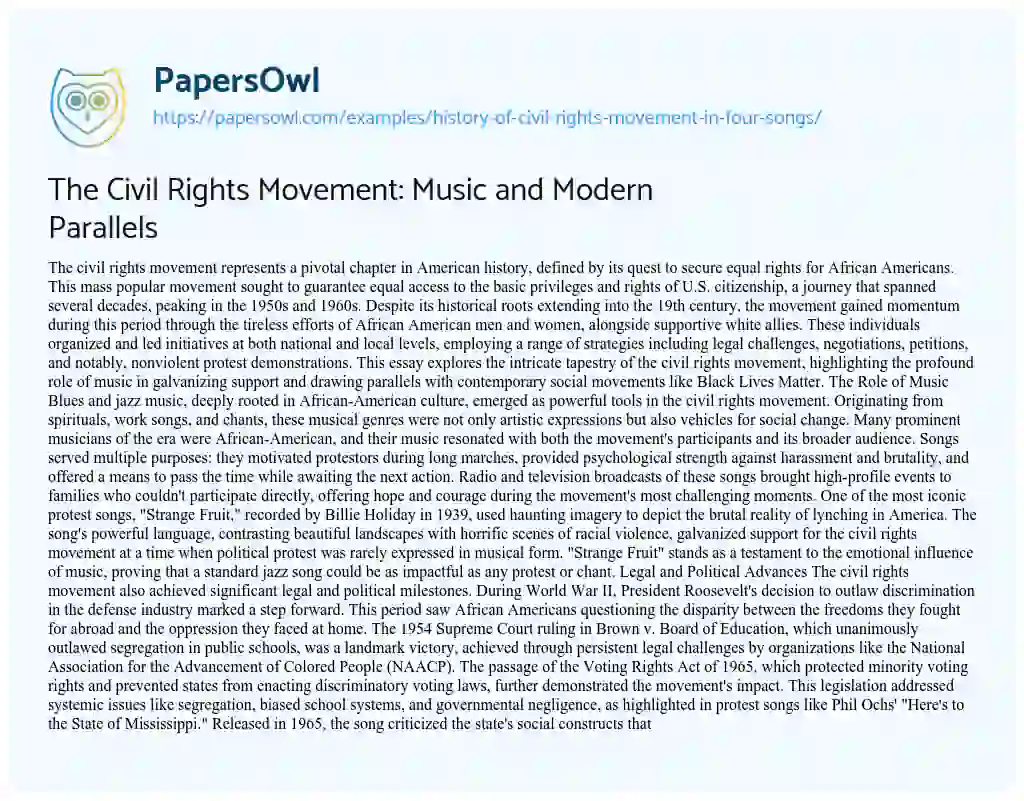 The deadline is too short to read someone else's essay
Hire a verified expert to write you a 100% Plagiarism-Free paper
History of Civil Rights Movement in Four Songs. (2021, Apr 03). Retrieved from https://papersowl.com/examples/history-of-civil-rights-movement-in-four-songs/