Gender Based Discrimination against Female
Exclusively available on PapersOwl
"I measure the progress of a community by the degree of progress which women have achieved."- B.R.Ambedkar.
According to the WEF Global Gender Gap Report 2017, on an average 66% of women's work in India is unpaid, compared to 12% of men's. Gender equality is to be valued for its intrinsic merit. No community that gives fifty percent of its population an unfair deal can claim to be decent. But the empowerment of women is also significant for economic growth. India has fallen over 21 places on the World Economic Forum's Global Gender Gap index to a low ranking of 108. The proportion of "unpaid work" per day is far higher for women than men globally, while in case of India on average 66% of women's work is unpaid, says a World Economic Forum report.
Need a custom essay on the same topic?
Give us your paper requirements, choose a writer and we'll deliver the highest-quality essay!
Order now
Unpaid work estimates the average minutes used-up per day on banal housework, shopping, care for household members, concern and care for non-household members proffering, travel related to household activities and other unpaid tasks for men and women aged 15–64 years.
According to the WEF Global Gender Gap Report 2017, on an average 66% of women's work in India is unpaid, compared to 12% of men's.
It Starts from the Birth
We live in a world that, like it or not, show favouritism heavily against gender. A culturally ingrained parental precedence for sons – emanating from their importance as caregivers for parents in old age – is linked to piteous consequences for daughters. We proud Indians of 21st century jubilate in celebrations when a boy is born, and if it is a girl, a muted or no celebrations is the norm. Fondness for a male baby is so much so that from the times archaic we are killing our daughters at birth or before birth, and if, thankfully, she is not murdered we find variety of ways to discriminate against her until the end of her life.
Though our holy beliefs make women a goddess but we fall flat to recognise her as a human being first; we pray to goddesses but we victimise girls. We are a community of persons with double-standards as far as our viewpoint towards women is concerned; our belief and preaching are contrary to our actions.
The social paradigm of Indian society which bolsters up gender bias against men and women, with shifting degrees and variable perspectives against the opposite sex, has led to the prolongation of India's strong fondness for male children. Gender based discrimination against female offspring is ubiquitous across different states of India. It is seen in all the strata of society and visible in diverse forms. Evident In the literature, female child has been treated mediocre to male child and this is deeply engraved in the mind of the female child1. Some argue that due to this substandard treatment the females fail to understand their rights. These are the pointers of a woman's position of welfare. In India regardless of the caste, creed, religion and social status, the substantial status of a woman is below men and therefore a male child is wished for over a female child. A male baby is considered a gift and his birth is commemorated as opposed to a female baby where her birth is not celebrated and is considered more of a burden.
T.V.Sekher and Neelambar Hatti, Discrimination of Female Children in Modern India: from Conception through Childhood.
Education is the Crux
The results of education on girls are remarkable. Education preserves human values. It forms the base for learning and analytical thinking. Education also provides skills for girls to become more self-reliant and provides them with more scope. Reckoning into the future, schooling also provides them with the understanding to manage health issues. A girl grasping her own body can make the difference between an undesirable pregnancy and an illegal abortion. Having the wisdom beforehand is important for saving and protecting lives. Two main inequalities are pointed out by Amartya Sen: educational inequality and health inequality.
A study states that three out five girls receives primary education versus three out four boys. There should not be dissimilarities in the figures of such a basic, universal human right. The law of the land makes it evident that both boys and girls have an Equal opportunity to take part in school from the age of six through fourteen, and that primary education is a fundamental right under Article 21 of the Constitution of India. If the constitution does not make it understandable enough, there is also an article in The Universal Declaration of Human Rights defining that education is a universal human right (Universal Declaration of Human Rights, Art 26). Girls are not receiving equivalent access to primary education in rural India and therefore are not attaining equality.
The female child in India is often deprived from her right of an education. The number of girls discontinuing school far more than the boys because girls are expected to help at home, either with household work like washing and cooking or with taking care of younger siblings. Since girls spend more time performing domestic duties and this increases the gap between female and male equality in rural parts of India, it perpetuates the myth that education is of no help to the girl and her primary job will be to look after the household work, get married early, have children and then raise them2.
If this is the job she has to do, then education is of no importance to her and it is not imparted. Also, even with education and economic independence, women might not get the similar rights and freedoms which a man may have. It is through education in the initial days of a child that we can bring about behavioural changes and open doors to opportunities that will improve their confidence, personality, and career.
Limited access to laws and rights
The laws governing education in India are remarkably homogenous to the laws of western nations. These laws are reachable to the citizens of India, but many of the citizens are unconfident of how to properly live them out and where to go with grievances. Complaints usually fall on deaf ears and the citizen is told that there is equal access but that they are not fully utilising it. In inclusion to national laws, there are international laws too that also preside over these states. These laws, however, are tougher to approach by the average citizen. The citizens are only able to gain access to these laws through local NGOs. However, the NGOs are not standardly located in rural India.
The Universal Study on "DISCRIMINATION OF THE GIRL CHILD IN UTTAR PRADESH" Conducted by Social Action Forum for Manav Adhikar New Delhi UNDP: Millennial Development goals
Declaration of Human Rights has a clear article outlining that the access to education is a basic human right (Universal Declaration of Human Rights, Art 26). These declarations should give more power to the government to provide access to education to all children.
Millennial Development goal 3 : Promote Gender Equality and empower women India is on it's way to achieve gender equality at all educational levels, having already achieved it at the primary level. But women's literacy rates lag behind that of men, indicating women's depleting learning outcomes and opportunities.
As of August 2015, India, the world's largest democracy, has only 65 women representatives out of 542 members in Lok Sabha, while there are 31 female representatives in the 242 member Rajya Sabha and hence presently the proportion of seats in National Parliament held by women is only 12.24% against the target of 50%.3
India falls short on Women Literacy
Data from new research on female literacy show that India's school education system is degrading in terms of class when compared to its neighbours, Pakistan, Bangladesh and Nepal. The research studies alters female literacy over a number of schooling years. The proportion of women who completed five years of primary schooling in India and were literate was 48 per cent, much less than 92 percent in Nepal, 74 per cent in Pakistan and 54 per cent in Bangladesh.4 These findings, which are part of a anticipated background paper, were released in a blog- post by New York-based International Commission on Financing Global Education Opportunity. Justin Sandefur, one of the authors of the paper, said, "This is a simple but powerful signal that India's education system is under-performing." The data also disclosed that, female literacy rates went up by 1 to 15 per cent after completing two years of schooling. Corresponding numbers for Pakistan and Nepal were three to 31 per cent and 11 to 47 per cent respectively. "This implies that schooling is roughly twice as productive at generating literacy for women during the early grades in Pakistan when compared to India. Or, it could also mean that Indian schools are much more lenient about promoting students who cannot read," Mr. Sandefur said. Lack of education drives a high percentage of socially and economically underprivileged women to turn to employment in the informal sector, where wages are very little, barely helping these uneducated rural women, who work for necessity, that is, to survive.
Education Commission; DHS rounds since 2000. United Nations Development Programme. "Gender Inequality Index". Human Development Indices: A statistical update 2012. Retrieved 22 March 2014. Deininger, Klaus; Hari K. Nagarajan (2011). "Can Political Reservations Empower Women and Affect Economic Outcomes? Evidence from Rural India" (PDF). National Council of Applied Economic Research.
Inequality in Politics
Gender disparities leading to destitution of power among women continues to be a political actuality in India today. Women are constantly excluded from decision-making at every step of the ladder, commencing from the household to the top layer of policy making. Although the Indian Constitution tries to remove gender inequalities by interdicting discrimination based on gender and class, and enshrining fundamental rights for all citizens, women still have only de jure rather than de facto access to the rights. India has a federal form of government, with devolved powers. The electorate votes to elect a national parliament as well as state assemblies. In 2012, India had a minimal percentage of 10.9% women elected representatives in the national parliament.5 The issue of training has become an increasing concern with preparing women for the role of leadership. It was found in Tamil Nadu that women lack the education and training to understand procedures in panchayats.6 The level and forms of women's participation in politics is largely shaped by cultural and societal barriers in the form of violence, discrimination and illiteracy.
There is no denying the fact that greater participation of women in the political process would be a pre-condition for their economic and social emancipation. However, even though a significantly large number of women vote in the country, yet only a few of them assume the reins of power. Paradoxically, though women have held the posts of President and Prime Minister as well as Chief Ministers of various states in India, the country ranks 20th from the bottom in terms of representation of women in Parliament, as per the World Economic Forum's Global Gender Gap Report 2012.
To remedy the low participation of women electors, India in 1994 established quotas (reservations) vide the 73rd and 74th constitutional amendments to reserve 33 per cent of the seats in local governments for women. The Women's Reservation Bill (108th amendment) has also been introduced in the national Parliament to reserve 33 per cent of the Lok Sabha seats for women, but the bill is yet to be passed. It is believed that though increasing the number of women in national government may not guarantee an impact on governance, a critical mass of women in power can bring about transformation in leadership.
A heartening outcome of the reservation bill is the subsequent rise in political participation by women, which went up from 4-5 per cent to 25-40 per cent among women, and gave millions of women the opportunity to serve as leaders in local government. A few states like Odisha established reservations even before the 73rd amendment and they had 28,069 women elected in 1992 and 28,595 women in 1997.7
The robust health of India's democracy is also reflected in the increasingly large turnouts of women voters in progressive elections at both the national and state levels in the country. In the 2012 elections to Legislative Assemblies, for instance, Uttar Pradesh reported a turnout of 58.82 to 60.29 per cent of the female voters. The states of Arunachal Pradesh, Goa, Kerala, Manipur, Meghalaya, and Mizoram, and the Union Territories of Daman and Diu, and Puducherry also reported higher turnouts among women than men in the 2013 Vidhan Sabha elections (Election Commission, 2013). The turnout of women during India's 2014 parliamentary general elections was 65.63 per cent, only marginally less than the male turnout of 67.09 per cent. In 16 out of 29 states of India, more women
Election Commission of India's website. (www.eci.gov.in) voted than men. This increased female participation was observed in both the rich and poor states in the country. However, this enthusiastic participation in elections does not ostensibly translate into proportionate electoral power for women. In contrast to the encouraging figures pertaining to women voters, the statistics on women's participation in Parliament and Legislative Assemblies, on the other hand, present a grim picture. The recent Assembly elections in four states and one Union Territory bear witness to this fact more resoundingly than even in the past. Despite the remarkable showing by the two women Chief Ministers in West Bengal and Tamil Nadu in these elections, Mamata Banerjee and Jayalalitha, respectively, there was no significant rise in the number of women MLAs in any of the five Assemblies, which now have a female strength of merely 81 out of the total number of 823 MLAs, representing less than 10 per cent of the total legislators. This includes 8 women out of 126 MLAs in Assam, 21 out of 234 in Tamil Nadu, 40 out of 293 in West Bengal, 8 out of 140 in Kerala, and 4 out of 30 in Puducherry. One of the key challenges faced by women is lack of education which hinders their political involvement. We recommend bridging this gap by providing quality education to women in the country. Awareness about their rights and privileges as mentioned in the Constitution can only be ensured once women are appropriately educated. The issue of gender-based violence and provision of safety and security of women should also be addressed on a priority basis to promote gender equality in the social and political arenas.
Although the Government of India has initiated the National Mission of Empowerment of Women in 2014 with the broad objective of gender empowerment, the progress of this project is not up to the mark. It is thus imperative to strengthen its functioning and implementation. In addition, there is need for capacity building of prospective women leaders by imparting leadership training to the female members of political parties.
Occupational Segregation and Discrimination
To be able to subsist in dynamic environment, there is a need for a new mind-set that can discard old preconceptions and inertia to problems faced by women in the labour market, and accept new mind-sets towards the solutions.8 Some empirical studies conducted in India support the fact that there are human capital differences and existence of labour market discrimination. Girls and women constitute almost half of the population of India, yet they are deprived of access to resources and opportunities in comparison to their male counterparts, often becoming victims of discrimination due to their gender. Almost every Indian would agree that of all the women they know, most are a victim of discrimination in their everyday life. In terms of employment as well as promotion in work and occupation, women often face greater handicap than men. The gender pay gap in India for the year 2013 was recorded at 24.81% by Wageindicator9, and a curious stat is that this gap increases with age. Women below the age of 30 earned 23.07% less than men, while those in the age group of 30-40 years earned 30.24% less than men. There's a clear gap in growth charts in a career for a man and woman in India. Surprisingly, educational qualifications also end up increasing this wage gap.
Hausmann, et al., 2011.
Wageindicator Data Report, report series 003,2006-2013.
Bina Agarwal, A Field of One's Own (Cambridge: Cambridge University Press, 1994)
The recent employment data shows that the participation of women in the workforce sometimes surges during droughts—women take up work outside the home when there is distress but then are pushed back into the kitchen once the bad year is over. In many societies the ownership of property can also be very unequal. Even basic assets such as homes and land may be very asymmetrically shared. The absence of claims to property can not only reduce the voice of women, but also make it harder for women to enter and flourish in commercial, economic and even some social activities.
Gender discrimination in the workforce diminishes the availability of talent to an economy, leading to negative economic consequences. In India, myriad social practices, perceived as conventional from a religious or cultural standpoint, push women away from the economic mainstream, not allowing the nation's economic development to include the inherent talent women could provide.
According to the World Economic Forum (WEF), women in India get paid 62% of what their male counterparts earn for the same position and equal amount of work. Unequal gender relations play a very important role in constraining Indian women's workforce participation, including (a) minimal bargaining power and poor representation; (b) lack of control over work/life balance; (c) minimal family support; (d) limited access to institutional credit, training, and information; and (e) inequality in access to financial, health, and educational resources.
The Solution
Gaining rights as a woman is a struggle. Gender inequality exists in India because historically, in a paternalistic society, it has been socially and culturally acceptable to undervalue women's contributions to society and in turn the workplace.
These norms are deeply embedded in Indian culture and are seemingly almost unshakeable, but that is not necessarily so. Strong efforts to lead the nation to correct this inequality issue have already been put in place through important and impressive legislation. Nonetheless, much more effort is required that originates from within organizations, not because the government legislated it, but because it is the right thing to do.
Most women in India are unaware of their rights because they are illiterate. For a woman to properly exercise her right, she first needs to know about it. Education is the first step in that direction. Many women would question- is education enough to fight the evil of gender discrimination that is so deep rooted in India. The answer is NO. Education is a start but if we really want to put an end to this evil then we need to change ourselves, our mindset and harmful beliefs that we have been living with. Advocating for education and equal opportunities for women is not enough. In fact, we need to be the channels and mediums for new reforms and campaigns for empowering the women in India.
There is clearly a need for policy initiatives to empower women as gender disparities in India persist even against the backdrop of economic growth. Current literature provides pointers from policy changes that have worked so far. One unique policy experiment in village-level governance that mandated one-third representation for women in positions of local leadership has shown promising results. NGOs and nonprofits can offer the most helpful solution to this problem because of grassroots movements across rural India. Many of the past efforts have come from reviewing previous reports.
"Periodic Review: India report 2005" (PDF). United Nations. Retrieved 28 April 2014 NGOs and nonprofits work at a local scale where a difference can made, whereas the government has worked on a larger scale with less success. Different states and union territories of India, in cooperation with the central government, have initiated a number of region-specific programs targeted at women to help reduce gender inequality over the 1989-2013 period.
Some of these programs include Swarnajayanti Gram Swarozgar Yojana, Sampoorna Gramin Rozgar Yojana, Awareness Generation Projects for Rural and Poor women, Condensed Course of Education for Adult Women, Kishori Shakti Yojana, Swayamsidha Mahila Mandal Programme, Rashtriya Mahila Kosh, Support to Training and Employment Programme for Women, Swawalamban Programme, Swashakti Project, Swayamsidha Scheme, Mahila Samakhya Programme, Integrated Child Development Services, Balika Samriddhi Yojana, National Programme of Nutritional Support to Primary Education (to encourage rural girls to attend primary school daily), National Programme for Education of Girls at Elementary Level, Sarva Shiksha Abyhiyan, Delhi Ladli Scheme and others.
In dealing with the new – "high tech" – face of gender disparity, in the form of natality inequality, there is a need to go beyond just the agency of women, but to look also for more critical assessment of received values. When anti-female bias in action (such as sex-specific abortion) reflects the hold of traditional masculinist values from which mothers themselves may not be immune, what is needed is not just freedom of action but also freedom of thought – in women's ability and willingness to question received values.
Informed and critical agency is important in combating inequality of every kind. Gender inequality, including its many faces, is no exception. Assisting women to get secure jobs and health care will be beneficial, however, in order to stop the discrimination, we have to change the mindsets of billions. More and more people are raising awareness through social media, possibly the most effective way of communicating to those all over the world. These small decisions may seem insignificant, but if there are enough, people everywhere will finally see men and women as equals. For India to maintain its position as a global growth leader, more concerted efforts at local and national levels, and by the private sector are needed to bring women to parity with men.
Did you like this example?
8906
990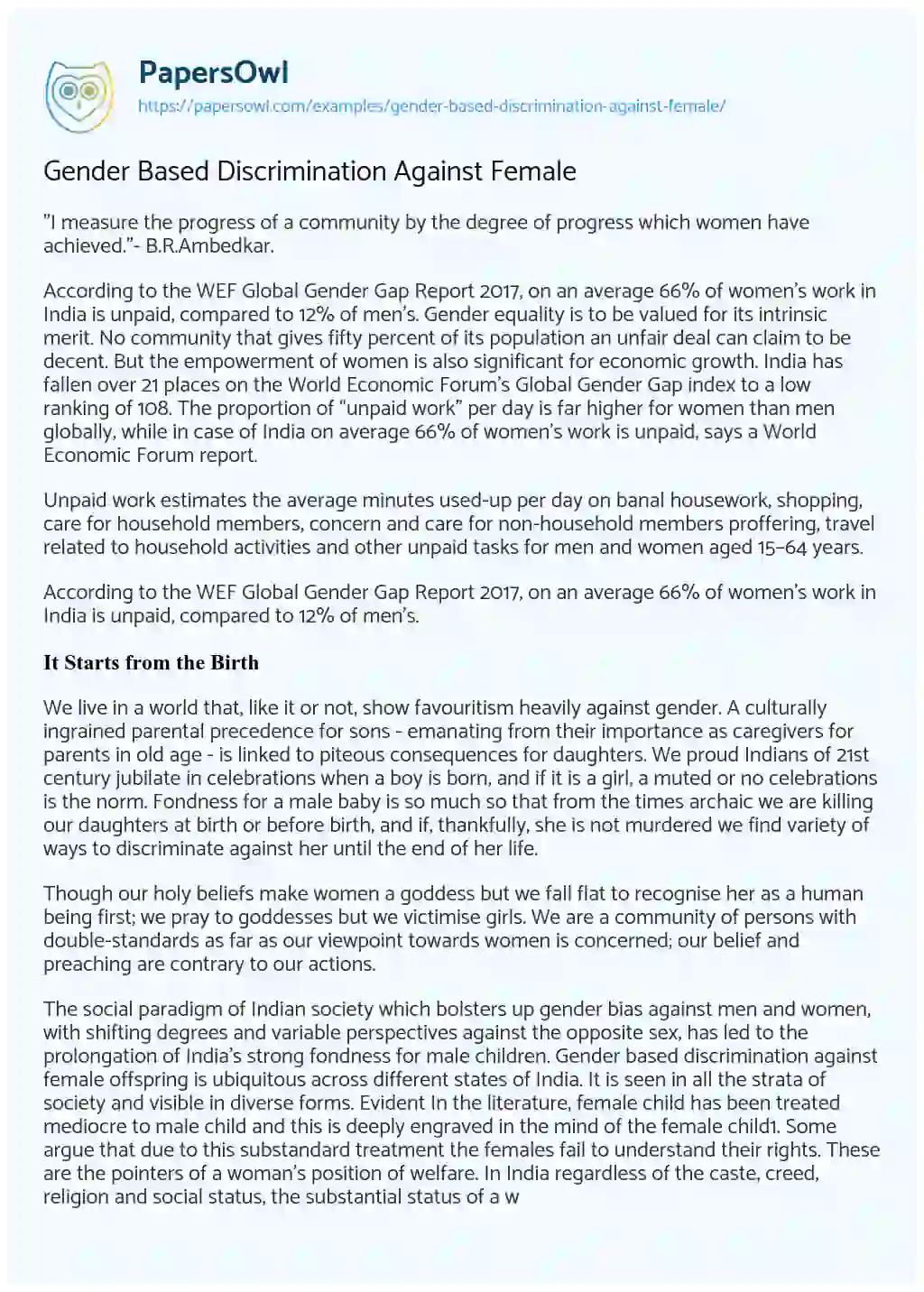 The deadline is too short to read someone else's essay
Hire a verified expert to write you a 100% Plagiarism-Free paper
Gender Based Discrimination Against Female. (2021, Mar 08). Retrieved from https://papersowl.com/examples/gender-based-discrimination-against-female/