Effective Teamwork: Risk Management
Exclusively available on PapersOwl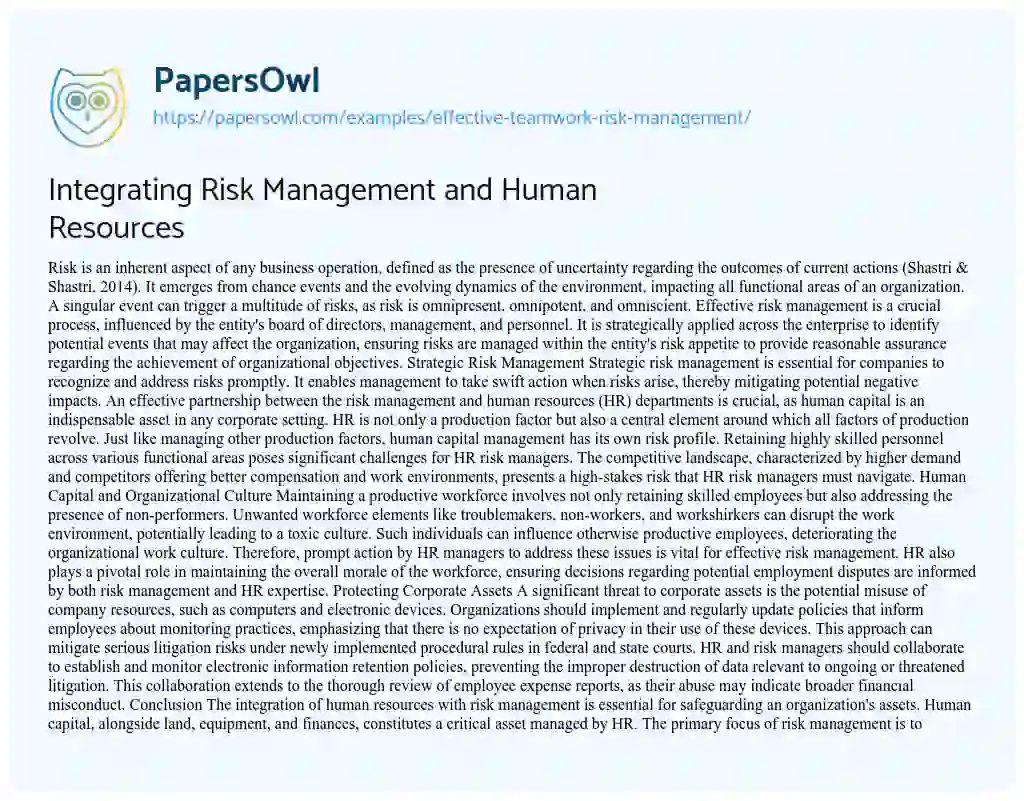 Risk is the presence of uncertainty of results regarding present actions ( Shastri and Shastri, 2014 ). Risk arises due to occurrence of chance events, incubating and culminating in the changing dynamics of the environment. All functional areas of an organization are affected by risk. A single event can unleash a variety of risks. Risk is omnipresent, omnipotent and omniscient. Risk management is a process effected by the entity's board of directors, management and other personnel, applied in strategy setting and across the enterprise, designed to identify potential events that may affect the entity and manage risk to be within the risk to be within appetite, to provide reasonable assurance regarding the achievement of unity objectives.
Strategic risk management can help companies avoid the problem of not recognizing risks soon enough and can help management take swift action to deal with those risk that do occur. Effective teamwork between two other corporate departments such as risk management and human resources, can also be critical to companies. In all corporate business organizations, human resource assets are indispensable. HR is not only a factor of production, but also a pivotal point around which all the factors of production revolve. Like in the management of other factors of production, management of human capital too has its own risk profile attached to it. Retaining highly skilled manpower in various functional areas in an organization is a greater task of risk management; an HR risk manager has to perform. Greater demand coupled with competitors offering better pay packages and creation of a more conducive working environment to such skilled manpower can be a risk of higher magnitude an HR risk manager has to manage.
Retaining unwanted workforce elements such as troublemakers, non-workers, lazy workers, non- performers and workshirkers vitiates the working environment. Other good workers can emulate the former type of unwanted workers, deteriorating the work culture in an organization. The earlier an HR manager gets rid of them, the better will be the risk management that is adapted. HR's core functions of overall morale of an entire workforce. Decisions concerning the resolution of potential employment suits are best made with the expertise and experience of both risk management and human resources.
Serious threat to the assets of a corporation is the prospect of key implement policies and training programs that emphasize to employees, on a recurring basis, that the company reserves the right to monitor employee use of the company's computers and other electronic devices without notice and at any time; that in their use of such devices, including their use of e-mail, employees should have absolutely no expectation of privacy; and  that a potentially permanent and public record is made of each employee's use of such devices, including the content of virtually every electronic communication that an employee sends or receives to avoid serious exposure in litigation under new rules of procedure being implemented in both federal and state courts.
HR and risk management should work together to implement and monitor an electronic information retention policy that prevents the 'spoliation' (the improper destruction by design or neglect) of electronic data that is of potential importance in threatened or ongoing litigation. Risk managers should ensure that HR or another appropriate department thoroughly reviews all employee expense reports, the abuse of which may be symptomatic of more widespread financial fraud.
The student's research reveals human resource should not be separate from a risk management department but be very involved in day to day operations of organizations. All the things that could possible happen to an organization can be tied into the human resource function of a firm. Assets are not only land, equipment and monies, it also included human capital which is part of human resources. The main focus of risk management is to prevent issues before they happen and also to provide damage control if something does happen and by using both human resources and risk management as a team can protect all of organization's assets.
References
Fraser, J., & Simkins, B. J. (2010). Enterprise risk management. Hoboken, NJ: Wiley.
Gamble, J. J. (2007). A Common Goal: Partnering with HR for SOX Compliance. Risk Management (00355593), 54(11), 20-26.
Shastri, P. P., & Shastri, J. P. (2014). Risk Management in Human Resource Management Domain. Journal Of The Insurance Institute Of India, 2(2), 124-128. 
Did you like this example?
4869
203