Anorexia: Symptoms, Causes and Risk Factors
Exclusively available on PapersOwl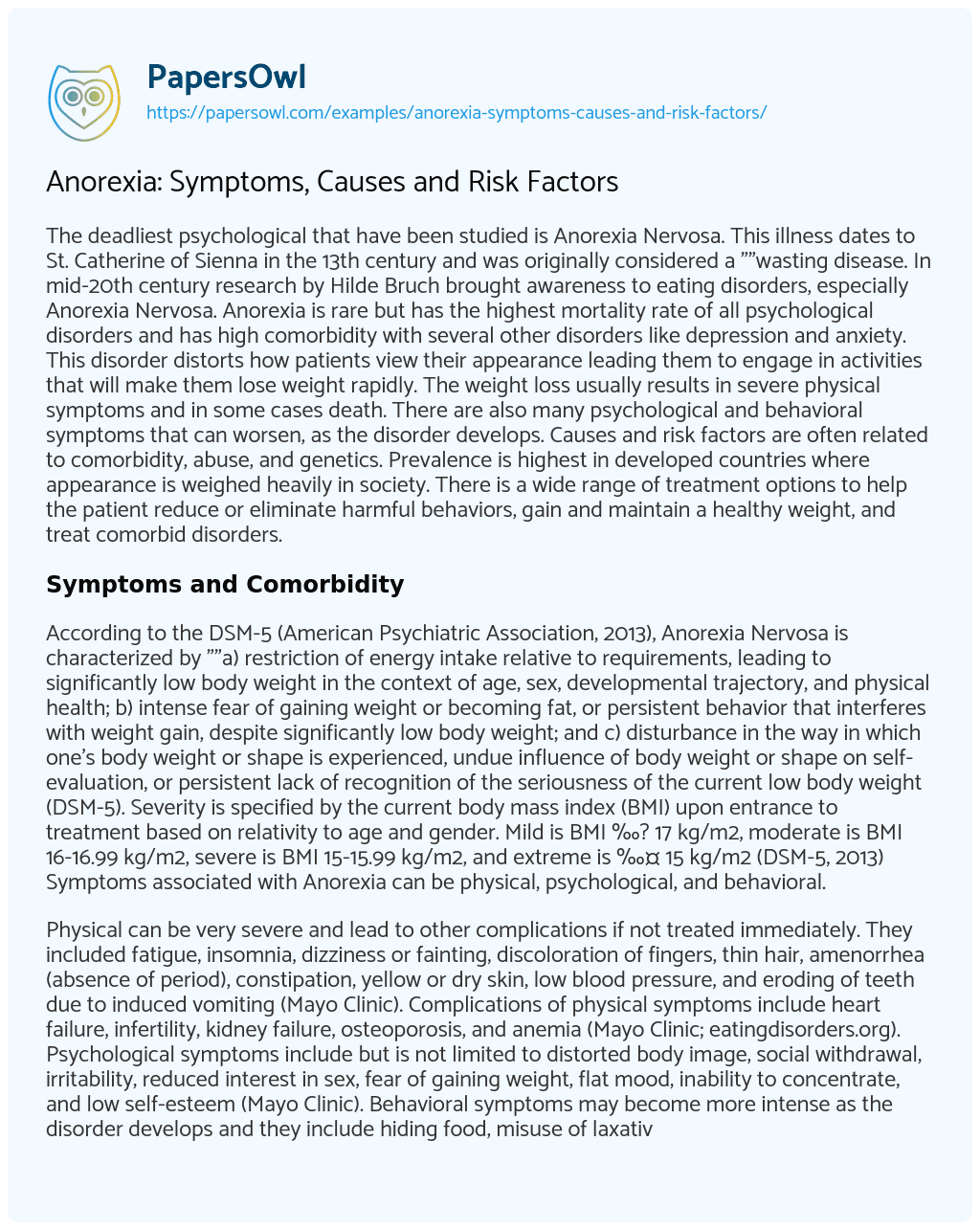 The deadliest psychological that have been studied is Anorexia Nervosa. This illness dates to St. Catherine of Sienna in the 13th century and was originally considered a ""wasting disease. In mid-20th century research by Hilde Bruch brought awareness to eating disorders, especially Anorexia Nervosa. Anorexia is rare but has the highest mortality rate of all psychological disorders and has high comorbidity with several other disorders like depression and anxiety. This disorder distorts how patients view their appearance leading them to engage in activities that will make them lose weight rapidly. The weight loss usually results in severe physical symptoms and in some cases death. There are also many psychological and behavioral symptoms that can worsen, as the disorder develops. Causes and risk factors are often related to comorbidity, abuse, and genetics. Prevalence is highest in developed countries where appearance is weighed heavily in society. There is a wide range of treatment options to help the patient reduce or eliminate harmful behaviors, gain and maintain a healthy weight, and treat comorbid disorders.
Symptoms and Comorbidity
According to the DSM-5 (American Psychiatric Association, 2013), Anorexia Nervosa is characterized by ""a) restriction of energy intake relative to requirements, leading to significantly low body weight in the context of age, sex, developmental trajectory, and physical health; b) intense fear of gaining weight or becoming fat, or persistent behavior that interferes with weight gain, despite significantly low body weight; and c) disturbance in the way in which one's body weight or shape is experienced, undue influence of body weight or shape on self-evaluation, or persistent lack of recognition of the seriousness of the current low body weight (DSM-5). Severity is specified by the current body mass index (BMI) upon entrance to treatment based on relativity to age and gender. Mild is BMI ‰? 17 kg/m2, moderate is BMI 16-16.99 kg/m2, severe is BMI 15-15.99 kg/m2, and extreme is ‰¤ 15 kg/m2 (DSM-5, 2013) Symptoms associated with Anorexia can be physical, psychological, and behavioral.
Physical can be very severe and lead to other complications if not treated immediately. They included fatigue, insomnia, dizziness or fainting, discoloration of fingers, thin hair, amenorrhea (absence of period), constipation, yellow or dry skin, low blood pressure, and eroding of teeth due to induced vomiting (Mayo Clinic). Complications of physical symptoms include heart failure, infertility, kidney failure, osteoporosis, and anemia (Mayo Clinic; eatingdisorders.org). Psychological symptoms include but is not limited to distorted body image, social withdrawal, irritability, reduced interest in sex, fear of gaining weight, flat mood, inability to concentrate, and low self-esteem (Mayo Clinic). Behavioral symptoms may become more intense as the disorder develops and they include hiding food, misuse of laxatives, appetite suppressants, diuretics, and enemas, excessive exercise, frequently checking appearance, complaining about being fat, layering clothing to hide body, not eating in public, adopting eating rituals, restricting diet to certain foods or food groups, self-harm, and substance abuse (betterhealth.gov; Mayo Clinic).
Some psychological and behavioral symptoms are could be related to comorbidity with other disorders like depression, anxiety, and obsessive-compulsive disorder. Comorbidity of Anorexia with other psychological disorders is very common. The most common comorbid disorders are major depression, anxiety disorders, obsessive compulsive disorder, bipolar disorder, body dysmorphic disorder, schizophrenia, and substance abuse (eatingdisorderhope.com). More than half of those diagnosed with Anorexia Nervosa is also diagnosed with a comorbid disorder, the most common being anxiety at nearly 50% (nimh.gov). Depression and anxiety are can contribute to low self-esteem and self-awareness leading to distorted self-image (Marucci & Ragione, 2018). Schizophrenia and Anorexia Nervosa are frequently connected but is hard to distinguish which is the principal diagnosis if symptoms manifest at the same, which blurs the path to appropriate treatment (Marucci & Ragione, 2018). The occurrence of one disorder during the other influences the severity of the primary disease and the response to treatment (Marucci & Ragione, 2018).
Causes and Risk Factors
General risk factors of Anorexia Nervosa can be psychological, social, biological, and external. Obsessive compulsive personality traits are common in anorexic patients and make it is easier for them to follow a strict diet because of the tendency to preoccupation to details and perfection (Mayo Clinic). Perfectionism leads to setting unrealistic goals to boost self-esteem and control but when that goal is not achieved self-esteem is lowered and another unrealistic goal is set, which creates a dangerous cycle. External locus of control is more common in anorexia patients than internal locus of control because they feel a lack of control over their lives and their environment (Jaros & Oszwa). Controlling their diet and body weight gives the patients a sense of improved self-esteem but eventually loses that control (Marucci & Ragione, 2018). Other psychological factors include feelings of inadequacy, depression and anxiety, belief that affection from loved ones is limited to success, difficulty expressing negative emotion, ineffective coping strategies, and high concern with the opinions of others (eatingdisorders.org). Social factors are how society or culture views standards of beauty and achievement, which can affect how a person views themselves.
Media, like social media, magazines, and television, can portray an unrealistic body type that is usually thin and makes a patient want to have that body type to be accepted by their culture or society (eatingdisorders.org). Athletes, dancers, and models are most likely to be predisposed to Anorexia because of the emphasis on maintaining a certain weight or shape (eatingdisorders.org). Other social factors include pressure to succeed or achieve in society and valuing are person for their outward appearance with no regard for inner qualities. Biological factors are mostly dependent on genetics, chemical imbalances, and hormonal and neural changes. Although it is not yet proven, people whose first-degree relative (parent, sibling, or child) are predisposed to developing Anorexia Nervosa and in some cases the diagnosis is due to predisposition instead of learned behavior (Mayo Clinic; eatingdisorders.org). There has been evidence of an imbalance in serotonin and dopamine in the brain of Anorexic patients (www.nationaleatingdisorders.org). It was hypothesized by Walter Kaye (Kaye, Fudge, & Paulus, 2009) that starvation made anorexic patients feel better because of the decrease in serotonin but as starvation continues serotonin receptors increase employ lingering serotonin. When the patients eat food again, serotonin levels elevate sharply causing severe anxiety and emotional distress (www.nationaleatingdisorder.org).
The hypothesis for dopamine is that the overproduction of the neurotransmitters is associated with anxiety, avoidance, hyperactivity, and the inability to take pleasure in food within Anorexia (Kontis & Theochari, 2012; Bailer et al., 2012b; www.nationaleatingdisorders.org). Adolescences who develop Anorexia are most likely experienced physical, hormonal, and neural changes during puberty. Teenagers become more aware of their bodies once puberty begins and physical change such as weight gain is easily noticed. Those that experience puberty earlier than their peers often feel uncomfortable with their bodies and feel need to change it to be accepted. Others feel they need to change their appearance to attract attention from their peers, especially from love interest.
External factors include major life events, history of abuse, history of being bullied, peer pressure, and inability to cope with stress. When sudden changes occur in a patient's life that induces emotional distress like moving or changing schools, losing a job, losing a friend or family member or ending a romantic relationship can increase the risk of developing Anorexia. Many patients cannot handle stress as well as the average person and often use dieting to cope with stress with of their daily lives which morph into Anorexia when the patient develops obsessive behaviors. Physical and sexual abuse is among the most common risk factor for Anorexia because it a means for survival and coping for those who have experienced or witnessed abuse. Being bullied for being overweight is common in adolescence who result to extreme dieting to stop bullying or avoid bullying. Peer pressure can be seen when patients are a part of large groups that engage in anorexic behaviors and feel the need to participate with them to be accepted by that group.
Did you like this example?
7572
483