An Overview of Zora Neale Hurston's Life
Exclusively available on PapersOwl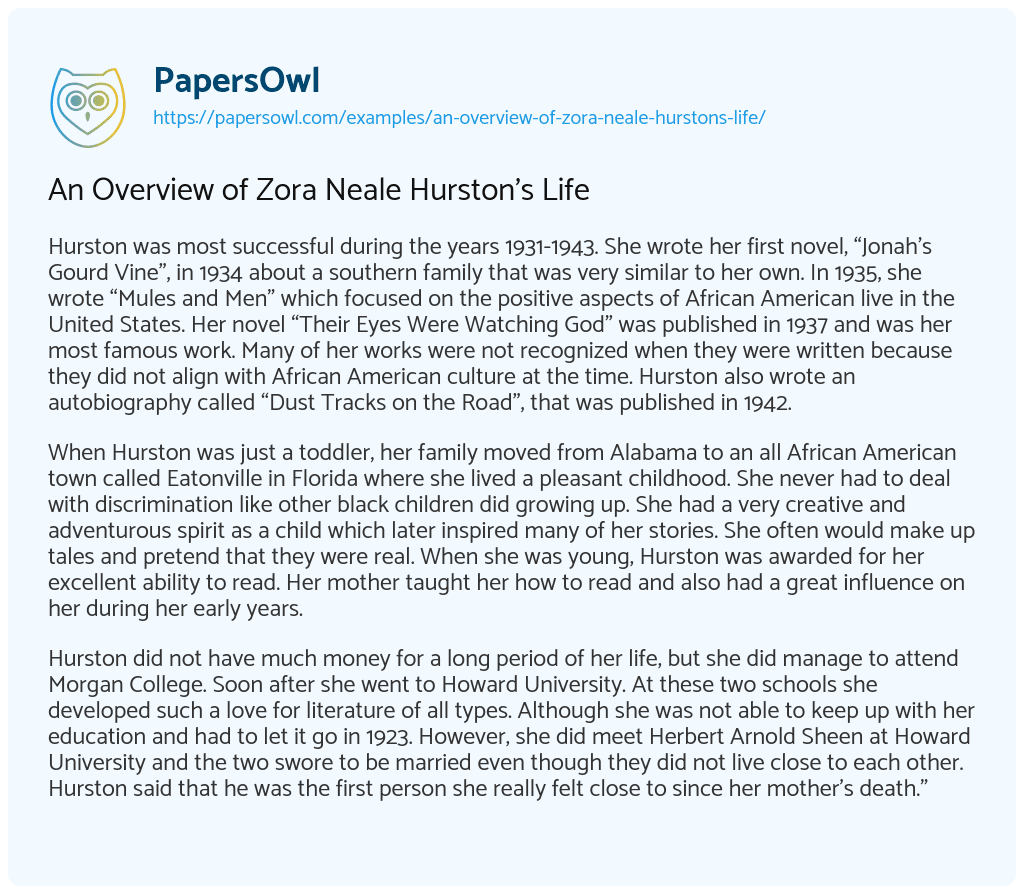 Hurston was most successful during the years 1931-1943. She wrote her first novel, "Jonah's Gourd Vine", in 1934 about a southern family that was very similar to her own. In 1935, she wrote "Mules and Men" which focused on the positive aspects of African American live in the United States. Her novel "Their Eyes Were Watching God" was published in 1937 and was her most famous work. Many of her works were not recognized when they were written because they did not align with African American culture at the time. Hurston also wrote an autobiography called "Dust Tracks on the Road", that was published in 1942.
When Hurston was just a toddler, her family moved from Alabama to an all African American town called Eatonville in Florida where she lived a pleasant childhood. She never had to deal with discrimination like other black children did growing up. She had a very creative and adventurous spirit as a child which later inspired many of her stories. She often would make up tales and pretend that they were real. When she was young, Hurston was awarded for her excellent ability to read. Her mother taught her how to read and also had a great influence on her during her early years.
Hurston did not have much money for a long period of her life, but she did manage to attend Morgan College. Soon after she went to Howard University. At these two schools she developed such a love for literature of all types. Although she was not able to keep up with her education and had to let it go in 1923. However, she did meet Herbert Arnold Sheen at Howard University and the two swore to be married even though they did not live close to each other. Hurston said that he was the first person she really felt close to since her mother's death."
Did you like this example?
3636
151