Young Adult Relationship Values at Intersection of Gender and Sexuality
Exclusively available on PapersOwl
Introduction
Young adulthood is becoming an extended and distinct development stage, as it marks the transition period from the adolescent stage to the adult stage. In particular, young individuals strive to identify numerous life aspects, which correlate positively with specific life experiences such as the establishment of intimate associations. The different forms of sexual interactions, which the young people engage in, and the several choices and decisions they make in those relationships often impact significantly on their youthful and adulthood lives. Indeed, momentous social and lifestyles changes have taken place fueled by the westernization and civilization transformations over the last few decades, which have eventually influenced the attitudes of the young towards intimate relationships (Wellings et al., 2006, p. 2). Ultimately, this leads to changes in the ideologies related to gender attitudes and sexual practices, which have been increasing and diversifying as the global society equally changes.
The diversity is in terms of partners' age, types of unions formed, ethnic differences, and levels of commitment and love. Based on the inter-sectionality values and gender theories, gender and sexuality intersect to influence the relationship and interaction of the young adults uniquely. In the process, the society is witnessing new intimate interactions such as the rise of lesbian, gay, bisexual, and transgender (LGBT) relationships as part of the sexual minorities. Other changes relate to cases where young adult females appear to attach more importance on the customary associations and values compared to the young adult men, and unfolding where gender relationships detach from traditional values regarding sexual commitment and faithfulness among partners.
Need a custom essay on the same topic?
Give us your paper requirements, choose a writer and we'll deliver the highest-quality essay!
Order now
Literature Review
Fundamentally, young adult interaction values are shifting, while gender and sexuality are continually intersecting. Notably, the biological paradigm has stressed the contribution of societal controls in influencing these gender and sexual transformations (Kocsis, 2017, p. 57). For instance, due to the ongoing changes in cultural dilution, societal enlightenment, and integration of global society due to liberalization, the attitudes towards cultural values attached to gender and sexual expression have equally changed. This aspect depicts the correlation between sexuality, which is an internally-mediate process, and external forces such as global cultural interaction. As Bay-Cheng (2003) notes, the decline in youth sexuality due to the biological process of hyper sexuality and deviation succeed in creating a natural and inevitable transition into adulthood (63). On this note, it is not affirmed on the nature of the conduct that the youths participate in, but on the constructed aspect of their youthfulness. Thus, due to cultural attachment and the need to adhere to the ascribed sexuality norms, the co-opting of this biological concept creates a necessity to regulate behavior conduct. In the process, young adults who fail to align with specific gender values, especially the female gender, are considered deviators of the expected and desired sexuality order.
Noteworthy, contemporary society is characterized by erosion of virtues attached to sex and gender. Due to these unfolding, the global society is witnessing legal, moral and cultural conflicts related to issues of sexuality and gender relations. Specifically, high rates of non-marital and unintended childbearing, premarital sex, homosexuality, cohabitation, Sexually Transmitted Diseases (STDs), and decreased value attached to marriage have characterized the present generation of young adults. For instance, a study by Smith states that based General Social Survey among young adults aged between 25-44 years in a second marriage relationship, about 61 percent cohabited with their new partners before marriage (2003, p.4). From the transformation in a social framework and the heightened discourse regarding the LGBT relationships, the gender and sexual perception held by the new cohort of a youthful population has been intensified. This context and debate help to determine the extent to which these adults' association will alter the understanding of gender and sexuality values, and the effects on a new relationship such as heterosexuals and sexual minorities on the ideals of an institution such as marriages and male-female interactions.
Importantly, the national understanding of the importance of relationship and marriage, and also the expectations of every gender and sexual partners in the country has changed significantly. For instance, among the American young adults, the essentiality attached to marriage, family, and relationship faithfulness has reduced markedly. Primarily, family theorists have noted that contemporary adults are delaying to marry, especially in their early adulthood stages (Uecker & Stokes, 2008, p. 1). However, the percentage of youths expecting to marry has increased over the years as they term marriage as an essential union. Factors such as cohabitation and need to fulfill lifestyle careers are some of the societal change influencing perceptions of early marriages. For instance, young adults who are highly engaging in cohabiting behavior are less likely to enter marriage institutions. The explanation could be that such youths acquire sexual and partner satisfaction, and thus do not see the importance of marriage union. This phenomenon differs between genders, such that young adult women express greater expectations of marrying and they see greater importance of family life than their fellow men (Uecker & Stokes, 2008, p. 4). Consequently, women appear to abide more to the traditional relationship values of the importance of marriage that young men. However, other factors such as the nature of parental marriage take precedence and influence the perception held towards opposite gender interaction. On this note, young adults raised by a single-parent family are less likely to marry early compared to those raised both biological parents. This scenario manifests more in cases where single-parenthood happens due to marriage conflicts and separation, as it creates a negative view about marriage.
As noted, the dynamic of gender intersections has led to the introduction of lesbian, gay, bisexual, and transgender (LGBT) relationships as part of the sexual minorities. Based on a study by Gates, approximately 3.5 percent of the U.S population identify as LGB, while about 0.3 percent is transgender (2011, p. 1). Young females are substantially more likely to be bisexual, a category that consists of over 50 percent of the bisexual and lesbian population among women. From several studies, it is shown that partners who are in a same-sex association are less likely to be socially compatible than opposite sex partners basing on parameters such as age and race. Also, sexual minorities have minimal chances of getting mutually satisfying partners and thus are forced to stay on relaxed partner requirements. Lesbians also earn large amounts of money compared to other youth women; therefore, they are not concerned with financial security in relationships. Social issues such as money and race are of less concern amongst young adults and sexual minorities.
Under the LGBT interaction, same-sex relationships last for a shorter period as compared to heterosexual relationships. Youth female same-sex relationships manifest a higher rate of separation compared to youth male same-sex relationships and different-sex couples (Joyner, Manning, & Bogle, 2017, p. 2). The legal support to same-sex relationships has caused the differences in dissolution of relationships among sexual minorities. Expectations and aspirations of sexual minorities may be influenced by the differences in the stability of relationships. Therefore, sexual minorities view long term commitment to be unachievable and undesirable. Furthermore, youth males participate in sexual monogamy less than lesbian and heterosexual partners. On this note, the rate of sexual fidelity among same-sex couples is less crucial in the relationship. Various gay males disengage from aspects of sexual fidelity giving more focus on the psychological primacy of an association than the gender exclusivity in the relationship (Joyner et al., 2017). From this study, sexual monogamy ideal is shaped by sexual identity and gender. Youth women indulge in public commitment rituals than youth men despite the high rates of dissolution. Female couples enter legal partnership statuses that are marriage-like than male couples. This shows that young adult women are more committed in their relationships than young adult men.
The influence of gender and sexuality practices is noted in all aspects of social, economic, and education endeavors. For instance, according to an earlier study by Kocsis documented in National Longitudinal Study of Adolescent Health, students who participate in the early sexual encounter are more likely to have lower expectations in the academic excellence (2017, p. 57). He also notes that certain academic and lifestyles choices such as plans for schooling in the future are related inversely to gender or sexual experience. This observation is manifested mainly in females compared to males. Also, substantial review on this subject argues that young adults having positive life aspirations and secure attachment to communal organizations are more likely to deviate from antisocial behavior (Kocsis, 2017, p. 57). The nature of lifestyles in the neighborhoods and social settings impact the quality of education systems and coordinated recreation facilities for the youth, which ultimately influence their marital expectations and sexual behavior.
Indeed, the intersection of gender and sexuality has been influenced dramatically by ethnic background and social, economic status. On the social economic and familial theory, studies on involvement and aspirations of sexual behavior and gender interaction have affirmed that the social class of the parents motivates adolescent sexual conduct (Kocsis, 2017, p. 58). These aspects are related to other social attributes such as academic achievement, level of income, urbanization, and social norms. For instance, adolescents from a poor background are likely to be sexually active since they tend to manifest lower educational aspirations and less enlightened on ways to cope with sexual expressions.
The societal manifest has taken an ethnic dimension given that certain races, especially in the ethnically diverse nations such as the US, are economically and socially segregated. For this reason, ethnic minority groups such as the black community are more likely to have sexual encounters than whites. On this note, Hogan and Kitagawa (1983) cite a case where Black, teenage girls from Chicago neighborhoods have a higher rate of engaging in premarital sexual intercourse than due to high poverty rate and low educational attainment than those living in higher social class neighborhoods. Bakken & Winter made a similar observation, affirming that cases of sexually transmitted disease (STD) are 30 percent more prevalent among the African Americans than among other ethnicities such as whites or Asians and Pacific Islanders (2002, p. 252). As well, the researchers noted that in the US, African American adolescents are highly likely to indulge in multiple sexual partners and that they too initiate opposite gender-related encounters earlier compared to other race members. The explanation is that the youth tend to be obliged to seek non-traditional techniques to attaining adult status due to economic uncertainty and poor career prospects.
References
Bakken, R. J., & Winter, M. (2002). Family characteristics and sexual risk behaviors among black men in the United States. Perspectives on Sexual and Reproductive Health, 252-258.
Bay-Cheng, L. Y. (2003). The trouble of teen sex: The construction of adolescent sexuality through school-based sexuality education. Sex Education: Sexuality, Society and Learning, 3(1), 61-74.
Gates, G. J. (2011). How many people are lesbian, gay, bisexual and transgender? Retrieved from https://williamsinstitute.law.ucla.edu/wp-content/uploads/Gates-How-Many-People-LGBT-Apr-2011.pdf
Hogan, D. P., & Kitagawa, E. M. (1985). The impact of social status, family structure, and neighborhood on the fertility of black adolescents. American journal of Sociology, 90(4), 825-855.
Joyner, K., Manning, W., & Bogle, R. (2017). Gender and the stability of same-sex and different-sex relationships among young adults. Demography, 54(6), 1-45.
Kocsis, T. (2017). A critical analysis of sexuality education in the United States: Toward an inclusive curriculum for social justice. Loyola Mary mount University. Retrieved from https://digitalcommons.lmu.edu/cgi/viewcontent.cgi?article=1477&context=etd
Smith, T. W. (2003). American sexual behavior: Trends, socio-demographic differences, and risk behavior. Chicago: National Opinion Research Center.
Uecker, J. E., & Stokes, C. E. (2008). Early marriage in the United States. Journal of Marriage and Family, 70(4), 1-18.
Wellings, K., Collumbien, M., Slaymaker, E., Singh, S., Hodges, Z., Patel, D., & Bajos, N. (2006). Sexual behaviour in context: A global perspective. The Lancet, 368(9548), 1-21.
Did you like this example?
7751
323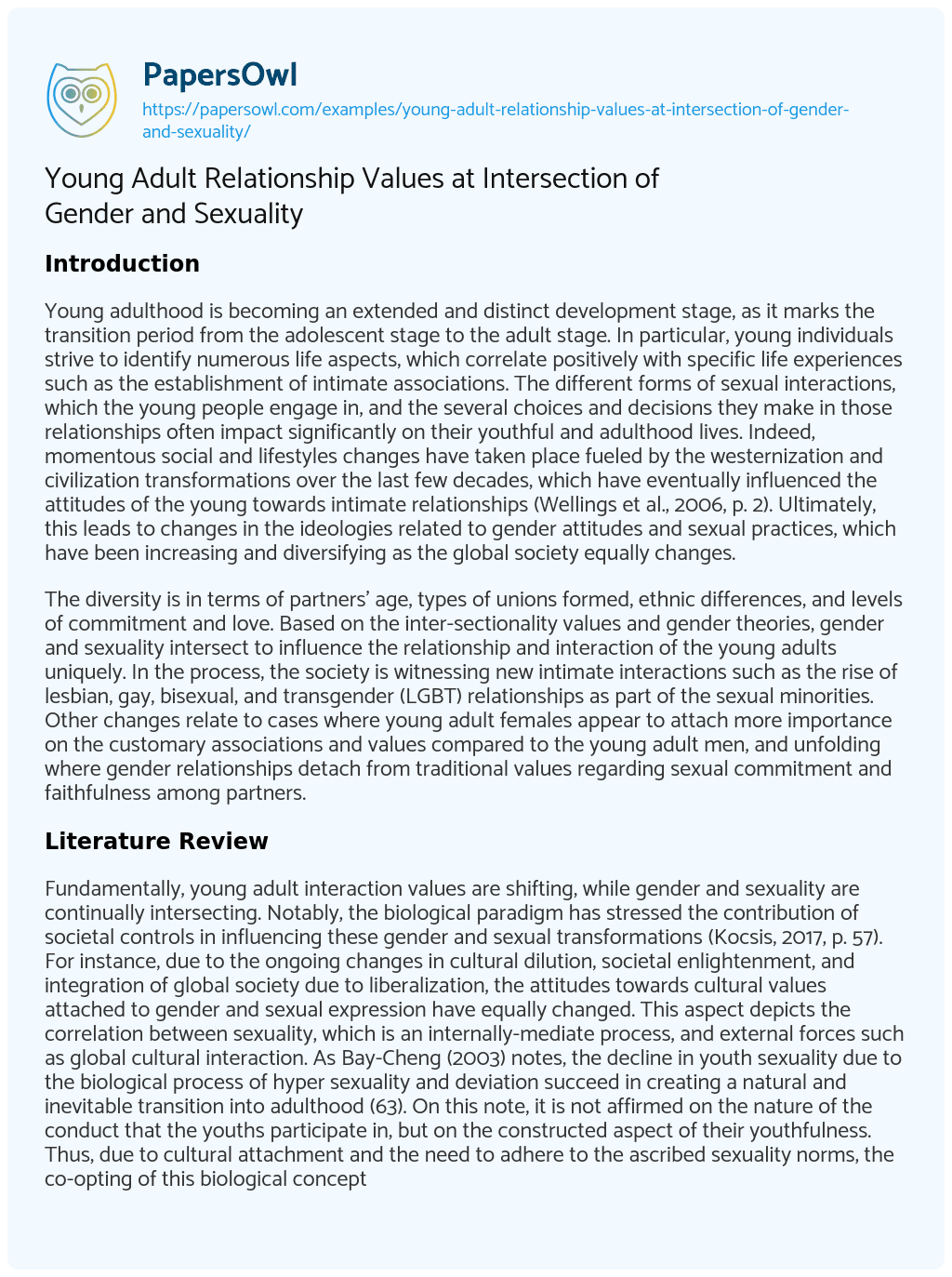 The deadline is too short to read someone else's essay
Hire a verified expert to write you a 100% Plagiarism-Free paper
Young Adult Relationship Values at Intersection of Gender and Sexuality. (2021, May 10). Retrieved from https://papersowl.com/examples/young-adult-relationship-values-at-intersection-of-gender-and-sexuality/