Who is the Real Monster in Frankenstein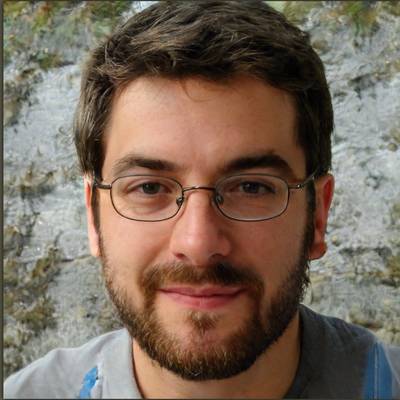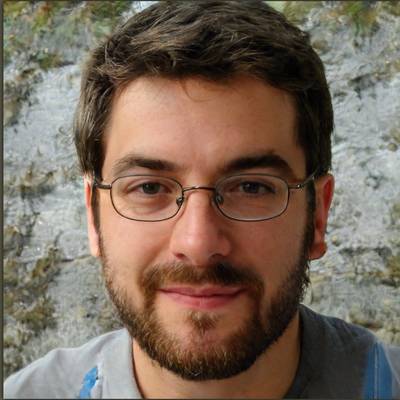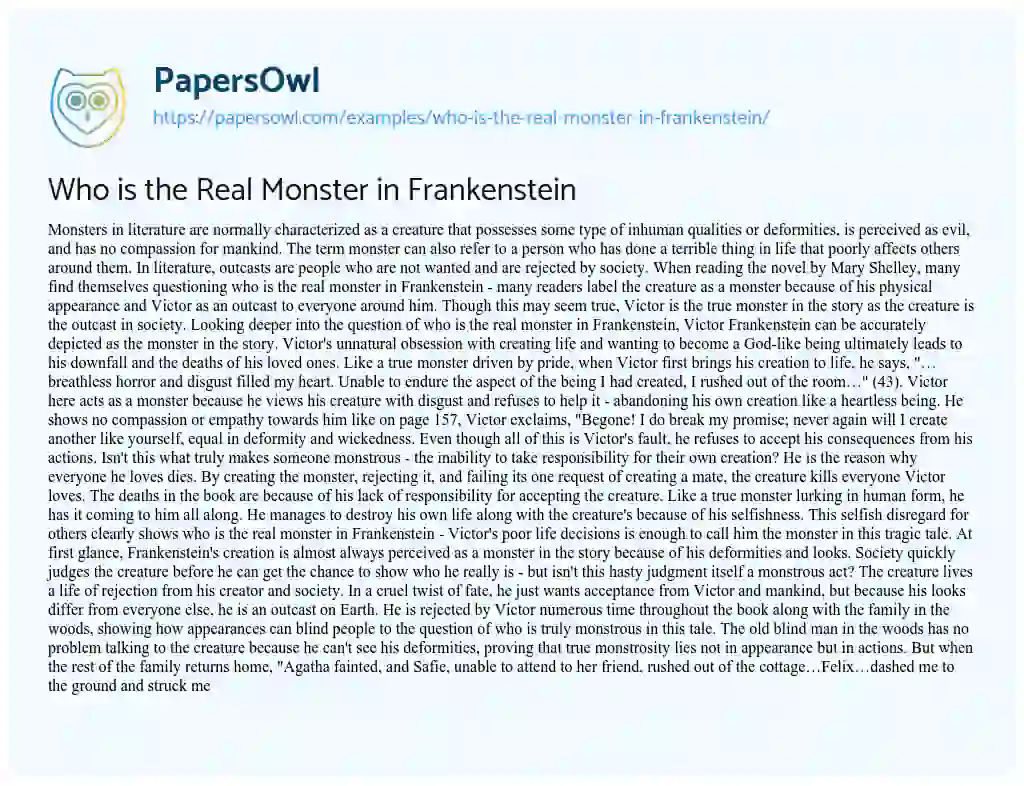 Monsters in literature are normally characterized as a creature that possesses some type of inhuman qualities or deformities, is perceived as evil, and has no compassion for mankind. The term monster can also refer to a person who has done a terrible thing in life that poorly affects others around them. In literature, outcasts are people who are not wanted and are rejected by society. In the novel Frankenstein, by Mary Shelley, many readers label the creature as a monster because of his physical appearance and Victor as an outcast to everyone around him. Though this may seem true, Victor is the true monster in the story as the creature is the outcast in society.
Victor Frankenstein can be accurately depicted as the monster in the story. Victor's unnatural obsession with creating life and wanting to become a God-like being ultimately leads to his downfall and the deaths of his loved ones. When Victor first brings his creation to life, he says, "…breathless horror and disgust filled my heart. Unable to endure the aspect of the being I had created, I rushed out of the room…" (43). Victor here acts as a monster because he views his creature with disgust and refuses to help it. He shows no compassion or empathy towards him like on page 157, Victor exclaims, "Begone! I do break my promise; never again will I create another like yourself, equal in deformity and wickedness."
Even though all of this is Victor's fault, he refuses to accept his consequences from his actions. He is the reason why everyone he loves dies. By creating the monster, rejecting it, and failing its one request of creating a mate, the creature kills everyone Victor loves. The deaths in the book are because of his lack of responsibility for accepting the creature. He has it coming to him all along. He manages to destroy his own life along with the creature's because of his selfishness. Victor's poor life decisions is enough to call him the monster in Frankenstein.
Frankenstein's creation is almost always perceived as a monster in the story because of his deformities and looks. Society quickly judges the creature before he can get the chance to show who he really is. The creature lives a life of rejection from his creator and society. He just wants acceptance from Victor and mankind, but because his looks differ from everyone else, he is an outcast on Earth. He is rejected by Victor numerous time throughout the book along with the family in the woods.
The old blind man in the woods has no problem talking to the creature because he can't see his deformities, but when the rest of the family returns home, "Agatha fainted, and Safie, unable to attend to her friend, rushed out of the cottage…Felix…dashed me to the ground and struck me violently with a stick"(123-124). The family is too quick to judge based off his looks and never allows the creature to speak or explain himself. The creature is a victim and outcast who lives a life of rejection when he means the best for mankind. He realizes this on page 133 when he says, "I am alone and miserable; man will not associate with me…" All he needs is someone to take him in and teach him the ways of life. The creature's life of rejection and judgment ultimately labels him as the outcast in Frankenstein.
By physical description, the creature is often perceived as a monster in Frankenstein, but he is just a mistreated outcast in society trying to do the right thing. Society judges the creature based on his looks and never gives his personality a chance. Victor is the true monster through his actions and personality throughout the book. Victor's hostility towards the creature, obsession with creating life, and the yearning for a God-like status and power all reveal the inner monster Victor possesses. Victor is the real monster who destroys his life while the creature is just an outcast in society who yearns for affection and acceptance.
Works cited:
Shelley, Mary. Frankenstein. Bantam, NY. 1818.         
Did you like this example?
5364
224