Planning to Send Child Study Abroad
Exclusively available on PapersOwl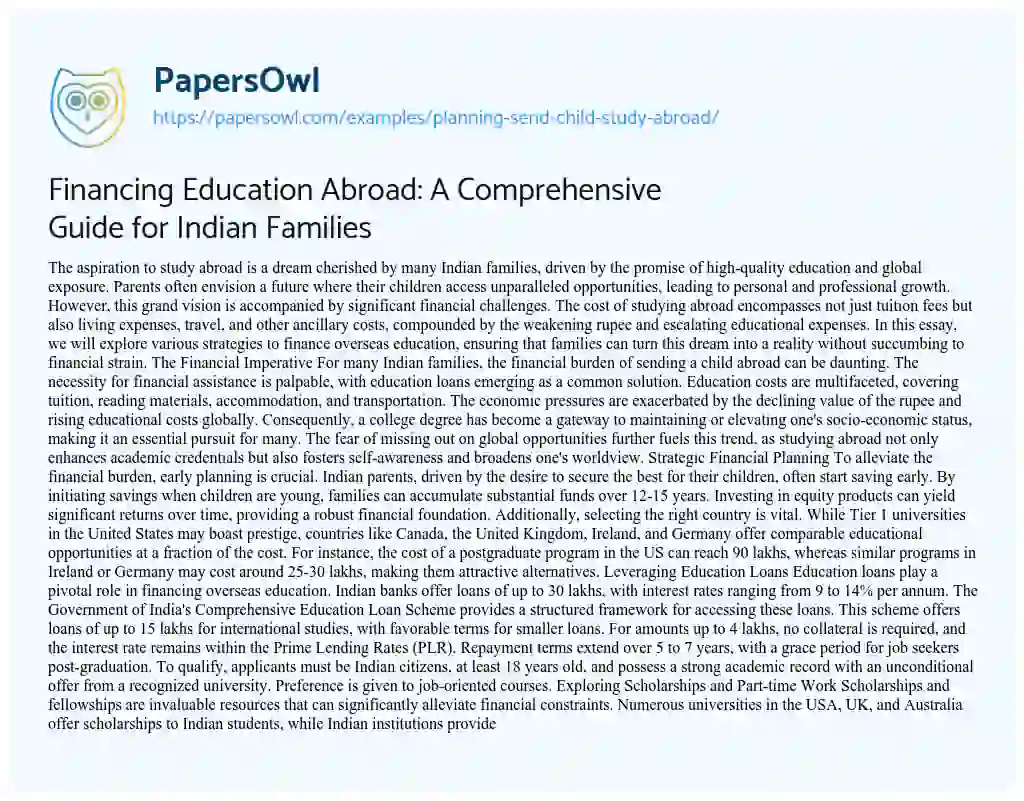 Most Indian families dream of sending their children abroad to study- either for their undergraduate or postgraduate studies. It is an exciting prospect and always has been. However, this puts a huge financial burden on the family. In India, when we think of education loans, we are immediately faced with the prospect of significant debts that we cannot pay off for years in the end. But the sobering reality has been that in fact, education loans have become a way for a majority of families to finance their children's studies in a country abroad. Financial assistance remains a very real need for millions of students in our country. The costs of education are not restricted to the school fees alone but also include reading the material, cost of living, transport and other miscellaneous expenses. The falling rupee and rising education cost do not help the situation. A college degree is becoming increasingly mandatory in order to access or remain in the middle class that we are born into. This becomes more apparent as larger groups of people travel abroad to pursue their education. The fear of missing out is also quite prevalent. Studying abroad can have quite a few benefits- it opens up children to a world of possibilities, they have a broader view on things, it increases self-awareness and it doesn't hurt that it looks good on their resumes. Listed below are some strategies to help finance an education abroad. Early Planning Most Indian parents want what is best for their children. They want to live their dream through the eyes of their children and one way of doing this is to send their children abroad to pursue their education. Counting costs and planning for the expenditure of the education would help to mitigate the burden when the time comes. By saving up when the children are 4-5 years, it gives families 12-15 years to accumulate the necessary funds. By investing a majority of this in equity products, it will be beneficial in the long run.
Pick the Country Wisely. Do Your Research. Dotted across the globe are universities that offer above par quality of education to students the world over. Tier 1 and Tier 2 universities are understandably harder to gain admission into and subsequently have higher tuition fees. Universities in Canada and the United Kingdom offer similar courses like the ones in the US at a fraction of the cost. The average cost of sending a child to the US for a postgraduate course is a whopping 90 lakhs. Whereas, countries like Ireland and Germany offer similar courses for a cost of 25-30 Lakhs. Education Loans Indian banks offer loans up to Rupees 30 Lakhs at an interest rate ranging from 9 to 14% per annum. The Government of India has worked with The Reserve Bank of India and the Indian Bankers Association to frame the Comprehensive Education Loan Scheme. The new scheme comprises of all courses- including universities in India and abroad. The Features of the Scheme are as Listed: The scheme allows loans of up to 15 Lakhs for studies in International Universities For loans up to Rs. 4 lakhs, no collateral is required and the interest rate does not exceed the Prime Lending Rates (PLR). For loans above Rs. 4 lakhs, the interest rate does not exceed PLR + 1 per cent. The loans are to be repaid over a period of 5 to 7 years with provision of grace period of one year after completion of studies if the recipient of the loan is unable to find a job.
Eligibility Criteria to Apply for a Student Loan in India
The applicant for the education loan should be an Indian citizen. 18 should be the minimum age of the applicant. The parents can take the loan if this criterion is not fulfilled. A good academic record in non-negotiable. The applicant must have a full unconditional offer from a recognized university. Banks prefer job oriented courses as opposed to those centred on the arts. The course must be a professional one.
Loan Application Process Make sure that the course being applied for is recognized by the banks providing the loan. Chart a plan for the amount of loan you require and the amount that can be financed on your own. Go for the bank offering a student loan that meets your requirements best. The loan applications need to be filled out with the required documentation attached. Upon the application being assessed and the loan is finalized, the bank will issue a loan document with the various aspects involved in the transaction. Subsequently, the bank will disburse the amount in instalments or as and when required by the university. Scholarships and Fellowships Higher education scholarships are an important aspect of helping students build better futures for themselves. They help to overcome financial constraints. Most universities in the USA, UK, Australia and other countries offer their own scholarships to students from India. Our country also offers its own scholarships to students on the basis of academic merit and economic circumstances. Scholarships like the Fulbright-Nehru Fellowship, the TATA scholarship and Commonwealth Scholarship can be availed by students to pursue their undergraduate or postgraduate studies abroad. Scholarships instil a philanthropic streak in the students who tend to give back when they are financially stable. Part-time jobs Most countries allow students to work part-time to help finance their cost of living expenses. It is a great way to earn some extra money and also gain exposure on the job. It eases the financial situation as the minimum wage in countries abroad is much higher than it is in India. Addressed below are the allowed work hours for students in various countries: Australia 2o hours/week Minimum wage: 980 Rupees/hour France 35 hours/week Minimum wage: 810 Rupees/hour Germany 120 days/year full time Minimum wage: 730 rupees/hour Spain 20 hours/week Minimum wage: 1080/hour Graduate Assistantship Most postgraduate courses offer research or teaching assistantships to the students while they pursue their course.
Assistantships are government recognized and it makes the work visa processes smoother for students wishing to stay back after their education. Budgeting The financial situation revolving a child's education does not end once they have entered the university and begun the course. The cost of living in countries like the USA or UK is almost 5 to 7 times the cost of living in India. Students cannot expect to live a lavish life while studying. Budgeting is a very important part of the cost-cutting factor when it comes to sorting out finances. Students need to understand that they need to give up certain luxuries like travelling in a cab and instead take the tube or the bus or they can swap eating out every day of the week with eating home cooked meals on weekdays. Every small effort goes in a long way in ensuring that the financial issues so not become a burden on the parents. Upon Graduation Once the student has graduated and has obtained a job, the payment of loans can be taken over from the parents. Students who have high outstanding amounts on their education loans when they graduate have a lower net worth and fewer financial as well as non-financial assets. A credit score is meant to reflect one's creditworthiness and risk of default. It is important to maintain a good credit score for future loan requirements. This is calculated according to your payment track record and previous borrowing and loan history. Financing an education abroad might seem like a daunting task at first, but with prudent planning, it is doable for the average Indian family. It is crucial to account for 10% annual inflation while saving up for the education. Assets and investments should be accounted for and the remaining gaps can be filled with SIPs over the years at the rate of Rupees 5000 to 7000 a month. Cost-benefit analysis suggests that taking an education loan and investing the accumulated amount works in the loan applicant's favour. The tax saved on the education loan also needs to be taken into account. The interests paid on an education loan can be claimed under section 80E without any upper limits.
Did you like this example?
1889
39