One Important Lesson for Human
Exclusively available on PapersOwl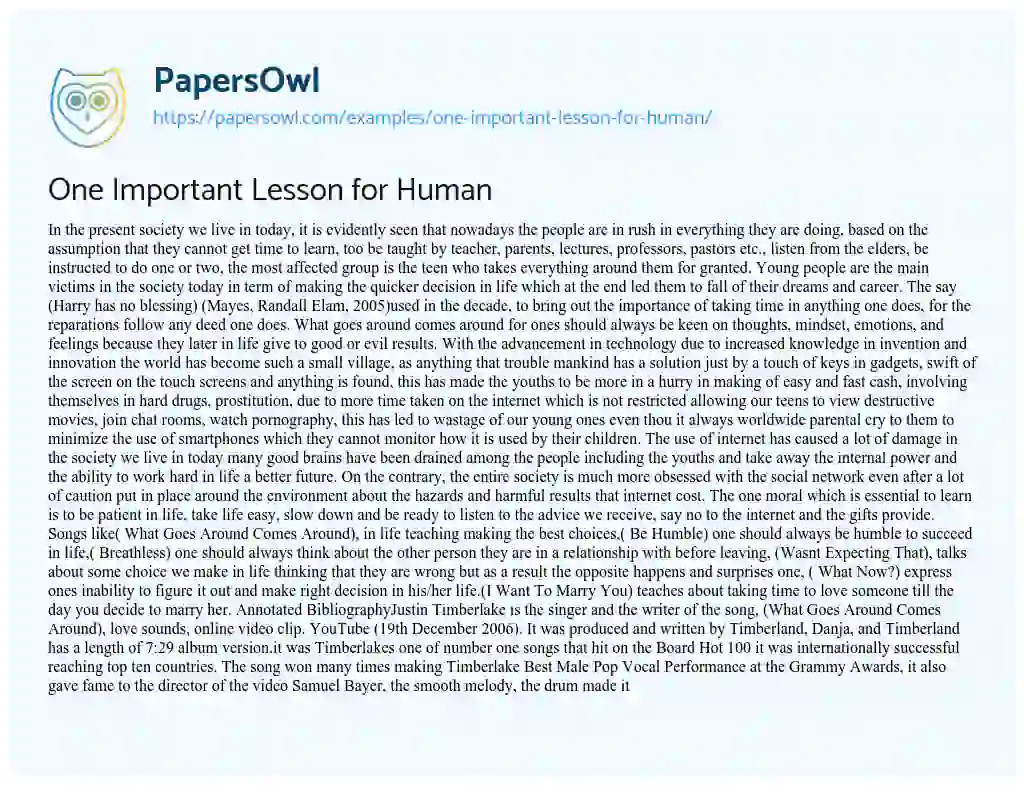 In the present society we live in today, it is evidently seen that nowadays the people are in rush in everything they are doing, based on the assumption that they cannot get time to learn, too be taught by teacher, parents, lectures, professors, pastors etc., listen from the elders, be instructed to do one or two, the most affected group is the teen who takes everything around them for granted. Young people are the main victims in the society today in term of making the quicker decision in life which at the end led them to fall of their dreams and career. The say (Harry has no blessing) (Mayes, Randall Elam, 2005)used in the decade, to bring out the importance of taking time in anything one does, for the reparations follow any deed one does.
What goes around comes around for ones should always be keen on thoughts, mindset, emotions, and feelings because they later in life give to good or evil results. With the advancement in technology due to increased knowledge in invention and innovation the world has become such a small village, as anything that trouble mankind has a solution just by a touch of keys in gadgets, swift of the screen on the touch screens and anything is found, this has made the youths to be more in a hurry in making of easy and fast cash, involving themselves in hard drugs, prostitution, due to more time taken on the internet which is not restricted allowing our teens to view destructive movies, join chat rooms, watch pornography, this has led to wastage of our young ones even thou it always worldwide parental cry to them to minimize the use of smartphones which they cannot monitor how it is used by their children.
The use of internet has caused a lot of damage in the society we live in today many good brains have been drained among the people including the youths and take away the internal power and the ability to work hard in life a better future. On the contrary, the entire society is much more obsessed with the social network even after a lot of caution put in place around the environment about the hazards and harmful results that internet cost. The one moral which is essential to learn is to be patient in life, take life easy, slow down and be ready to listen to the advice we receive, say no to the internet and the gifts provide. Songs like( What Goes Around Comes Around), in life teaching making the best choices,( Be Humble) one should always be humble to succeed in life,( Breathless) one should always think about the other person they are in a relationship with before leaving, (Wasnt Expecting That), talks about some choice we make in life thinking that they are wrong but as a result the opposite happens and surprises one, ( What Now?) express ones inability to figure it out and make right decision in his/her life.(I Want To Marry You) teaches about taking time to love someone till the day you decide to marry her.
Annotated BibliographyJustin Timberlake is the singer and the writer of the song, (What Goes Around Comes Around), love sounds, online video clip. YouTube (19th December 2006). It was produced and written by Timberland, Danja, and Timberland has a length of 7:29 album version.it was Timberlakes one of number one songs that hit on the Board Hot 100 it was internationally successful reaching top ten countries. The song won many times making Timberlake Best Male Pop Vocal Performance at the Grammy Awards, it also gave fame to the director of the video Samuel Bayer, the smooth melody, the drum made it much more wanting to hear, it was about betrayal and forgiveness described by music opponents. Its title we should know what goes around comes back around reflects a perfect message advising us on how we should taking chance knowing better that there will always be a result of anything we do.Kendrick Lamar, (Humble), Aftermath Entertainment online video clip YouTube released on 30th March 2017, it has a length of two minutes fifty-seven seconds it was written by Kendrick Lamar and Michael William and later produced by Mike Will, thou was the first song to be recorded in the album the song become second number one singles for Lamar the song gives instructions to how one can be so good when he/she respects the others and listen to instruction for greater exploration of talents and can make one move to great heights.
The vivid cinematic video with eyes lensed and cartoon style makes the viewers assignation Lamar idea and breath life to the song.Jamie Lawson is a British singer and songwriter (Wasnt Expecting That) released on 3rd April 2015, has a length of three minutes and thirty-six seconds. The Pop was recorded by Gingerbread Man Records it was famous around the globe it says a story about a couple who fall in love at a glance but are later traumatized when the lady is diagnosed with deadly cancer. Lawson was the first one to be signed by Ed Sheeran new recordingShayne Ward is the singer of the song (Breathless) released on the 19th of November 2007, a format is A CD single and digital download, as an R&B genre written by Rami, Arnthor, and Savan (Breathless) talks about a wonderful woman who can take any man breath away.as the song goes you leave me breathless you are the only thing in my life it wsas his final and second single from the second studio the song is so heart touching that you just to hear it play all the time.
The song (What Now) was recorded by Rihanna in the seventh album written by Nathan Cassells, Olivia Waithe, and Parker Ighile it was released on 29th August 2013 in the form of CD and digital download thou its a Pop genre of length four minutes and three seconds due to its emotional, good vocal and stand out song on the album.
After it releases (What Now) it has topped the major Billboards Hot 100, the UK single Chart, US Dance club the song expresses Rihanna emotions breakdown.(What Now) is a mid-tempo Pop, piano mid, with Rihannas vocal spanning from a low note to high note. In life, one can be filled with emotions to a state until the decision to take become a major issue to take care of in certain conditions in life as singed in the song (What Now) even thou Rihanna gets introspective.
Did you like this example?
7659
666