'Lady Bird'- Love, Acceptance, and Politics
Exclusively available on PapersOwl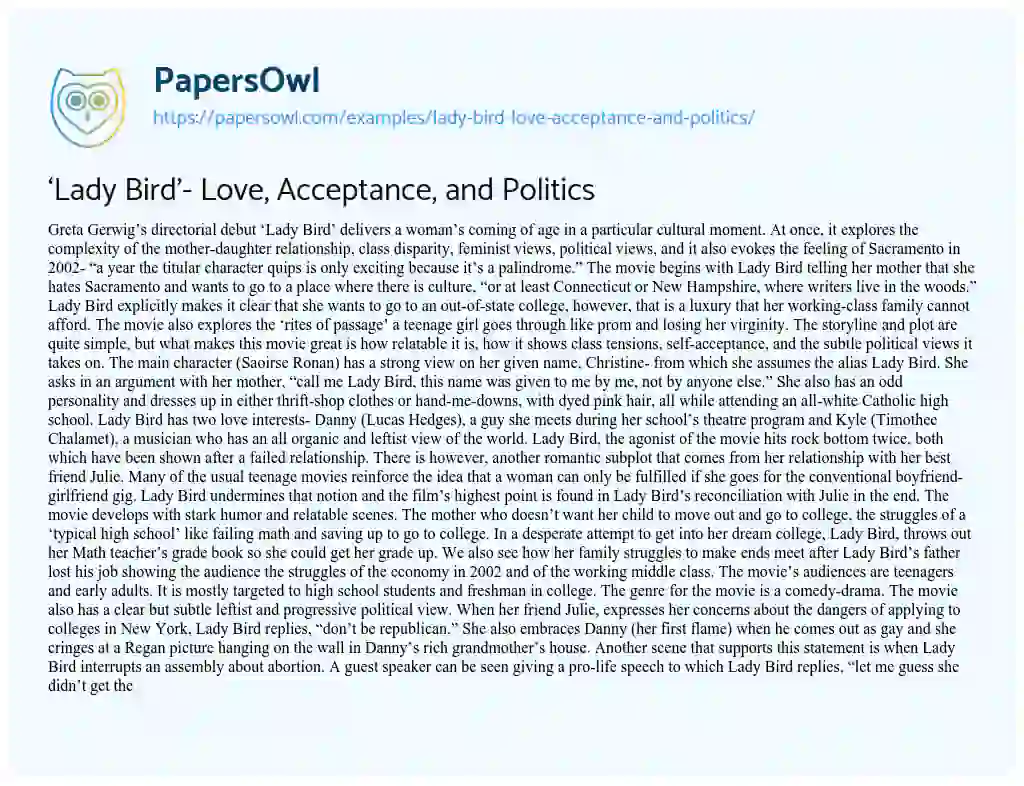 Greta Gerwig's directorial debut 'Lady Bird' delivers a woman's coming of age in a particular cultural moment. At once, it explores the complexity of the mother-daughter relationship, class disparity, feminist views, political views, and it also evokes the feeling of Sacramento in 2002- "a year the titular character quips is only exciting because it's a palindrome." The movie begins with Lady Bird telling her mother that she hates Sacramento and wants to go to a place where there is culture, "or at least Connecticut or New Hampshire, where writers live in the woods." Lady Bird explicitly makes it clear that she wants to go to an out-of-state college, however, that is a luxury that her working-class family cannot afford. The movie also explores the 'rites of passage' a teenage girl goes through like prom and losing her virginity.
The storyline and plot are quite simple, but what makes this movie great is how relatable it is, how it shows class tensions, self-acceptance, and the subtle political views it takes on. The main character (Saoirse Ronan) has a strong view on her given name, Christine- from which she assumes the alias Lady Bird. She asks in an argument with her mother, "call me Lady Bird, this name was given to me by me, not by anyone else." She also has an odd personality and dresses up in either thrift-shop clothes or hand-me-downs, with dyed pink hair, all while attending an all-white Catholic high school. Lady Bird has two love interests- Danny (Lucas Hedges), a guy she meets during her school's theatre program and Kyle (Timothee Chalamet), a musician who has an all organic and leftist view of the world. Lady Bird, the agonist of the movie hits rock bottom twice, both which have been shown after a failed relationship. There is however, another romantic subplot that comes from her relationship with her best friend Julie. Many of the usual teenage movies reinforce the idea that a woman can only be fulfilled if she goes for the conventional boyfriend-girlfriend gig. Lady Bird undermines that notion and the film's highest point is found in Lady Bird's reconciliation with Julie in the end.
The movie develops with stark humor and relatable scenes. The mother who doesn't want her child to move out and go to college, the struggles of a 'typical high school' like failing math and saving up to go to college. In a desperate attempt to get into her dream college, Lady Bird, throws out her Math teacher's grade book so she could get her grade up. We also see how her family struggles to make ends meet after Lady Bird's father lost his job showing the audience the struggles of the economy in 2002 and of the working middle class. The movie's audiences are teenagers and early adults. It is mostly targeted to high school students and freshman in college. The genre for the movie is a comedy-drama. The movie also has a clear but subtle leftist and progressive political view. When her friend Julie, expresses her concerns about the dangers of applying to colleges in New York, Lady Bird replies, "don't be republican." She also embraces Danny (her first flame) when he comes out as gay and she cringes at a Regan picture hanging on the wall in Danny's rich grandmother's house. Another scene that supports this statement is when Lady Bird interrupts an assembly about abortion. A guest speaker can be seen giving a pro-life speech to which Lady Bird replies, "let me guess she didn't get the abortion, BINGO." She is then asked to speak up and replies "just because it looks ugly doesn't mean it is morally wrong." Lady Bird continues with her defense on abortion and unapologetically drops the word "vagina" in front of Catholic school girls who gasp in horror. She is then suspended for these actions from school which only shows the audience that Catholics have been portrayed as Republicans (who're the bad guys) and Democrats are characters like Lady Bird. Although this movie came out in 2016, it was set in 2002. Throughout the movie, here and there, we can see little clips of the 9/11 attacks on television that were going on during that time. During the opening scenes there was a poster on the softboard that read "never forget 9/11." The political atmosphere during 2016-17 revolved around travel bans to Muslim countries, racist propagandas and public outcry that President Trump was in office.
There is another political reference made to Hillary Clinton. During the first 30 minutes of the movie, Lady Bird is seen running for a student body position. While conversing with the principal who is concerned about her posters, she says, "it's a tradition for me to run every time, but don't worry I never win." These lines were a dig at Hillary Clintons failed attempts to hold office against Obama and Trump. Kyle (Lady Bird's second love interest in the movie) has also been depicted as a leftist. He compliments Lady Bird by calling her an "anarchist." And rails against state surveillance through the use of electronics. He's a "Bernie Bro, the archetypical callous leftist invoked by Clinton allies during the 2016 Democratic primary." Lady Bird has been shown as a product of the capitalist society of an era where George W. Bush advised for Americans to go shopping in the wake of 9/11. Class is also a topic that has been heavily weighted in this movie. Gerwig weaves "class tensions into the narrative to render how they quietly but firmly shape our lives." Lady Bird is embarrassed by her family's working-class status in society. She refers to her house as being on "the wrong side of the tracks" which she quite literally meant, more affluent homes were on the other side of the railway tracks than where she lived at. She asks her dad to drop her off one block before school and insists she "likes to walk anyway." The movie quite literally displays the reality and struggles of the working class in America, especially during 2002. Throughout the movie there has been this back and forth struggle for control and power between Lady Bird and her mother.
In the first scene we see that she jumps out of a moving car and breaks her arm because she couldn't take her mother incessant bickering anymore. No one would really do that in reality but what makes it funny is that someone must've at least thought about doing it. Self-acceptance has been one of the central and crucial plots of this movie. When Lady Bird tries to become friends with a rich hot girl who wears shorter uniform skirts, she soon leaves her best friend Julie to try and 'fit in'. She lies about where she lives and about her interests in certain things just so she could be friends with the cooler kids when she knows deep down that who she is trying to become is not really who she is. We see her trying her best to change herself but, in the end, she goes back to Julie and accepts herself. From the very beginning the only goal that Lady Bird had was to get out of Sacramento and far away from her family as possible. However, the audience sees that once she is finally out and in New York she realizes how much her home means to her. This is where we get the final glimpse of the self-acceptance idea that this movie is trying to sell. On a hungover walk downtown, she leaves her mom a voicemail, reflecting on the first time she drove in Sacramento- how overwhelming it felt to see all the bends she'd known her whole life from a different perspective. We're reminded of an earlier scene in which Lady Bird's principal nun compliments her college essay- how her love for Sacramento comes through in details. She goes to a church on a Sunday in New York to feel closer to home and to hold onto something familiar. "Lady Bird" became A24's highest-grossing film which made $27.9 million. A specific story with universal, emotional resonance, Lady Bird shows us the fruits of paying attention. Lady Bird, in the end draws attention to some of the political views, the minds of young teenage girls, and the struggles of the middle class presently and in 2002.
Works Cited
Shapero, Natalie. "The Bird and the Bro: the Politics of 'Lady Bird.'" Www.counterpunch.org, 3 Mar. 2018, www.counterpunch.org/2018/03/02/the-bird-and-the-bro-the-politics-of-lady-bird/. Gilligan, Meghan. "Review: 'Lady Bird'." Another Gaze: A Feminist Film Journal, 3 Jan. 2018, www.anothergaze.com/lady-bird-greta-gerwig-saoirse-ronan-feminism-female-gaze/. Williams, Lara. "Youth in Revolt: Is Lady Bird the First Truly Feminist Teen Movie?" The Guardian, Guardian News and Media, 20 Feb. 2018, www.theguardian.com/film/filmblog/2018/feb/20/is-lady-bird-a-feminist-teen-movie-greta-gerwig-saoirse-ronan.   
Did you like this example?
7321
637