Hachi: a Dog's Tale Hollywood Film Review
Exclusively available on PapersOwl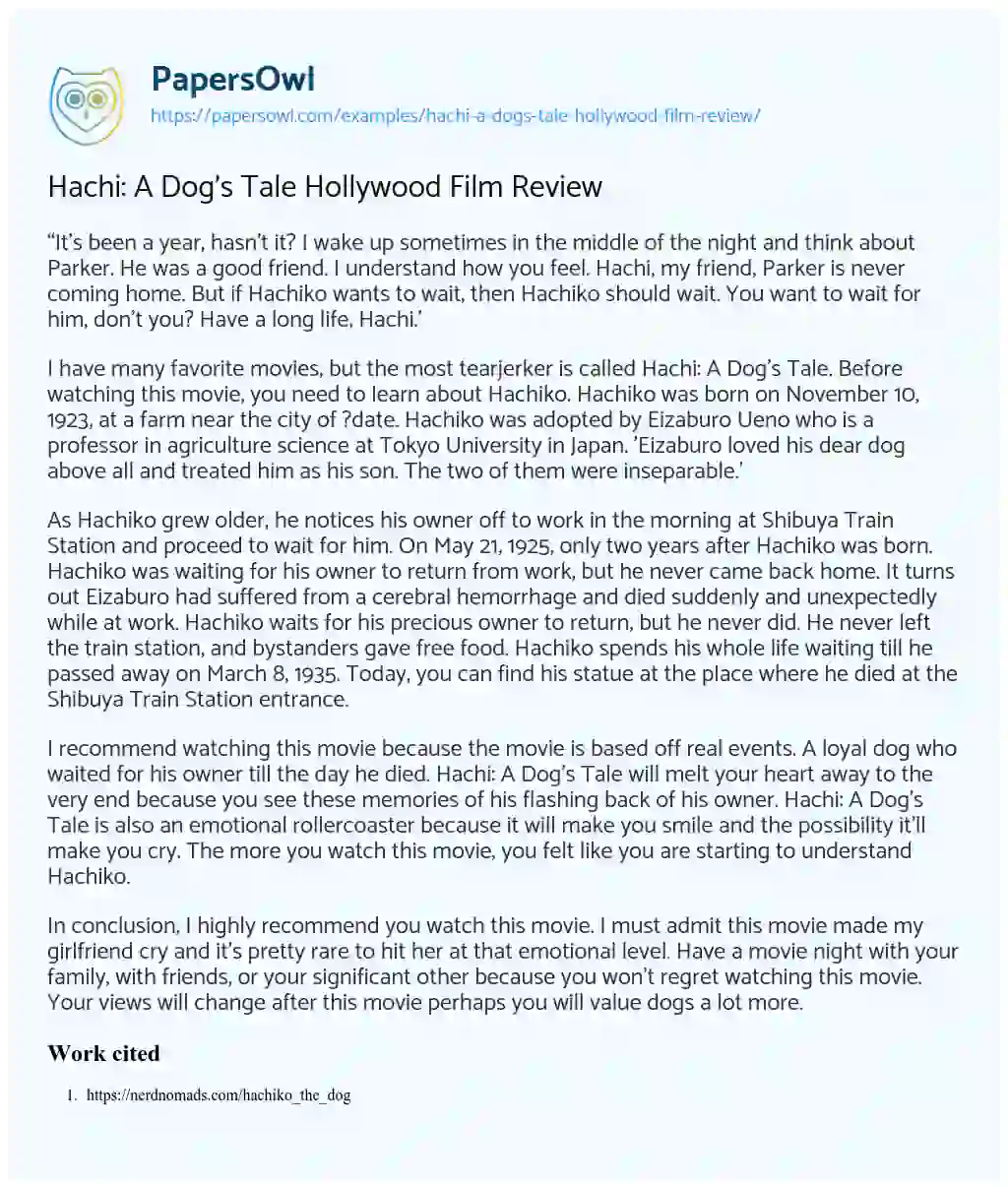 "It's been a year, hasn't it? I wake up sometimes in the middle of the night and think about Parker. He was a good friend. I understand how you feel. Hachi, my friend, Parker is never coming home. But if Hachiko wants to wait, then Hachiko should wait. You want to wait for him, don't you? Have a long life, Hachi.' 
I have many favorite movies, but the most tearjerker is called Hachi: A Dog's Tale. Before watching this movie, you need to learn about Hachiko. Hachiko was born on November 10, 1923, at a farm near the city of ?date. Hachiko was adopted by Eizaburo Ueno who is a professor in agriculture science at Tokyo University in Japan. 'Eizaburo loved his dear dog above all and treated him as his son. The two of them were inseparable.'
As Hachiko grew older, he notices his owner off to work in the morning at Shibuya Train Station and proceed to wait for him. On May 21, 1925, only two years after Hachiko was born. Hachiko was waiting for his owner to return from work, but he never came back home. It turns out Eizaburo had suffered from a cerebral hemorrhage and died suddenly and unexpectedly while at work. Hachiko waits for his precious owner to return, but he never did. He never left the train station, and bystanders gave free food. Hachiko spends his whole life waiting till he passed away on March 8, 1935. Today, you can find his statue at the place where he died at the Shibuya Train Station entrance.
I recommend watching this movie because the movie is based off real events. A loyal dog who waited for his owner till the day he died. Hachi: A Dog's Tale will melt your heart away to the very end because you see these memories of his flashing back of his owner. Hachi: A Dog's Tale is also an emotional rollercoaster because it will make you smile and the possibility it'll make you cry. The more you watch this movie, you felt like you are starting to understand Hachiko.
In conclusion, I highly recommend you watch this movie. I must admit this movie made my girlfriend cry and it's pretty rare to hit her at that emotional level. Have a movie night with your family, with friends, or your significant other because you won't regret watching this movie. Your views will change after this movie perhaps you will value dogs a lot more.
Work cited
https://nerdnomads.com/hachiko_the_dog
Did you like this example?
7421
645