Discover Top 5 Free Plagiarism Detection Tools
Exclusively available on PapersOwl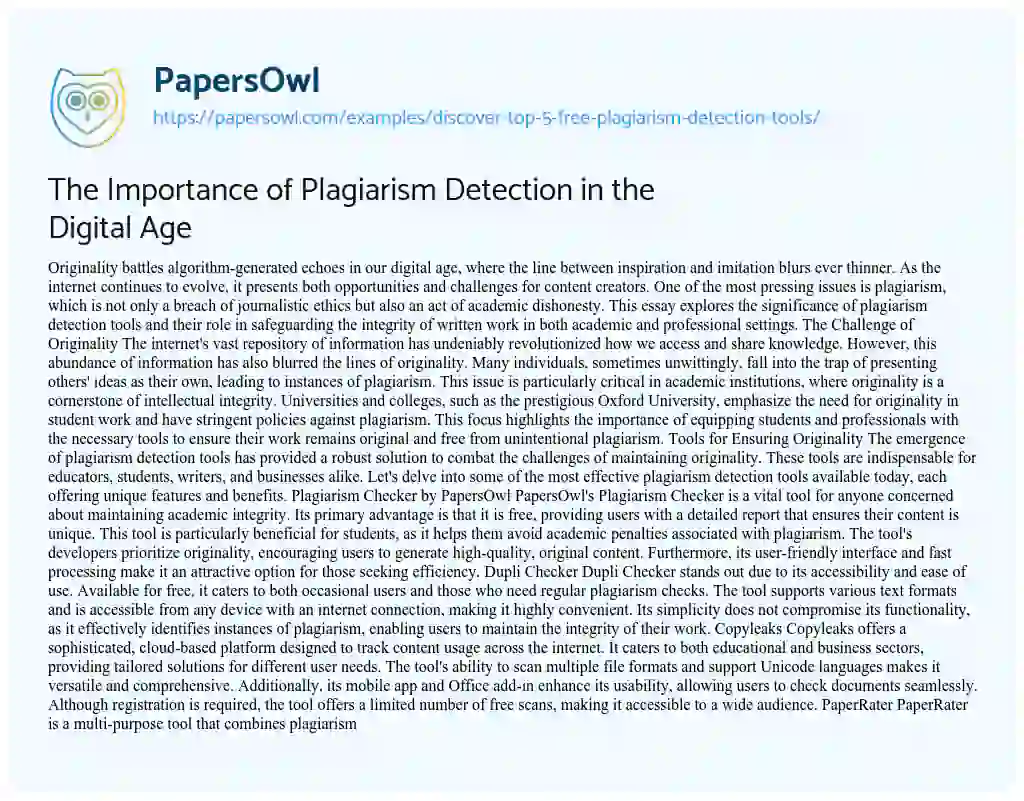 People who deal with text content use plagiarism detection tools on a regular basis. You may wonder why it is so important to check your web content for plagiarism. First of all let's determine what plagiarism is according to Wikipedia. So, we speak about "stealing and publications". Plagiarism is intolerable act in digital community. All author's ideas, thoughts, and language have to be original. Plagiarism is nothing else than journalistic ethics and academic dishonesty. In the following article you will find the most popular plagiarism tools that all professionals use in their work.
The List of Tools for Plagiarism Detection Photo
Modern people can't imagine their life without internet. New technologies appear all the time. Nowadays, we have access to any kind of information. We can get access to information from anywhere. Such progress has its pros and cons. The negative side of getting access to a vast amount of information is originality. It becomes more and more difficult to find unique ideas. Most of people simply copy ideas of others and present them as their own. Plagiarist is not something new but now it has definitely reached its highest pick. Now every serious educational establishment such as Oxford University pays extra attention to plagiarism in academic works. We recommend you to have a look at the top 5 tools for plagiarism detection.
1. Plagiarism Checker by PapersOwl
Using this tool you will never be expelled from your institution or course, you will never ruin your essay, and your academic reputation will be saved. This tool will keep you safe from any kind of legal issues. This is a professional checker that provides a fully-detailed report. You will be confident in your paper uniqueness.
Advantages:
• This tool is free of charge. In order to check your text you do not have to pay anything. Its developer values unique and original and tries to motivate people generate only high-quality content.
• Safe and super fast work. This anti-plagiarism checker works online. You will be amazed with its speed. Your text analyses has never been so smooth, safe, and pleasant.
• Its developer uses the most up-to date software and the best algorithms. In result, you get the most advanced plagiarism checker tool.
• The majority of users confirm that the interface is user-friendly and it does does not make much time.
2. Dupli Checker
Another highly- effective tool for detecting plagiarism. You can use it from any place or device which has a constant internet connection. Its interface is not so fancy, so you can be sure your job will be done quite fast and smooth.
Advantages:
• The tool is free for both a one-time guest user or for those who use this tool on a regular basis. To get the subscription plan will cost you nothing.
• Its layout looks simple but it is highly-functional. Even without any kind of experience you will be able to use the tool for detecting plagiarism without any problems.
• You can upload your Text/Docx file or simply copy and paste any kind of text in a separate field. We recommend you to sign up and get fifty checks per day, otherwise unregistered users will be limited to a single check per day.
3. Copyleaks
This is a great cloud-based platform for tracking how a certain content has been used online.
Advantages:
• The best tool for business and educational needs. This platform is divided into several sections depending on your purpose. If you are a businessman, you will be addressed to numerous SEO agencies and students will be forwarded to universities, other students, and schools.
• This tool can scan many different file formats. It reds Unicode languges.
• You can use API tool. Besides, it has a user-friendly mobile app with Office add-in. This is a very convenient tool for working with MS Office documents. Pay attention that you will be requested to register to use the tool. It is also limited to ten pages free of charge.
4. PaperRater
This tool is widely used all around the world. This is multi-purpose tool which you can use for proofreeading, checking grammar, building vocabulary, and of course checking plagiarism.
Advantages:
• Using this tool you will make your text polished and ready to be published.
• It has been created by a highly-professional team of linguistics experts.
• You will get accurate results very fast. Take into consideration that working with PaperRater you will not be able to save your reports. There are two subscription plans: "Basic" which is free up to 5 pages, auto-scoring, grammar/spelling check and basic writing suggestions and "Platinum" which will cost you around $100 per year. This is not the cheapest tool but you will not be bothered with ads and checking process will be fast and efficient.
5. Viper
The following tool with user-friendly interface will pleasantly surprise you with its efficiency and simplicity.
Advantages:
• Using this tool is free! You will get an instant access to all features.
• Check range for plagiarism is quite extensive. The tools checks around ten billion resources to guarantee the best result.
Unfortunately, there are no subscription plans available. This is a free platform which is targeted to academic students. Hopefully, now you understand the importance of checking your text for plagiarism if you do not want to ruin your study or carrer. Check each tool described below and make your own choice.
Did you like this example?
7204
982