Biography of Amelia Earhart, Female Pilot
Exclusively available on PapersOwl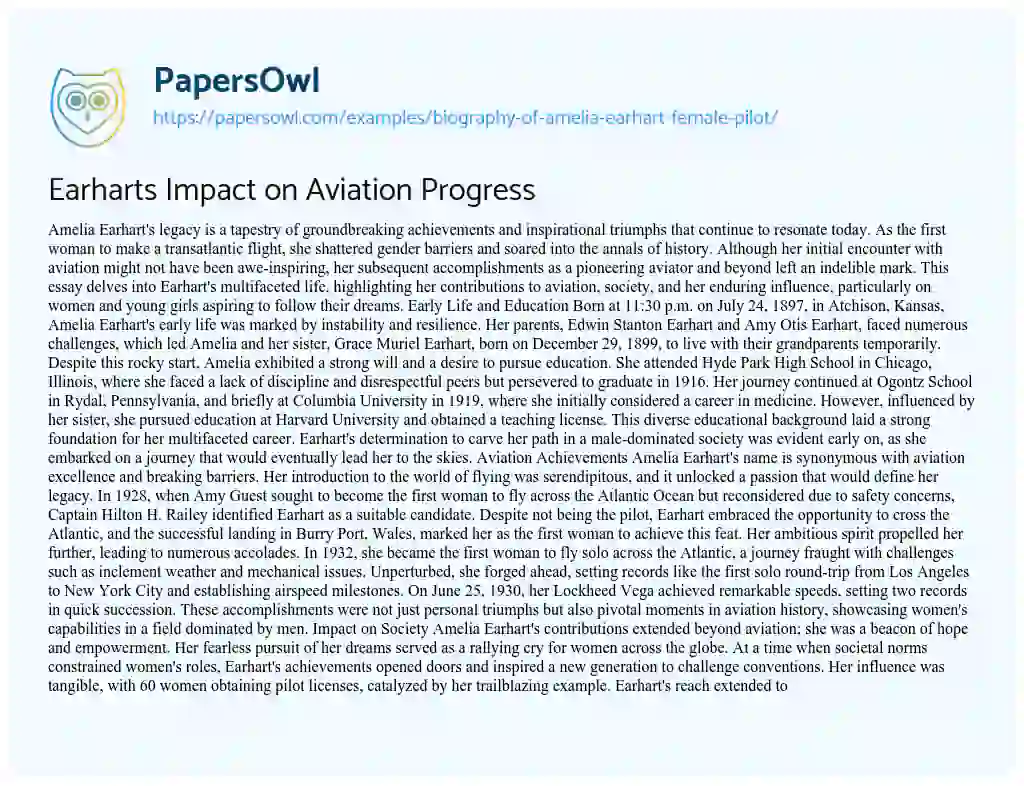 Amelia Earhart, who later ended up becoming the first woman to make a transatlantic flight, may have not been very impressed when she saw a plane for the first time, but that didn't seem to matter because she later became known for her many achievements as an aviator. She not only accomplished things involving planes and flying, but she accomplished things outside of that as well. From going on solo flights to setting airspeed records to even making her own clothing, Amelia accomplished a lot in her lifetime which sadly came to an end at a very young age. Despite that, Amelia Earhart was a very inspiring woman to others, especially young girls and women, to follow their dreams, whatever they may be.
Amelia Earhart was born at 11:30 p.m. on July 24th, 1897 in Atchison, Kansas to her father, Edwin Stanton Earhart and her mother, Amy Otis Earhart. Later, on December 29, 1899, Amelia's sister, Grace Muriel Earhart, was born. Amelia and Grace had a very unstable childhood including having to live with their grandparents while their parents found a house and got settled. As far as Amelia's education goes, she first went to Hyde Park High School in Chicago, Illinois, which she didn't overly enjoy due to the lack of discipline and how the students were very disrespectful, but she eventually ended up graduating there in 1916. After that, she went to college at Ogontz School in Rydal, Pennsylvania. Later, In 1919, for a very short time, thinking that she wanted to be a doctor, she went to Columbia University in New York City. Then, due to her sister's recommendation, she went to Harvard University in Cambridge, Massachusetts and earned a teaching license. Amelia Earhart, finally deciding what she wanted to do with her life, became known as an aircraft pilot, but she was also a teacher and an author. After trying persistently, George Putnam proposed to Amelia again and she finally said yes. On February 7th, 1931 they got married. Her date of death is actually unknown, but she was declared legally dead on January 5th, 1939. Sadly, a plane that Amelia was on crashed and the plane and the bodies were never found. Even so, her mother and her spouse tried many times and spent a lot of money to try to search for her, but unfortunately, she was never found.
Despite, the fact that Amelia died at such a young age, she still accomplished a lot throughout her career. A lady named Amy Guest had bought a plane called Friendship and wanted to be the first woman to fly across the Atlantic Ocean. She later changed her mind though, deciding that it was too dangerous and she didn't want to do it anymore, but she wanted another woman to take her place instead. When Army Captain Hilton H. Railey, who was given the job of finding someone else, heard about Amelia, he quickly called her up and offered her the opportunity. Although Amelia was disappointed that she wouldn't be actually flying the aircraft, she still decided to go. Despite many difficulties during the flight such as weight issues, almost running out of fuel, and weather that wouldn't cooperate, they landed safely at Burry Port, Wales and Earhart was officially the first woman to cross the Atlantic Ocean in an airplane successfully. She also was the first woman to fly a solo round-trip across North America, in which she went from Los Angeles to New York City. Also, on June 25, 1930, she set two airspeed records. One of them was when her Lockheed Vega went 174.89 miles (274.38) per hour on a 62?-mile (100km) route. The second was when she flew again in her Lockheed Vega while it was carrying a load of 1,112 pounds (500 kilograms) and she was flying at 171.49 miles (274.38 km) per hour. Also, after flying across the Atlantic as a passenger, she was determined to fly alone and she did so in 1932. Finally, in 1935, she also became the first woman to fly solo from Hawaii to California.
Amelia, not only accomplished a lot involving aircraft and flying, but she contributed a lot to society as well. First off, she was a great role model for people, especially women and young girls. She inspired many to follow their dreams whatever they might be. She didn't let things stop her and she was an inspiration. Her brave character made an impact on many people. In fact, 60 women became licensed pilots due to Amelia's fame and the impact that she had on them. She received about 200 letters due to her fame and she took the time to try and send letters back to the children. Not many famous people take the time to do things like that, so that says something about Amelia's character. Amelia Earhart wasn't about winning all the time. Her ultimate goal was just to show that women can be good pilots too and that it doesn't always have to be men.
Amelia had many great qualities that made her an important icon and character in the 20th century. She was brave and she didn't let anything stop her. Her bravery led to her accomplishing many dangerous things, some things that other people probably wouldn't dare do. Despite the fact that things were extremely dangerous, her adventurous spirit didn't let that stop her from accomplishing those great things that ended up leading her to fame. She wasn't afraid to fly even though she was apart of many hazardous expeditions. Also, she was a woman and many of the things that she accomplished were things that men were more involved in, but Amelia was determined. She didn't let the fact that she was a woman, stop her from doing anything and because of that, she was an inspiration for many women to do the same. She was also a huge supporter of women's rights and to this day, she is considered to be a legend.
Amelia may have accomplished many firsts in aviation and she may have been a huge inspiration to many people during her time and even now, but she did more than just fly airplanes all the time and set airspeed records. Surprisingly enough, when she wasn't busy being a writer, editor, counselor, organization leader, and a pilot, she made her own clothing line and she made the samples herself. The clothing line was called Amelia Earhart Fashions and some of the clothes were sold at Macy's in New York and Marshalls Fields' in Chicago. Amelia created and made the samples on her own with the help of her sewing ability that she learned as a child and since she was used to making her own clothing in order to save money. She also ended up making her own jumpsuit that she could wear while flying, so she could be more comfortable.
Sadly, Amelia's career and life came to an end at such a young age. With her non-stop determination and courage, she wanted to fly around the world. Unfortunately, this became her final and last flight. In March 1937, she flew to Hawaii with Paul Mantz, since she knew she couldn't accomplish this goal on her own. She lost control of the plane during takeoff and it had to be taken to the factory to be repaired. Later, in June, she tried again and went to Miami. This time, Fred Noonan would come along. On July 2, 1937, was the last time that she and Noonan communicated and after that, they were never heard from again. On July 3rd, their disappearance went worldwide and there was a huge search that lasted for more than 2 weeks, desperately hoping that they would find Earhart and Noonan. George Putnam and Amelia's mother spent a lot of money searching for her, hoping that she was still alive somewhere. Unfortunately, she was never found and she was declared legally dead on January 5th, 1939 at the age of 41.
Despite the fact that Amelia died at such a young age and sadly disappeared while trying to accomplish something heavily dangerous, her legacy is still alive to this day. She was still a huge inspiration and she accomplished many important and iconic things. From setting airspeed records to going on solo flights and even setting up her own clothing line, she did a lot and it is something we ought to give her credit for and be proud of. She showed that women are just as good as men and that women can accomplish many things too. She was brave, courageous, and determined and she didn't let a single thing stop her. Amelia was a great role model for many people, especially women and young girls. She showed that with hard work, effort, and pure determination even the wildest of dreams can come true.
Did you like this example?
3838
426