A Left Ventricular Assist Device
Exclusively available on PapersOwl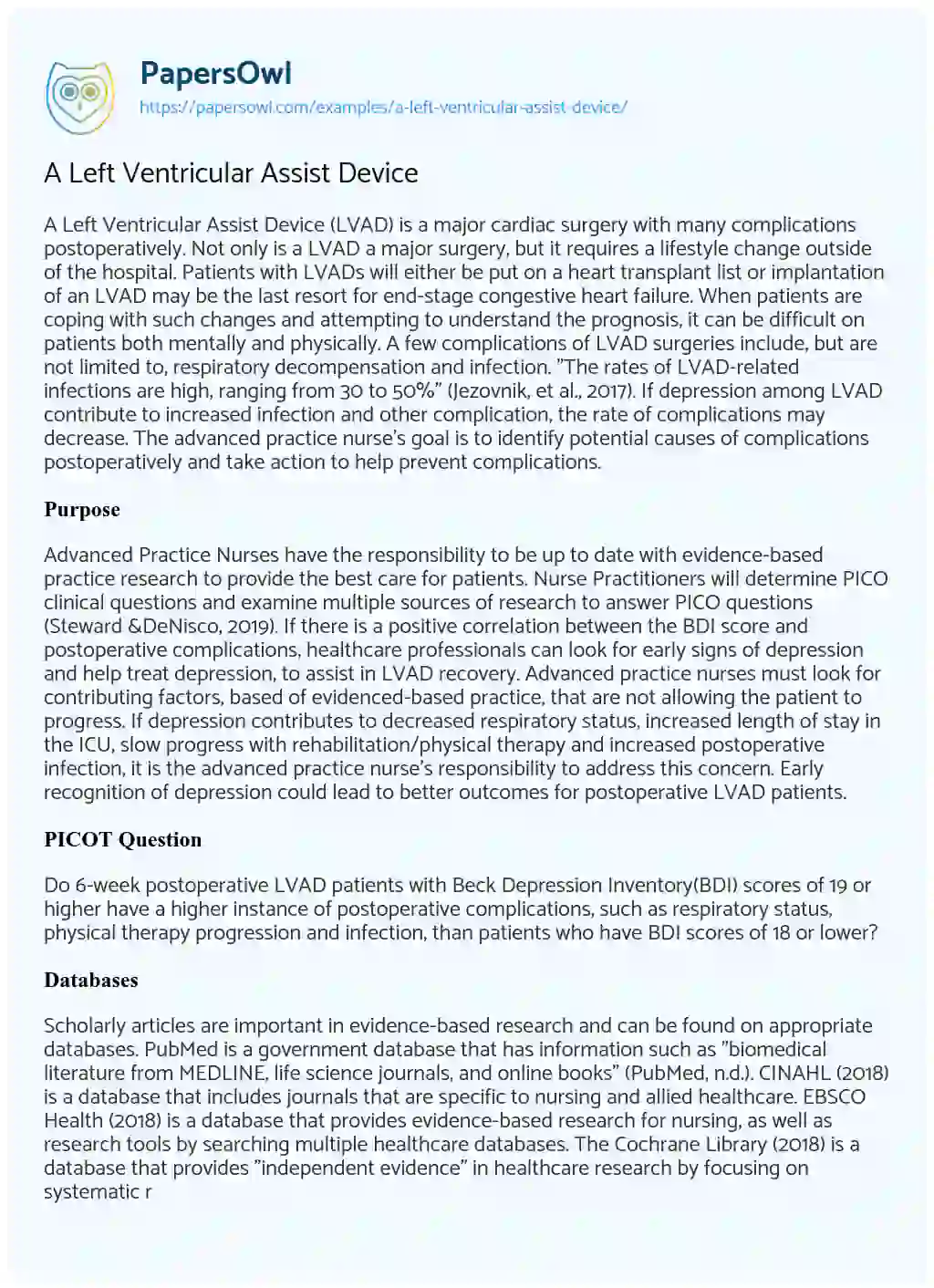 A Left Ventricular Assist Device (LVAD) is a major cardiac surgery with many complications postoperatively. Not only is a LVAD a major surgery, but it requires a lifestyle change outside of the hospital. Patients with LVADs will either be put on a heart transplant list or implantation of an LVAD may be the last resort for end-stage congestive heart failure. When patients are coping with such changes and attempting to understand the prognosis, it can be difficult on patients both mentally and physically. A few complications of LVAD surgeries include, but are not limited to, respiratory decompensation and infection. "The rates of LVAD-related infections are high, ranging from 30 to 50%" (Jezovnik, et al., 2017). If depression among LVAD contribute to increased infection and other complication, the rate of complications may decrease. The advanced practice nurse's goal is to identify potential causes of complications postoperatively and take action to help prevent complications.
Purpose
Advanced Practice Nurses have the responsibility to be up to date with evidence-based practice research to provide the best care for patients. Nurse Practitioners will determine PICO clinical questions and examine multiple sources of research to answer PICO questions (Steward &DeNisco, 2019). If there is a positive correlation between the BDI score and postoperative complications, healthcare professionals can look for early signs of depression and help treat depression, to assist in LVAD recovery. Advanced practice nurses must look for contributing factors, based of evidenced-based practice, that are not allowing the patient to progress. If depression contributes to decreased respiratory status, increased length of stay in the ICU, slow progress with rehabilitation/physical therapy and increased postoperative infection, it is the advanced practice nurse's responsibility to address this concern. Early recognition of depression could lead to better outcomes for postoperative LVAD patients.
PICOT Question
Do 6-week postoperative LVAD patients with Beck Depression Inventory(BDI) scores of 19 or higher have a higher instance of postoperative complications, such as respiratory status, physical therapy progression and infection, than patients who have BDI scores of 18 or lower?
Databases
Scholarly articles are important in evidence-based research and can be found on appropriate databases. PubMed is a government database that has information such as "biomedical literature from MEDLINE, life science journals, and online books" (PubMed, n.d.). CINAHL (2018) is a database that includes journals that are specific to nursing and allied healthcare. EBSCO Health (2018) is a database that provides evidence-based research for nursing, as well as research tools by searching multiple healthcare databases. The Cochrane Library (2018) is a database that provides "independent evidence" in healthcare research by focusing on systematic reviews. ClinicalTrails.gov (2018) is a "database of privately and publically funded clinical studies conducted around the world". Nurse practitioners can use a variety of databases to find accurate, up-to-date evidence-based information, to provide the best care for their patients.
EBP for PICOT question
A research study (Yost, et al., 2017) examined the Beck Depression Inventory Scores (BDI), Beck Anxiety Inventory Scores (BAI), and heart failure markers pre and post-LVAD implantation surgery. The results discovered the BDI and BAI scores decreased post-LVAD implantation as well as heart failure markers. This possibly suggests depression and anxiety is reduced when heart failure symptoms decrease. Another study used a systematic review and meta-analysis of articles involving patient's with LVADs for destination therapy (DT) and bridge to transplant (BTT) related to LVAD outcomes (McIlvennan, et al., 2014). The findings reported overall quality of life, but also emphasized the percentage of many common complications of LVAD placement and increased hospitalization rates postop.
Role of the Nurse Practitioner
Conclusion
Early indication of depression among LVAD patient could be a crucial aspect in the acute phase of recovery (6-weeks postop). Using the Beck Depression Inventory Score will give clinicians an indicator that a patient maybe showing signs of depression, which could ultimately lead to complications postoperatively. Treatment of depression before and after LVAD implantation could reduce complications including infection rate, physical therapy progression and respiratory decompensation. Advanced care Practitioners play an important role in identifying depression among LVAD patients and enacting a plan to help the patients cope with the life-long change of having a LVAD.
Did you like this example?
7846
872