Trump's Attitude to Global Warming
Exclusively available on PapersOwl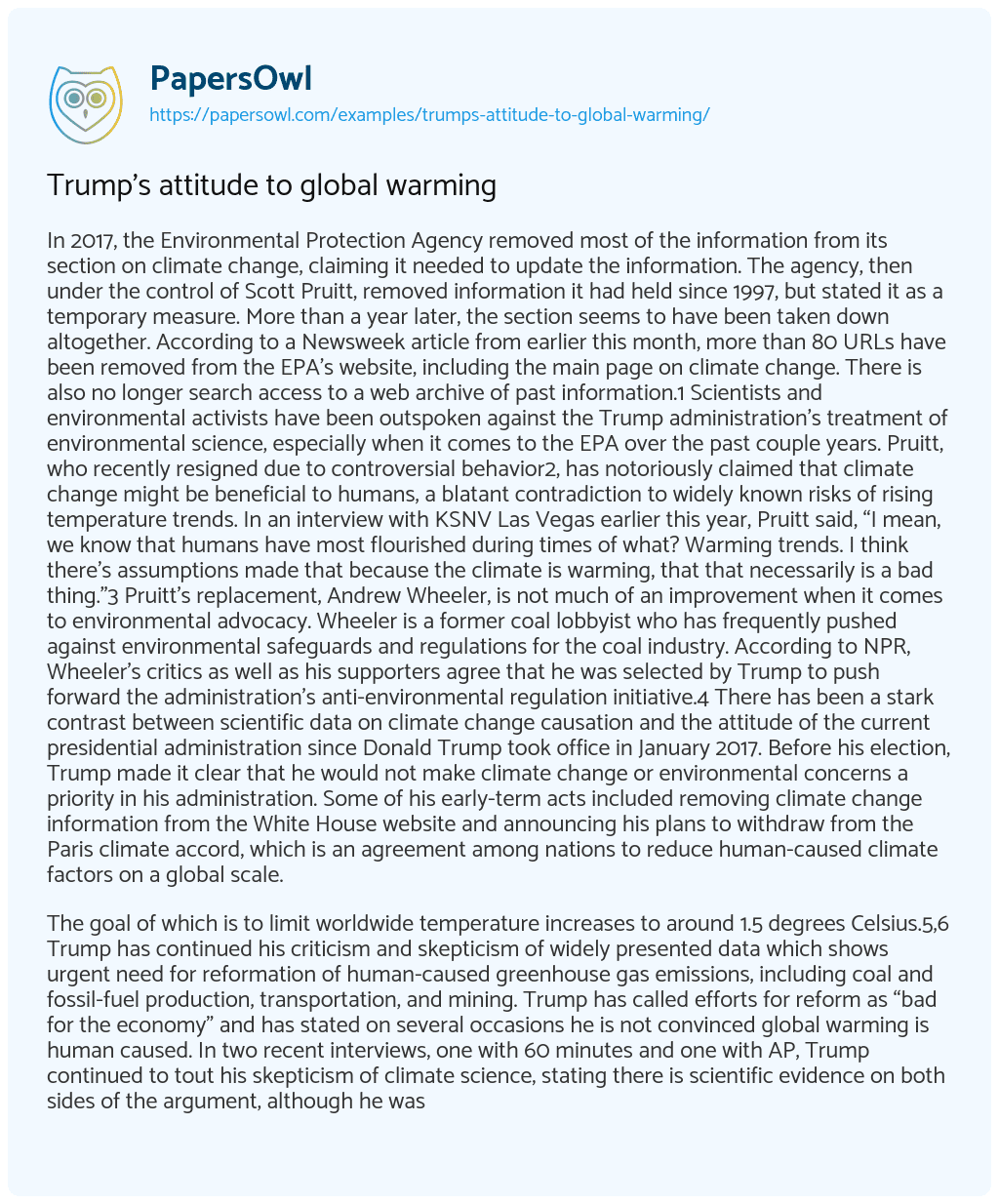 In 2017, the Environmental Protection Agency removed most of the information from its section on climate change, claiming it needed to update the information. The agency, then under the control of Scott Pruitt, removed information it had held since 1997, but stated it as a temporary measure. More than a year later, the section seems to have been taken down altogether. According to a Newsweek article from earlier this month, more than 80 URLs have been removed from the EPA's website, including the main page on climate change. There is also no longer search access to a web archive of past information.1 Scientists and environmental activists have been outspoken against the Trump administration's treatment of environmental science, especially when it comes to the EPA over the past couple years. Pruitt, who recently resigned due to controversial behavior2, has notoriously claimed that climate change might be beneficial to humans, a blatant contradiction to widely known risks of rising temperature trends. In an interview with KSNV Las Vegas earlier this year, Pruitt said, "I mean, we know that humans have most flourished during times of what? Warming trends. I think there's assumptions made that because the climate is warming, that that necessarily is a bad thing."3 Pruitt's replacement, Andrew Wheeler, is not much of an improvement when it comes to environmental advocacy. Wheeler is a former coal lobbyist who has frequently pushed against environmental safeguards and regulations for the coal industry. According to NPR, Wheeler's critics as well as his supporters agree that he was selected by Trump to push forward the administration's anti-environmental regulation initiative.4 There has been a stark contrast between scientific data on climate change causation and the attitude of the current presidential administration since Donald Trump took office in January 2017. Before his election, Trump made it clear that he would not make climate change or environmental concerns a priority in his administration. Some of his early-term acts included removing climate change information from the White House website and announcing his plans to withdraw from the Paris climate accord, which is an agreement among nations to reduce human-caused climate factors on a global scale.
The goal of which is to limit worldwide temperature increases to around 1.5 degrees Celsius.5,6 Trump has continued his criticism and skepticism of widely presented data which shows urgent need for reformation of human-caused greenhouse gas emissions, including coal and fossil-fuel production, transportation, and mining. Trump has called efforts for reform as "bad for the economy" and has stated on several occasions he is not convinced global warming is human caused. In two recent interviews, one with 60 minutes and one with AP, Trump continued to tout his skepticism of climate science, stating there is scientific evidence on both sides of the argument, although he was unable to give examples. He also claimed climate change may just correct itself, saying it "goes back and forth."7,8 "What I'm not willing to do is sacrifice the economic well-being of our country for something that nobody really knows," Trump said in the AP article. "And you have scientists on both sides of the issue."8 The lackadaisical approach and skeptical attitude the Trump administration and the EPA have toward global climate change is dangerous and irresponsible.
The insufficient communication and false information to the public cause confusion and resistance to solutions, when there frankly isn't time or resources to spare. Trump's attempt to discount scientific consensus for his own economic benefit may leave many Americans confused, but in truth the scientific community overwhelmingly agree that climate change is not only a real and immediate threat, but that the primary cause is human activity. According to James Lawrence Powell of the National Physical Science Consortium, 4 out of about 70,000 authors of peer-reviewed global warming articles rejected anthropogenic (human-caused) global warming, which means the consensus among scientists is above 99 percent.9 The outlook may not be completely bleak, however. Now that the Democratic party has overturned the majority in the U.S. House of Representatives, climate change discussions are being brought back to the forefront and more emphasis will be placed on peer-reviewed scientific data, than deflections and boasts from a president who claims to have "a natural instinct for science." House Democrats have announced plans to bring back the House Climate Committee, which was disbanded by Republicans in 2011. If the committee is revived, climate concerns might be better addressed with the necessary urgency to finally make some progress.10
Did you like this example?
9440
393