Tim Cook and Steve Jobs
Exclusively available on PapersOwl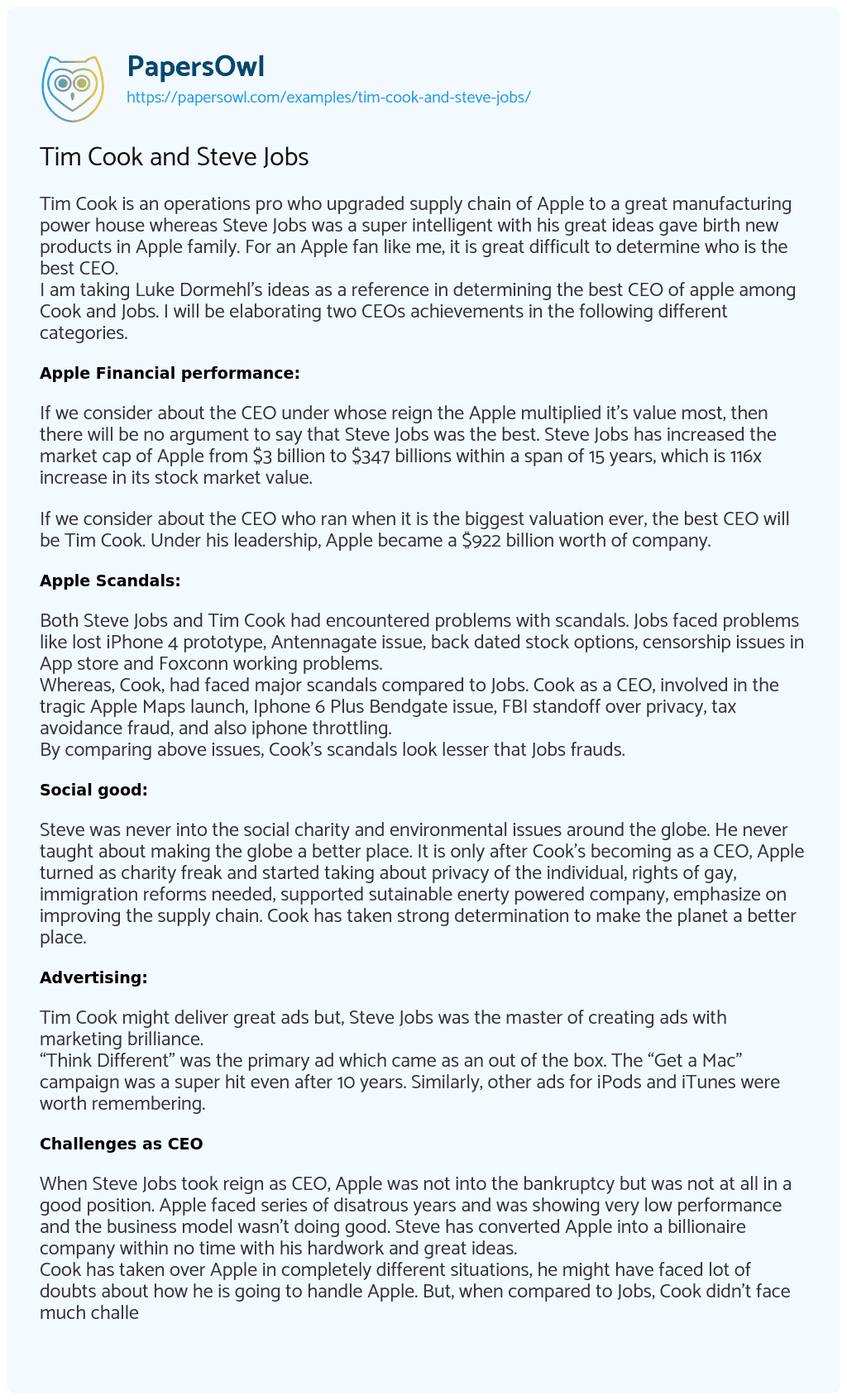 Tim Cook is an operations pro who upgraded supply chain of Apple to a great manufacturing power house whereas Steve Jobs was a super intelligent with his great ideas gave birth new products in Apple family. For an Apple fan like me, it is great difficult to determine who is the best CEO.
I am taking Luke Dormehl's ideas as a reference in determining the best CEO of apple among Cook and Jobs. I will be elaborating two CEOs achievements in the following different categories.
Apple Financial performance:
If we consider about the CEO under whose reign the Apple multiplied it's value most, then there will be no argument to say that Steve Jobs was the best. Steve Jobs has increased the market cap of Apple from $3 billion to $347 billions within a span of 15 years, which is 116x increase in its stock market value.
If we consider about the CEO who ran when it is the biggest valuation ever, the best CEO will be Tim Cook. Under his leadership, Apple became a $922 billion worth of company.
Apple Scandals:
Both Steve Jobs and Tim Cook had encountered problems with scandals. Jobs faced problems like lost iPhone 4 prototype, Antennagate issue, back dated stock options, censorship issues in App store and Foxconn working problems.
Whereas, Cook, had faced major scandals compared to Jobs. Cook as a CEO, involved in the tragic Apple Maps launch, Iphone 6 Plus Bendgate issue, FBI standoff over privacy, tax avoidance fraud, and also iphone throttling.
By comparing above issues, Cook's scandals look lesser that Jobs frauds.
Social good:
Steve was never into the social charity and environmental issues around the globe. He never taught about making the globe a better place. It is only after Cook's becoming as a CEO, Apple turned as charity freak and started taking about privacy of the individual, rights of gay, immigration reforms needed, supported sutainable enerty powered company, emphasize on improving the supply chain. Cook has taken strong determination to make the planet a better place.
Advertising:
Tim Cook might deliver great ads but, Steve Jobs was the master of creating ads with marketing brilliance.
"Think Different" was the primary ad which came as an out of the box. The "Get a Mac" campaign was a super hit even after 10 years. Similarly, other ads for iPods and iTunes were worth remembering.
Challenges as CEO
When Steve Jobs took reign as CEO, Apple was not into the bankruptcy but was not at all in a good position. Apple faced series of disatrous years and was showing very low performance and the business model wasn't doing good. Steve has converted Apple into a billionaire company within no time with his hardwork and great ideas.
Cook has taken over Apple in completely different situations, he might have faced lot of doubts about how he is going to handle Apple. But, when compared to Jobs, Cook didn't face much challenges as CEO.
Biggest New Products:
Apple is relentlessly release new beautiful products under Cook leadership. The new IPhone X, XR with its great new features like face recognition, removal of home button. Apple watch is first major invention under Cook reign, became the world's most popular watch within no time.
Other major products are AirPods, Apple Pencil and HomePod. And also, Apple Music with its over 40 million subscribers.
On the other hand, over 15 years, Jobs involved in introducing colorful iMac G3, sunflower inspired iMac G4, colorful iBook and MacBook, iPod, ITunes Store, the IPhone and App Store and finally the IPad.
Under Cook, Apple might have released some beautiful products, but these are never like must own at any cost products release under Jobs period.
Apple failures:
In the process of achieving new things, one has to experiment and take risks. Both these CEO had faced failures. Interestingly, Jobs encountered more notable failures but also enjoyed huge wins.
Did you like this example?
1423
158