Successful Business of Apple Company
Exclusively available on PapersOwl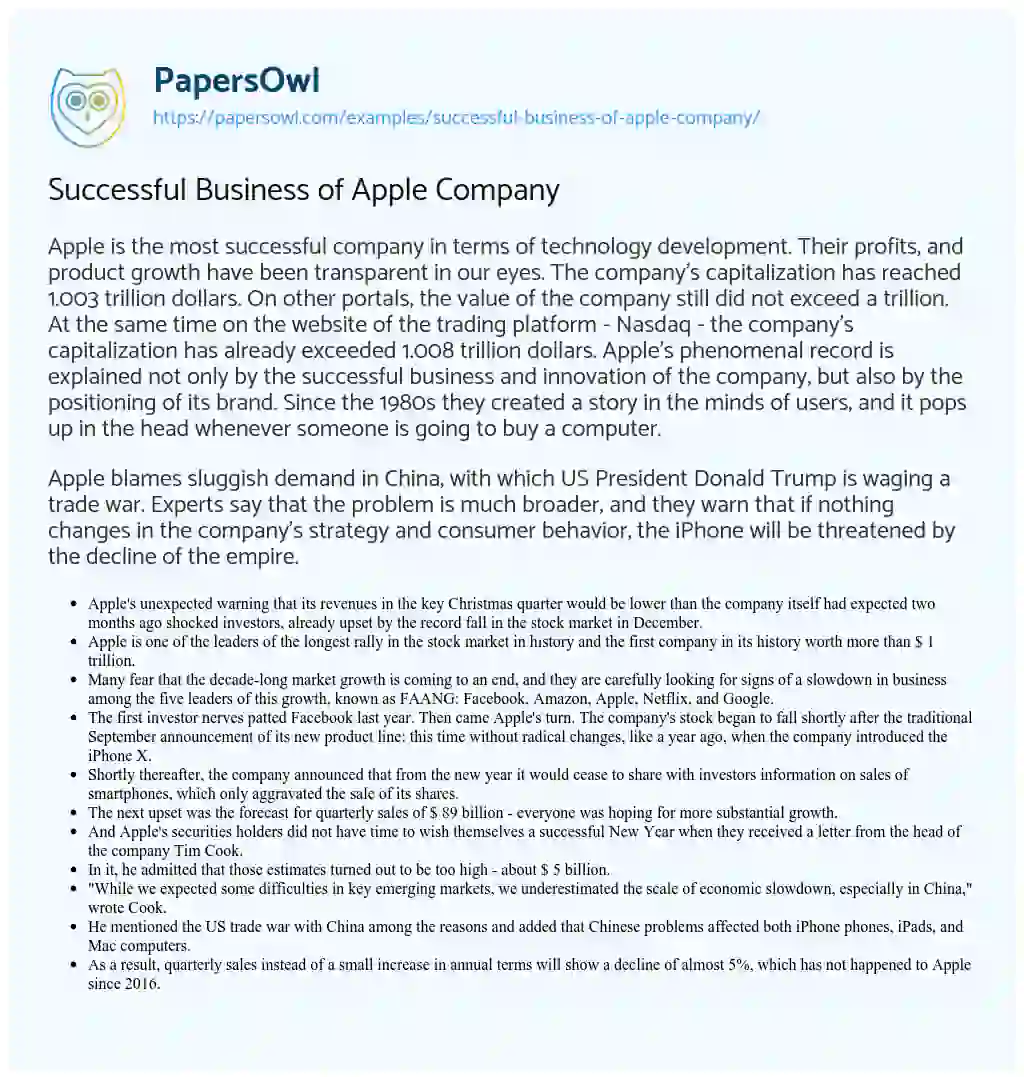 Apple is the most successful company in terms of technology development. Their profits, and product growth have been transparent in our eyes. The company's capitalization has reached 1.003 trillion dollars. On other portals, the value of the company still did not exceed a trillion. At the same time on the website of the trading platform – Nasdaq – the company's capitalization has already exceeded 1.008 trillion dollars. Apple's phenomenal record is explained not only by the successful business and innovation of the company, but also by the positioning of its brand. Since the 1980s they created a story in the minds of users, and it pops up in the head whenever someone is going to buy a computer.
Apple blames sluggish demand in China, with which US President Donald Trump is waging a trade war. Experts say that the problem is much broader, and they warn that if nothing changes in the company's strategy and consumer behavior, the iPhone will be threatened by the decline of the empire.
Apple's unexpected warning that its revenues in the key Christmas quarter would be lower than the company itself had expected two months ago shocked investors, already upset by the record fall in the stock market in December.
Apple is one of the leaders of the longest rally in the stock market in history and the first company in its history worth more than $ 1 trillion.
Many fear that the decade-long market growth is coming to an end, and they are carefully looking for signs of a slowdown in business among the five leaders of this growth, known as FAANG: Facebook, Amazon, Apple, Netflix, and Google.
The first investor nerves patted Facebook last year. Then came Apple's turn. The company's stock began to fall shortly after the traditional September announcement of its new product line: this time without radical changes, like a year ago, when the company introduced the iPhone X.
Shortly thereafter, the company announced that from the new year it would cease to share with investors information on sales of smartphones, which only aggravated the sale of its shares.
The next upset was the forecast for quarterly sales of $ 89 billion – everyone was hoping for more substantial growth.
And Apple's securities holders did not have time to wish themselves a successful New Year when they received a letter from the head of the company Tim Cook.
In it, he admitted that those estimates turned out to be too high – about $ 5 billion.
"While we expected some difficulties in key emerging markets, we underestimated the scale of economic slowdown, especially in China," wrote Cook.
He mentioned the US trade war with China among the reasons and added that Chinese problems affected both iPhone phones, iPads, and Mac computers.
As a result, quarterly sales instead of a small increase in annual terms will show a decline of almost 5%, which has not happened to Apple since 2016.
For the past 15 years, Apple is reviewing the forecast for the first time.
Analysts were not convinced by Cook's explanation since Apple's business in China isn't going well for the first day.
"I would not associate this with the problems of the American and Chinese economies, or with the trade war," said Sam Reynolds, a high-tech analyst. "It's just that new times have come for Apple."
The US company is gradually losing ground in China to local Oppo, Huawei, and Xiaomi. And Trump's attacks on China and the arrest of the founder's daughter Huawei, at Washington's request, only exacerbated the consumer patriotism of the Chinese, said Will Wong, an analyst at consulting company IDC.
In addition, he notes, Apple's strategy of raising prices in response to declining sales worked well during the period of economic growth and household incomes, and in China right now there are problems with this, including because of Trump's trade policy.
"Consumers pay more attention to prices during periods of unfavorable development of the situation in the economy. And here Chinese manufacturers have an advantage," says Wong.
And not only in China. Cook, in a letter to investors, acknowledged that in developed countries the reality does not meet expectations: people buy phones less and less, and many owners of old iPhones took advantage of Apple's recent discounts on replacing batteries rather than just postponing the purchase of a new device.
"After the iPhone 8, the technology recovery curve has leveled off, and consumers have less and less reason to change the iPhone to a new one," Reynolds says.
Experts agree that the fate of Apple depends not so much on external factors such as China's trade war with the United States, but on the company's ability to make work on the bugs, adapt to new conditions and make another technological breakthrough.
Apple competes with other companies (like Samsung) for the attention of customers, but never participates in price wars. They don't need it. The brand creates products loved by customers, and its marketing has already become the standard for companies seeking global popularity and revenue growth. In short, whatever you do, you have something to learn from Apple. Marketing built on simplicity. Brand products speak for themselves. Texts and visual materials are extremely simple, lists of functions, pricing or expensive special effects are rare. The company knows that the product sells itself, without a pump and ceremonies. Using concise content and simple advertising, Apple has already sold more than 15,000,000,000 units of goods.
After the death of Steve Jobs in 2011, analysts were certain: Job's heir, Tim Cook, would not be able to save Apple from the predicted decline. However, their expectations were not met. Cook turned out to be an excellent organizer, who managed to create an affiliate network and increase sales of the company's products through lucrative contracts with other corporations and creating their own popular projects. Everything changed in 2018 when the new iPhone could not create a sensation in the mobile device market, and the company's shares began to noticeably decline in value. At the same time
According to CNN journalists, Apple's main problem is the lack of innovation. The current iPhone 8 largely repeats the design of the sixth model. Approximately the same situation is observed in the development of other company products. It is hard to imagine such a problem appearing under Steve Jobs, who was ready for changes and reforms that would benefit users. The main difference between Cook and his predecessor is the lack of courage to present truly new products.
Tim Cook, by and large, focused on profits, and he really succeeded. For example, for the last year, the company's profit amounted to 88 billion dollars, and net income exceeded 20 billion. But in 2018, users seem to have grasped Apple's thirst for profit and realized that the company releases almost the same devices to the markets every year. This led to a drop in smartphone sales: buying a new iPhone with features like its predecessor, but with a large price tag, has ceased to be relevant for Apple fans. Apple has actually reached "innovation stagnation": the company does not present truly new devices with breakthrough technologies, and this is detrimental to it. Now she relies on the development of services and affiliate programs, but, as sales show, this policy hardly helps the company to increase the sales level of its devices. At the same time, Apple still positions the iPhone as a "cash cow", an engine for mining money – but this engine can break down if it is not improved in time.
With a similar problem before Apple has already faced its main competitor – the company Microsoft. At the beginning of zero, this corporation also experienced a crisis but was able to get out of it thanks to the expansion of Office support, making it free for some devices from other manufacturers. The shift in orientation has helped: the new Microsoft executives have done everything possible to develop cloud services, and this has helped them bring the corporation to the number of leaders of American IT companies. Microsoft realized that Cloud technologies could be needed and needed by users, and decided to use it.
The situation with Apple, however, is slightly different: unlike Microsoft, whose main profit comes from programs and services, Apple's revenue comes from sales of iPhone, iPad, Mac and other devices. Experts agree that Cook should have paid attention to Tesla's activities and also started building electric cars with autopilot. It would help and reduce the price of devices: iPhone at the current cost of the order of $ 1,000 scares away many potential buyers who can count money.
Another way for Apple is to create budget products, such as an affordable iPhone. This could preserve the status of the new XS and XS Max as symbols of luxury and at the same time discover a new segment of the market for low-cost and affordable devices. Otherwise, without changes in pricing and without the use of new technologies, Apple, led by Tim Cook, risks repeating the fate of Nokia, becoming, if not an outsider of the market, then at least not its dominant component.
As a rule, Apple's investment in expanding and improving current products results in higher average selling prices, as was the case with the iPhone X, for example. Thus, investment in development is a great way to drive revenue and profit. In addition, investments allow Apple to get new sources of income and new products, for example, AirPods, HomePod, I Tunes, I Mac. While these business segments do not generate a large amount of money, however, they have prospects for growth due to market expansion. In addition, new technologies and services help to retain customers and increase their loyalty. Research and development spending is a major factor that allows Apple to create more differentiated products with unique innovations that are inaccessible to competitors. For investors, this is good news, indicating that Apple can continue to grow in the long term.
Timothy O'Shea lowered his outlook on Apple's target share price from $ 265 to $ 225, although he kept their rating at Buy (buy). By the close of the exchange on Tuesday, December 25, the value of the company's securities amounted to $ 146.83, a decrease of 2.6% from the previous day. Apple's market capitalization has dropped to $ 715.3 billion and is moving further and further away from the $ 1 trillion marks, which it overcame earlier in 2018.
However, Jefferies experts generally remain optimistic about the growth of quotations in the future thanks to Apple's service business, which includes the Apple Pay payment system, iCloud cloud storage, Apple Music music service, the App Store application and game catalog, etc. "Apple's iPhone business is still looking to build a huge, high-yield service business over time. In the next quarterly financial statements, Apple will reveal the gross margin of the service business for the first time," O'Shea said.
Managing Director and Chief Research Analyst at Rosenblatt Securities Jun Zhang expects Apple will produce 4 million fewer phones in the first quarter of 2019 than originally planned. The production of the iPhone XR model will be reduced the most (by 2.5 million units), and the volume of orders for the iPhone XS and iPhone XS Max will be reduced by 1 million and 500 thousand copies, respectively.
Did you like this example?
1226
136