Foundation and Development of Apple Inc
Exclusively available on PapersOwl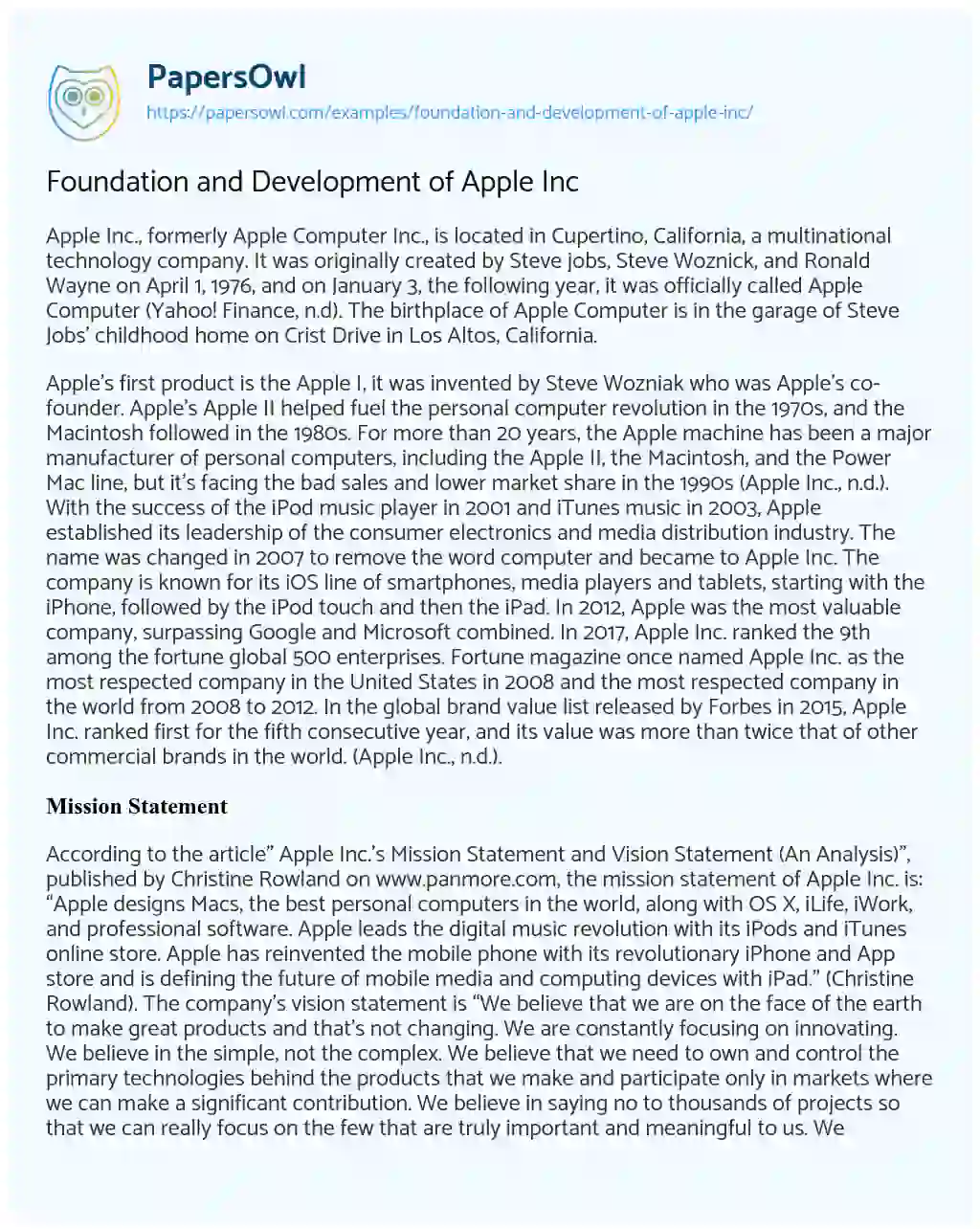 Apple Inc., formerly Apple Computer Inc., is located in Cupertino, California, a multinational technology company. It was originally created by Steve jobs, Steve Woznick, and Ronald Wayne on April 1, 1976, and on January 3, the following year, it was officially called Apple Computer (Yahoo! Finance, n.d). The birthplace of Apple Computer is in the garage of Steve Jobs' childhood home on Crist Drive in Los Altos, California.
Apple's first product is the Apple I, it was invented by Steve Wozniak who was Apple's co-founder. Apple's Apple II helped fuel the personal computer revolution in the 1970s, and the Macintosh followed in the 1980s. For more than 20 years, the Apple machine has been a major manufacturer of personal computers, including the Apple II, the Macintosh, and the Power Mac line, but it's facing the bad sales and lower market share in the 1990s (Apple Inc., n.d.). With the success of the iPod music player in 2001 and iTunes music in 2003, Apple established its leadership of the consumer electronics and media distribution industry. The name was changed in 2007 to remove the word computer and became to Apple Inc. The company is known for its iOS line of smartphones, media players and tablets, starting with the iPhone, followed by the iPod touch and then the iPad. In 2012, Apple was the most valuable company, surpassing Google and Microsoft combined. In 2017, Apple Inc. ranked the 9th among the fortune global 500 enterprises. Fortune magazine once named Apple Inc. as the most respected company in the United States in 2008 and the most respected company in the world from 2008 to 2012. In the global brand value list released by Forbes in 2015, Apple Inc. ranked first for the fifth consecutive year, and its value was more than twice that of other commercial brands in the world. (Apple Inc., n.d.).
Mission Statement
According to the article" Apple Inc.'s Mission Statement and Vision Statement (An Analysis)", published by Christine Rowland on www.panmore.com, the mission statement of Apple Inc. is: "Apple designs Macs, the best personal computers in the world, along with OS X, iLife, iWork, and professional software. Apple leads the digital music revolution with its iPods and iTunes online store. Apple has reinvented the mobile phone with its revolutionary iPhone and App store and is defining the future of mobile media and computing devices with iPad." (Christine Rowland). The company's vision statement is "We believe that we are on the face of the earth to make great products and that's not changing. We are constantly focusing on innovating. We believe in the simple, not the complex. We believe that we need to own and control the primary technologies behind the products that we make and participate only in markets where we can make a significant contribution. We believe in saying no to thousands of projects so that we can really focus on the few that are truly important and meaningful to us. We believe in deep collaboration and cross-pollination of our groups, which allow us to innovate in a way that others cannot. "(Apple Inc., n.d.).
Competitors
Due to the expanding of Apple's business, it is competing with more than just electronics companies like Samsung, Dell, Sony, and Lenovo. It is also competing with Google, Amazon and Pay Pal. On the google finance page, I found out that Amazon, Microsoft, Sony, LG Electronics Inc., and Nokia are on the list, and you can compare them to the Apple Inc (Yahoo! Finance, n.d.).
Apple's revenue was $215,639 million in 2016 and increased to $229,234 million in 2017; therefore, Apple's revenue increased by 6.3% from September 2016 to September 2017 (2017 annual report). The company's net income, ending September 2017, was $48,351 million (2017 annual report). Earnings per share for basic was $9.27 thousand and earning per share for diluted was $9.21 thousand (2017 annual report). The annual dividend per share for common shareholders was $2.40 thousand (2017 annual report). The stock price of Apple Inc. in December 2017 was $171.05. Apple's stock symbol is AAPL (Google Finance, n.d).
CEO and Salary
Tim Cook is the chief executive officer of Apple Inc and serves on its Board of Director (Apple Inc., n.d.). According to Yahoo! Finance, Cook's salary is 15 million dollars. He earned an MBA from Duke University and a Bachelor of Science degree in industrial engineering from Auburn University (Apple Inc., n.d.).
"Apple is committed to the highest standards of social and environmental responsibility and ethical conduct." (Apple Supplier Code of Conduct, www.apple.com) Including Anti-Discrimination terms that point out supplier cannot discriminate against any of the worker's age, disability, gender, race, etc.; Student Worker Protections point out that the suppliers should be able to properly maintain their student records, the strict due diligence of the education partners and the right to protect students by the applicable laws and regulations, ensuring the proper management of the student staff. The supplier should provide proper support and training to all student employees; and the terms of Working Hours show that working time is limited to 60 hours per week, including overtime. Except in an emergency or exceptional circumstance, the workers shall have at least one day off to take a rest every week
Apple Inc. was used to call Apple computer, Inc., it was a success financially in 1980 after it went out. The Macintosh, which was released in 1984, has a refreshing graphical interface. (Apple Inc., n.d) However, the increase of the market for personal computer causes the market of Apple's computer has to share with the lower-priced products, and Apple was on the brink financially. (Apple Inc., n.d) January 2007, Jobs, who was the CEO of Apple computer, Inc., changed the name of the company to Apple Inc., and this represents Apple's official expansion into the electronics business and released iPhone.
iPhone, iPod, MacBook and Apple Watch are the devices that Apple has. All of these products have had some success in their fields. Apple's products prices are higher than the products of the same industry. The iPhone XS which was released in 2018 is priced $999 for 64GB and $1,349 for 512GB. The price range of the Apple watch is from $549 to $1,099. For MacBook, you have to spend at least $1,799. Even though the prices of Apple's devices are high, but there is a lot of people like it and willing to have one due to the good design and high configuration of the devices. At the beginning of Apple Inc., this company invested a lot of money to traditional PAD and tablet PC. Job realized that selling PAD and PC wasn't the best strategy to enter the high-demand markets for Apple. He changed his belief and paid the attention to a new product that Apple Inc. had never touched before, which was the iPhone. He believed that cell phones were going to become important devices for portable information access, and that mobile phones needed to have excellent synchronization software (Apple Inc., n.d) Jobs started to force on a mobile phone. Jobs also had Apple develop the iTunes software, which can be used to synchronize content with iPod devices. (Apple Inc., n.d) iTunes was released in January 2001.
After six years from Jobs and Apple Inc. forced on the iPhone, On January 9, 2007, Steve Jobs announced iPhone at the Macworld convention, receiving substantial media attention. Jobs announced that the first iPhone would be released later that year. On June 29, 2007, the first iPhone was released. (Apple Inc., n.d) A year late, the iPhone 3G, which is the upgrade for 2G and 2.5G GPRS networks, for faster internet speed, (Apple Inc., n.d) was released on July 11, 2008. The original silver back and large antenna square were replaced by a smooth, curved black or white back. Until now, Apple Inc. has been releasing to 10th version. Also, each iPhone version has a special level which called iPhone S or iPhone plus. The products of Apple are designed by Apple in California; however, Apple gives over ten thousand jobs of manufacturing to China, Mongolia, and Korea to save time. Also, a country like China has a lot of popular, the salary is low, so Apple can save some money.
To buy Apple's products, you can order it online and you will get it in the next day, or you can choose to go to the nearest Apple Store to pick it up. In addition, you can also go straight to an Apple Store to try on the sample machine and find what you exactly wanted.
Apple understood that customers and prospects do not need some grandiose or sophisticated marketing campaign to instill them with information, so Apple tries their best to make their marketing as simple as they can (Apple Inc., n.d.). They only provide the features list, prices and special effects of the products, and usually, you do not see typical information on how and where to buy their products. They let the products themselves to talk, to show. Instead of showing their products on the television show or movies, Apple would more likely to make use of an influencer who has a lot of fans on Instagram or Facebook. Once they share your products, it means thousands of people would see your products, too. Apple also provides a free trial or sample if you give them a review on social media or website (Apple Inc., n.d). As you can see, Apple sticks to the prices they made even though it is much higher than other competitors. The reason why they can do this is that they focus on their value proposition and providing good user experience. They make the customers think that it is worth to pay this price.
Apple studied their customers closely, and they know how to communicate with them well and create a deeper connection. They also try hard to create mystery about what they are going to release next and make the customers be excited, and sometimes Apple will let the cat out of the cage, and make people guessing. "As of September 30, 2017, the Company had other purchase obligations of $6.1 billion." (Apple Annual Report, 2017) To ensure that its products have a high-quality purchase experience and emphasize service and education, the company continues to build and improve its distribution capacity by expanding the number of its retail stores worldwide. The company's retail stores are usually located in huge shopping malls and urban shopping areas. By running its own store and positioning it in the ideal high traffic location, the company is better positioned to ensure high-quality customer purchase experience and attract new customers. (2017 annual report)
Did you like this example?
6949
142