Aids in the Democratic Republic of Congo
Exclusively available on PapersOwl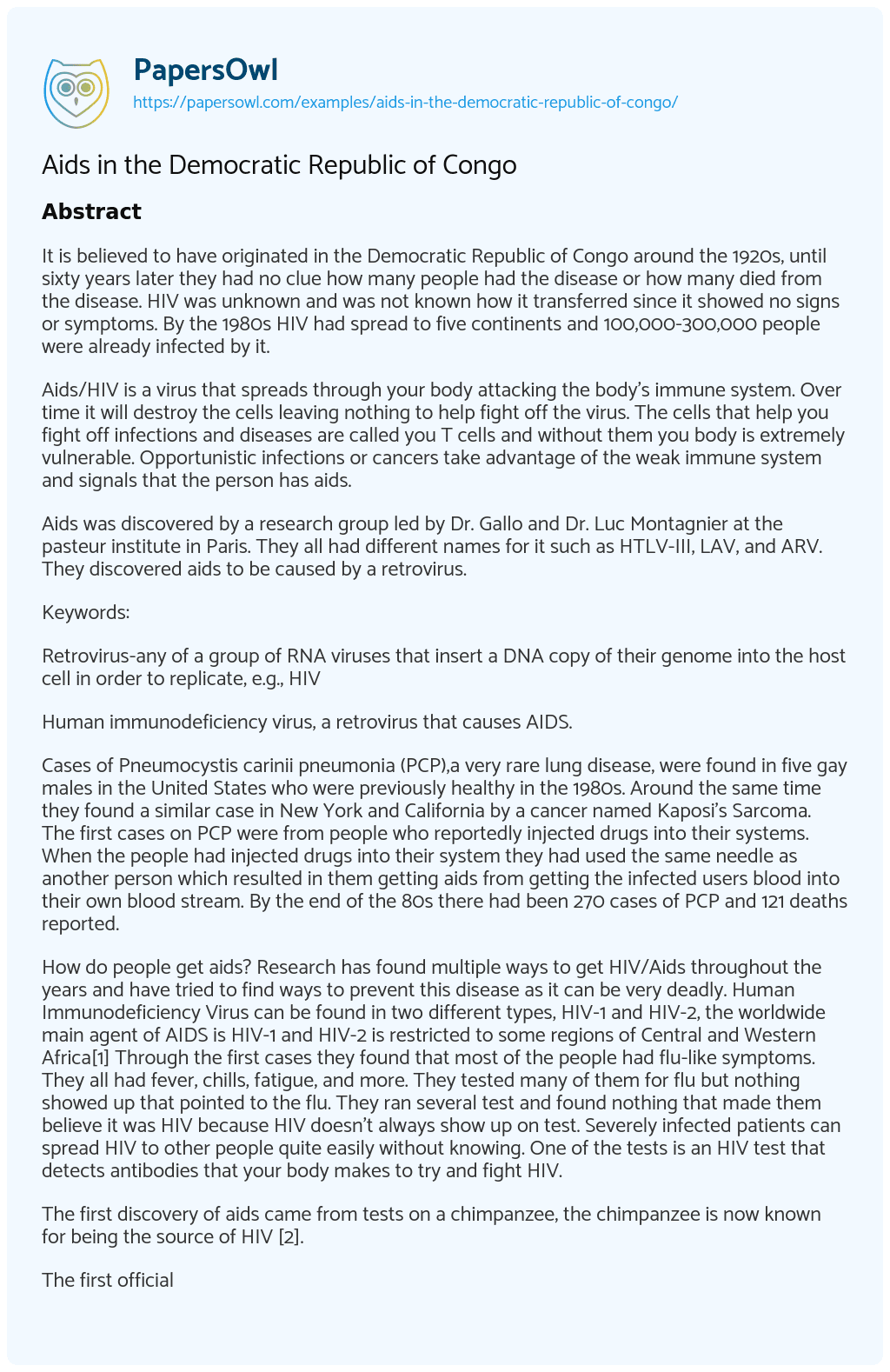 Abstract
It is believed to have originated in the Democratic Republic of Congo around the 1920s, until sixty years later they had no clue how many people had the disease or how many died from the disease. HIV was unknown and was not known how it transferred since it showed no signs or symptoms. By the 1980s HIV had spread to five continents and 100,000-300,000 people were already infected by it.
Aids/HIV is a virus that spreads through your body attacking the body's immune system. Over time it will destroy the cells leaving nothing to help fight off the virus. The cells that help you fight off infections and diseases are called you T cells and without them you body is extremely vulnerable. Opportunistic infections or cancers take advantage of the weak immune system and signals that the person has aids.
Aids was discovered by a research group led by Dr. Gallo and Dr. Luc Montagnier at the pasteur institute in Paris. They all had different names for it such as HTLV-III, LAV, and ARV. They discovered aids to be caused by a retrovirus.
Keywords:
Retrovirus-any of a group of RNA viruses that insert a DNA copy of their genome into the host cell in order to replicate, e.g., HIV
Human immunodeficiency virus, a retrovirus that causes AIDS.
Cases of Pneumocystis carinii pneumonia (PCP),a very rare lung disease, were found in five gay males in the United States who were previously healthy in the 1980s. Around the same time they found a similar case in New York and California by a cancer named Kaposi's Sarcoma. The first cases on PCP were from people who reportedly injected drugs into their systems. When the people had injected drugs into their system they had used the same needle as another person which resulted in them getting aids from getting the infected users blood into their own blood stream. By the end of the 80s there had been 270 cases of PCP and 121 deaths reported.
How do people get aids? Research has found multiple ways to get HIV/Aids throughout the years and have tried to find ways to prevent this disease as it can be very deadly. Human Immunodeficiency Virus can be found in two different types, HIV-1 and HIV-2, the worldwide main agent of AIDS is HIV-1 and HIV-2 is restricted to some regions of Central and Western Africa[1] Through the first cases they found that most of the people had flu-like symptoms. They all had fever, chills, fatigue, and more. They tested many of them for flu but nothing showed up that pointed to the flu. They ran several test and found nothing that made them believe it was HIV because HIV doesn't always show up on test. Severely infected patients can spread HIV to other people quite easily without knowing. One of the tests is an HIV test that detects antibodies that your body makes to try and fight HIV.
The first discovery of aids came from tests on a chimpanzee, the chimpanzee is now known for being the source of HIV [2].
The first official reporting of aids was from gay men in 1981, they were perfectly healthy and the CDC was not sure what it was so they organized a group of people to specifically work on the epidemic and figure out everything that they could about it. They had about 30 people who specifically specialized in the research for the epidemic. In 1981 alone there was 26 homosexual men who had Kaposi's Sarcoma and Pneumocystis pneumonia In 2 states. It wasn't until 1982 that the CDC started using the name Aids and they put out the first case for the definition of Aids. After further research they started to think that it was spread from blood transfusions. A child had gotten aids from a blood transfusion. They began to test the donor to find out why the infant had gotten the epidemic but he was perfectly healthy. It wasn't until 8 months after the transfusion that the donor had began to experience fatigue and loss of appetite. A month after he had been checked he started to get a fever and was hospitalized with biopsy-proven Pneumocystis carinii pneumonia[3].
As a result of Aids being known to start in Africa the started project SIDA. It was based out of Kinshasa, Zaire, it was designed to help scientist all over the world to collaborate and share ideas to find out what exactly cause the spread of the epidemic and how they could stop it. It ran until 1991 and was terminated because of a civil war in Zaire. It was the largest Aids/HIV research project in Africa.
Did you like this example?
6983
776